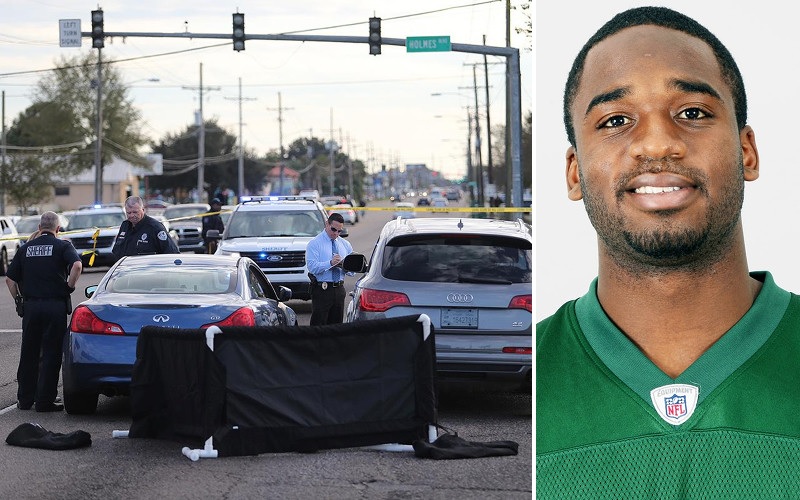 Former NFL running back Joe McKnight has been killed. The 28-year-old was shot multiple times Thursday afternoon (Dec. 1) in New Orleans in an apparent road rage altercation.
The incident occurred at 2:43 PM at the busy intersection of Behrman Highway and Holmes Blvd. Family has identified McKnight as the victim.
Police say McKnight was shot by 54-year-old Ronald Gasser. The shooter is currently detained and being questioned by the police. However, he has yet to be officially arrested and charged with a crime. Gasser remained on the scene after the shooting and handed over his gun to police officers.
Gasser's motive is still unclear. However, an unnamed witness said she saw Gasser yelling at McKnight, who seemed to be trying to apologize. The witness says Gasser then shot McKnight, yelled "I told you don't f*ck with me!" while standing over McKnight, and then shot the footballer one more time.
Police did not find a gun on McKnight or near his car.
While in high school, McKnight was considered one of the best running backs in the country, with The Times-Picayune naming him the high school athlete of the decade in 2009. He went on to play football for the University of Southern California and was drafted by the NY Jets in 2010.
He was currently playing in the Canadian Football League for the Saskatchewan Roughriders. Current and former teammates have expressed their condolences upon learning of his death.
Craig Reynolds (Rough Riders president and CEO):
"We are saddened to hear of the tragic loss of Joe McKnight. Losing a member of our Rider family this way is an unthinkable occurrence. Our thoughts and prayers are with Joe's family, teammates and coaches."
A statement from the NY Jets read:
"Joe McKnight was a loving father and a genuine, kind-hearted person. It is sad when life is taken in what appears to be such a senseless act of violence. Joe you will be missed."
RIP to a SC legend ! Joe McKnight ?? https://t.co/7pa3iaaBGN

— Adoree' Jackson (@AdoreeKnows) December 1, 2016
Just got a message saying my former teammate Joe McKnight was killed today. This hurt to the heart. I can't stop crying. #RestInPeace

— ANTONIO CROMARTIE (@CRO31) December 1, 2016
Damn RIP Joe McKnight. Killed in his own city, #504Boys4Life

— Tyrann Mathieu (@Mathieu_Era) December 1, 2016