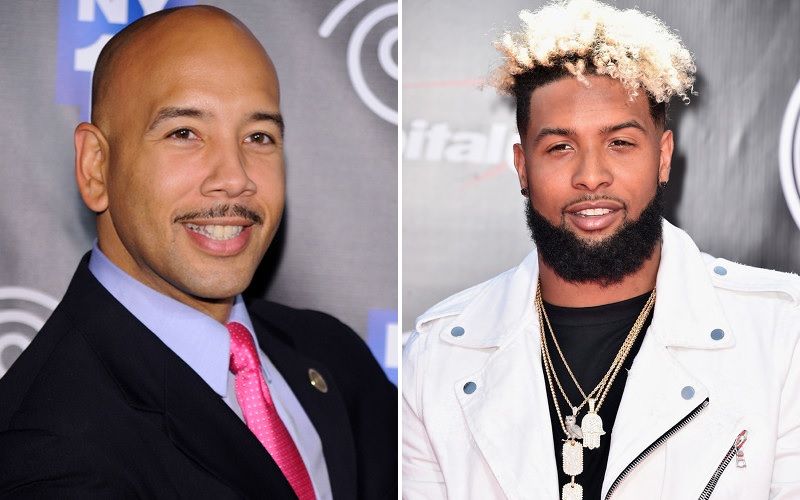 A Bronx official is telling Odell Beckham Jr. to leave the strippers alone.
The NY Giants wide receiver experienced the Bronx nightlife last Thursday (Nov. 17). Along with Broncos star Von Miller, the two hit up the Sin City strip club. Beckham was dancing a little too hard as an expensive diamond ring slipped off his finger.
We're told staffers broke out flashlights and got on their hands and knees to search for the jewelry — but no dice. At one point, Odell even offered a cash reward … but still nothing.

Ultimately, Odell left the club without the ring and we're told he was bummed out (as you'd expect).
Upon hearing about the incident, Bronx Borough president, Ruben Diaz Jr., has sent a letter to Beckham (and Miller) encouraging the footballer to enjoy the more wholesome aspects of the Bronx, and not the strip clubs. He even included a copy of the 2016 Bronx Visitors Guide.
Diaz wrote in part:
I appreciate that you both took time out of your busy schedules to pay us a visit. However, you could have picked a better place.

The Sin City strip club and cabaret has a long history as a nuisance to our borough… I would love to show both of you gentlemen there is more to The Bronx than establishments such as Sin City, where you risk losing more than your valuables.
Diaz suggests that next time, Beckham should check out the "first rate cultural attractions," like the Bronx Zoo, the New York Botanical Garden, and other restaurants and clubs the area also offers.
The full letter is posted on the Bronx Borough President's official website.
Diaz has spent much of his political career dismantling the negative public image of the Bronx. He also has condemned Sin City, which has faced several noise complaints, fights, public urination, and a few shootings. Recently, dancers and bouncers of the club were arrested after selling cocaine to undercover police officers. Diaz has requested the state revoke the club's liquor license.
It's a nice effort on Diaz's part (and maybe the two will actually take the Borough President on his offer), but I don't expect Odell Beckham Jr. or Von Miller to give up the strip club any time soon. Beckham will mostly be back at Sin City just to keep looking for his lost ring. Strippers are welcome to join in the search, of course.
Be the first to receive breaking news alerts and more stories like this by subscribing to our mailing list.