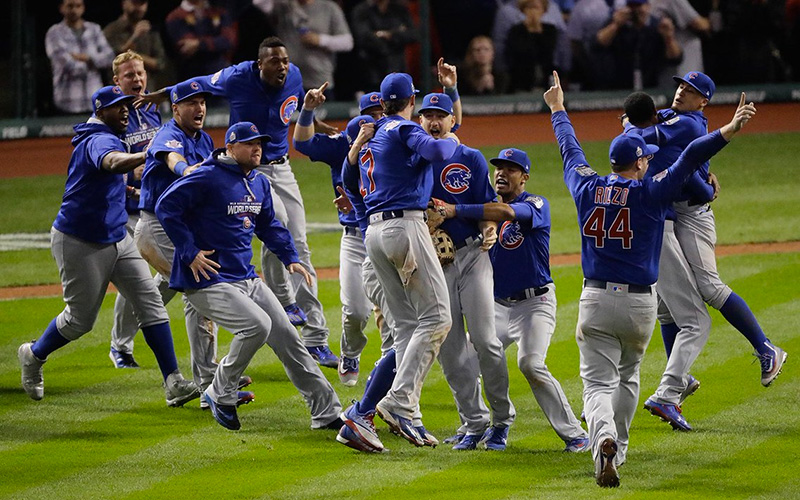 UPDATE: The Chicago Tribune is reporting that the Cubs will be honored Friday (Nov. 4) with a "parade to stand the test of time," Mayor Rahm Emanuel said early Thursday. As far as the time is concerned, he said it would be around noon. He said specifics were being worked out "as we speak."
He also didn't have any details regarding a possible route, he just told reporters to "stand somewhere in the middle of the city and you'll see it."
"I just talked to [Cubs chairman/owner] Tom Ricketts. I talked to him yesterday a couple times, I talked to him this morning again," Emanuel said when asked about the parade. "I think all of us would just want 20 minutes of consistent sleep, then we're gonna — Here's the thing: we're going to have a parade in Chicago that will stand the test of time. It will be a parade that 108 years have waited for. It will be a parade and a celebration that all of Chicago for 108 years in their mind's eye, have been envisioning. We're going to make it a reality in the city of Chicago."
Also, good news for Chicago Public Schools students. They don't have to miss a day from school because Friday was already a scheduled day off for them.
Here is an official release from the City of Chicago announcing the parade and route details:
Mayor Rahm Emanuel and the City of Chicago will celebrate the 2016 World Series Champion Chicago Cubs at a celebration rally in Grant Park on Friday, November 4, at noon, preceded by a downtown parade beginning at 11 am.

"The City of Chicago could not be more proud of the Cubs, and we are going to throw them – and their fans – a celebration worthy of the history the team made last night," said Mayor Emanuel. "2016 is the year for the Cubs and the generations of fans who have been waiting to the fly the World Series W. Go Cubs go!"

PARADE ROUTE
The official parade route will start at approximately 11 a.m., leaving Wrigley at approximately 10 a.m., and will travel along Michigan Avenue between Oak St. and Ohio St. and then along Columbus Dr. between Monroe St. and Balbo Ave. Fans who want to catch the downtown parade are encouraged to see them along this route.

Fans are encouraged to view the parade at the following locations:

Addison from Sheffield to Pine Grove
North Michigan Avenue from Oak St. to Ohio St.
Columbus Dr. from Monroe St. to Balbo Ave.

There will be zero tolerance for drinking on the public way.

RALLY
A Celebration Rally will take place at Lower Hutchinson Field in Grant Park at approximately noon, when the motorcade arrives in Grant Park. The team will be joined by American Airlines, the presenting sponsor who is providing financial support for the day's activities, and other Cubs Legacy Partners.

The rally is free and open to the public. All attendees must pass through security screening at entrances at Michigan Ave. and Jackson Blvd. and at Michigan Ave. and Congress Pkwy.

Closed water bottles will be allowed into the rally and food vendors will be on site.
---
ORIGINAL ARTICLE:
Chicago Cubs fans, rejoice! (As if we needed to tell you that.) After approximately 1,234 years (OK, not really, but 108 years is a LONG TIME) the Chicago Cubs are World Series champs!
After beating the Cleveland Indians 8-7 and winning three straight games, the Chicago Cubs officially put an end to their 108-year title drought during Game 7 of the 2016 MLB World Series at Progressive Field in Cleveland, Ohio Wednesday night (Nov. 2). And you know what that means… Parties and parades!
While this won't be the first championship parade for Chicago — the NHL's Blackhawks have won three Stanley Cup titles since 2010 and the White Sox (Chicago's other baseball team) won the World Series in 2005 — this will be the first time in over 100 years that the city's Cubs fans can celebrate winning the World Series they, which is a HUGE deal.
Though official details regarding the parade have yet to be revealed (keep checking back here for updates!) it's safe to say the crowd turnout will be the biggest the city of Chicago has ever seen!
Just look at this massive crowd for the Blackhawks Stanley Cub parade at Grant Park in 2013:
Let me just remind you Chicago did this for the Blackhawks Stanley Cup parade. Imagine the #Cubs pic.twitter.com/dLsOOxQuR6

— Briañ (@IamSouthern_eh) November 3, 2016
Meanwhile, some are estimating that upwards of 250,000 people (or more) could attend the celebration ceremonies.
As for the actual details regarding the official city parade, which, again, haven't been revealed just yet, Chicago Mayor Rahm Emmanuel — a big-time Cubs fan who reportedly wanted to dye the Chicago river "Cubbie Blue" — said in a post-game interview on the field that officials weren't ready to announce anything at the moment.
"We'll tell you when we are ready," he told Fox 32 (according to DNAinfo Chicago) about a possible ticker tape parade.
Asked when it will be, Cubs President Theo Epstein said: Team Chairman Tom Ricketts said probably Friday, the Tribune's Paul Sullivan reported.
Cubs President Theo Epstein was also asked about parade and rally plans. His response? "I have no idea, either Friday or Monday, I imagine." Team Chairman Tom Rickets said the parade is "probably Friday," as reported by the Chicago Tribune sportswriter Paul Sullivan.
USA Today columnist Bob Nightengale also said the parade will most likely be Friday.
Tom Ricketts said the Cubs parade is probably Friday.

— Paul Sullivan (@PWSullivan) November 3, 2016
The #Cubs World Series parade tentatively is scheduled for Friday.

— Bob Nightengale (@BNightengale) November 3, 2016
So, there you have it! It could be Friday, it could be Monday. We just have to wait and see what happens from here. Stay tuned for details on when and where the Chicago Cubs championship parade will be as we will keep this post updated with the latest information.
Be the first to receive breaking news alerts and more stories like this by subscribing to our mailing list.