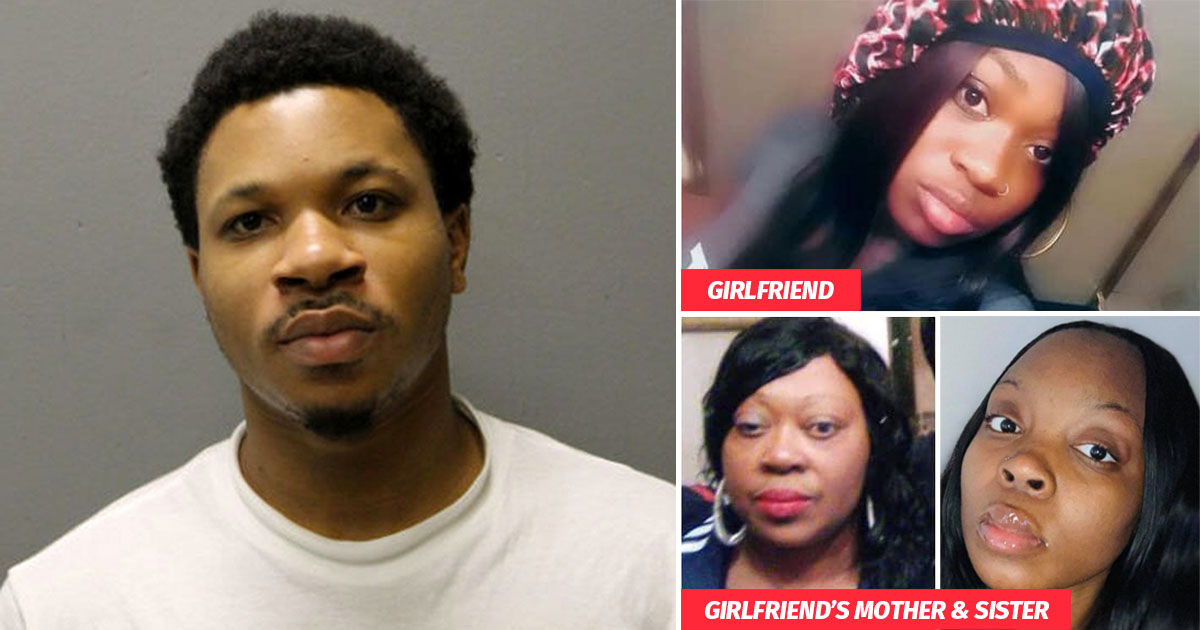 A Chicago man was arrested on three counts of first-degree murder for allegedly killing his girlfriend and her family in a domestic dispute outside his home this past summer.
According to police, 25-year-old John Matthews murdered his 24-year-old girlfriend, Shonta Harris, her mother, 56-year-old Frances Neal, and her sister, 27-year-old Jasmine Neal, after Harris said she didn't want to cook him breakfast or braid his hair.
Prosecutors said Matthews and his girlfriend had been dating for two years and shared a son, who was four months old at the time of the attack in June.
Police said Harris spent Father's Day at Matthews' home and stayed over that night.
The next morning, Matthew asked Harris to cook for him, but she declined since she wasn't feeling well. He also asked her to braid his hair, which she declined as well, which sent Harris into a rage.
An enraged Matthews started yelling at Harris and then punched her in the eye. In an attempt to defuse the situation, Matthews' grandmother tried to take Harris outside, but Matthews followed, yelling that he hated Harris and that she "doesn't do it for him."
When Harris tried to call her mother for help, Matthews grabbed her phone and broke it.
Matthews' grandmother then let Harris use her phone, and not long afterward, Harris' mother and sister, Frances and Jasmine Neal, were outside to pick her up, prosecutors said.
Matthews yelled at the trio to leave his property, and refused to let them inside to get the baby.
Jasmine Neal then decided to call 911 herself and told the operator that Matthews had given her sister a black eye and was refusing to hand over their son.
As the arguing continued, Matthews pulled out a gun and shot Frances Neal seven times in her chest, back, arm and leg. He then shot Harris once in the chest.
Jasmine then ran into the street, "running for her life with her hands up," according to prosecutors, but Matthews chased after her and shot her in the head.
Matthews' grandmother then called 911 as her grandson fled, and identified him as the shooter.
Frances and Jasmine Neal were pronounced dead at the scene.
Harris was rushed to the hospital, where she gave police a lengthy videotaped statement identifying Matthews as the shooter and telling police about past instances of his violent behavior towards her, including one time when he disabled her cellphone 28 times so that she couldn't call the police on him.
Harris died almost three months later on September 5th and her death was ruled a homicide.
Matthews fled to Iowa after the triple shooting and was only caught after he got into a car accident there in August, police said. He was extradited back to Illinois in November on the murder warrant.
Judge Charles Beach II ordered him to be held without bail Friday (Nov. 6) on three counts of first-degree murder, noting that "his own flesh and blood identified him as the shooter."
Matthews' attorney, Assistant Public Defender Rocio Armendariz, said in court that Matthews has no prior criminal history and had previously worked for Amazon.
Matthews is due back in court on November 30th.
Be the first to receive breaking news alerts and more stories like this by subscribing to our mailing list.