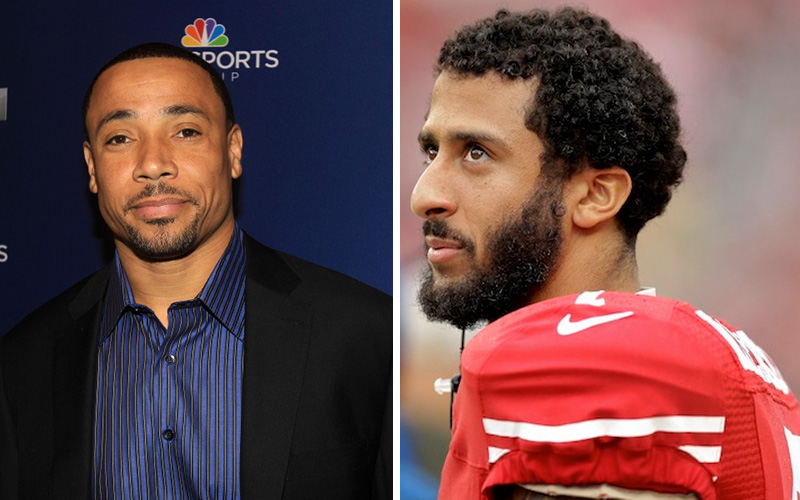 Former NFL safety Rodney Harrison is the latest to join in the discussion on Colin Kaepernick's decision to protest the racial injustices in America by not standing during the National Anthem. Harrison agrees with the anti-Kaepernick crew, but for very different reasons than most.
"I tell you this, I'm a black man. And Colin Kaepernick – he's not black," Harrison said during an interview on iHeartRadio Tuesday morning. "He can not understand what I face and what other young black men and black people face, or people of color face, on a every single (day) basis."
Harrison's issue with Kaepernick's protest isn't that the protest is unwarranted or he's going about it the wrong way; rather, it's that he doesn't believe Kaepernick truly understands the struggle due to the fact that he has a white biological mother and was adopted by two white parents.
"When you walk in a grocery store, and you might have $2,000 or $3,000 in your pocket and you go up in to a Foot Locker and they're looking at you like you about to steal something," Harrison said. "You know, I don't think he faces those type of things that we face on a daily basis."
Kaepernick may not agree. Despite his mixed racial background, America still views him as a man of color. The evidence is clearly on his Twitter account which has been flooded with racial slurs after his protest went viral.
Yeah. How dare Colin Kaepernick criticize the treatment of black people in America. pic.twitter.com/64gLmEfRJo

— Erik (@SikkCaden) August 27, 2016
And this isn't the first time Kaepernick has faced racial adversity (sadly, obviously). He has been seen and treated as a black man since his early childhood.
But Rodney Harrison doesn't seem to care about all that. "I'm not saying he has to be black," he said, "but I'm saying his heart is in the right place, but even with what he's doing, he still doesn't understand the injustices as a black man, or people of color, that's what I'm saying."
Be the first to receive breaking news alerts and more stories like this by subscribing to our mailing list.