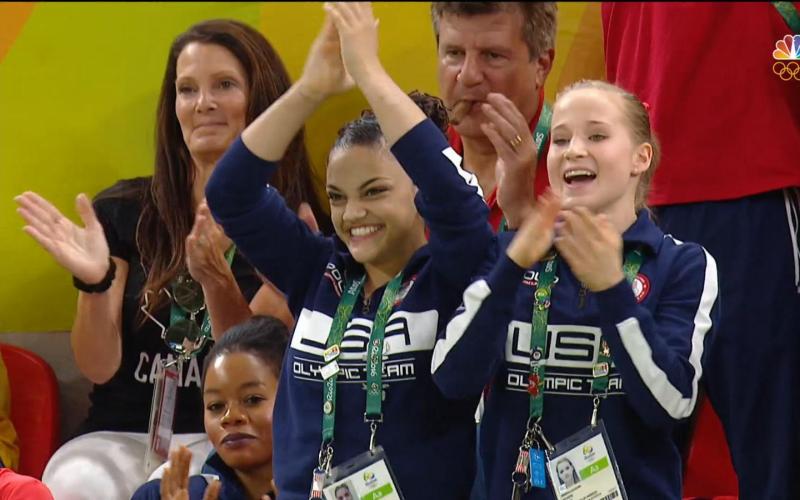 Four years ago, Gabby Douglas was America's sweetheart. Everyone adored her bright smile and wanted to know about the first African-American to win the Olympic Individual All-Around Gold Medal in gymnastics. However, since fighting to make her second Olympics she has found herself embroiled in controversy and facing public scrutiny while in Rio.
Simone Biles crushed the individual all-around competition to earn her second gold medal of the 2016 Olympics. She's dominated the sport for the past four years and many have deemed her the greatest gymnast to ever live. She won her individual gold medal with a 2.1-point lead. To put that into perspective, that's greater than all the margins-of-victory from the 1980 Games to the 2012 Olympics combined.
Needless to say, the entire world celebrated Biles after she completed her flawless final routine of the competition. Well, everyone except Douglas. Video has surfaced showing Douglas barely clapping and looking a little salty as Biles waved to the crowd. Meanwhile, seated right next to Douglas, fellow U.S. teammates Laurie Hernandez and Madison Kocian leapt to joy and excitement for their friend.
https://twitter.com/JazzBerries22/status/763950193645457409
Why is Gabby Douglas so salty ? pic.twitter.com/bqYuNsPvh5

— Dallas?? (@DallasJonesIC) August 12, 2016
Was it me or was Simone's teammate Gabby a tad bit salty #RioOlympics2016

— King Oguntosin (@KingSeun3) August 12, 2016
When Gabby Douglas sees simone Biles in the streets https://t.co/BKSlASGBe8

— Reginal Aurelien (@RegiAurelien) August 12, 2016
https://twitter.com/EyeCandyTMGayle/status/764201127214718982
Social media and other outlets quickly noted Douglas' lack of enthusiasm for Biles. As a huge gymnastics fan since 1999, I also found her reaction a little off-putting and instantly knew it was another controversy she would have to deal with.
However, I also understand what might have been going through her mind as she saw her teammates take home the gold and silver medals. She desperately wanted the chance to defend her title. Although she finished in third place during the qualification round, only two gymnasts per team/country are allowed to move to the Individual All-Around finals. So, technically, the third best gymnast in the entire world (Douglas) was left sitting in the bleachers without anything to show for her hard work and dedication to the sport.
I'm sure Douglas was extremely happy for Biles and Aly Raisman (Silver Medal), but she does have every right to feel some type of way about the situation. But she could have faked it for the cameras a little bit.
Since arriving in Rio, Douglas has had to deal with more scrutiny that her teammates. Social media first attacked the black girl for going on the world stage without her hair being "laid" to the liking of some black women, and she was basically vilified for not having her hand over her heart as the National Anthem played and American Flag was raised as Team USA received their gold medal.
Gabby responded to claims of being unpatriotic on social media. Although she has publicly congratulated and expressed love for "her girls," Simone Biles and Aly Raisman, she has not commented on her "salty" reactions directly following their wins.
Congratulations to my girls @Simone_Biles @Aly_Raisman for winning GOLD & SILVER in the ALL AROUND! I love you guyyyssss!!!! ??? #TeamUSA ??

— Gabby Douglas (@gabrielledoug) August 12, 2016
Be the first to receive breaking news alerts and more stories like this by subscribing to our mailing list.