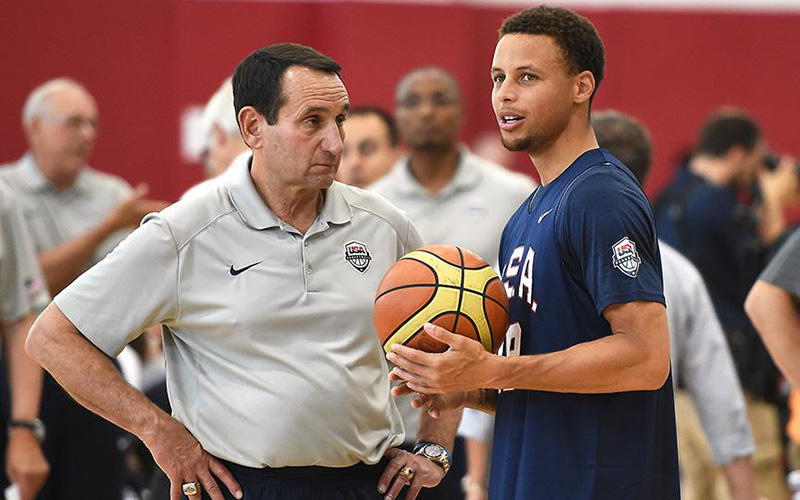 The US Men's Olympic basketball team has been warming up for the 2016 games with some exhibition matches, knocking off the Chinese team on Tuesday with a 107-57 victory. Everyone expects the US team to do great things, but it's the way they are doing it that makes it so much fun to watch.
With a loaded team that includes such stars as Carmelo Anthony, Kevin Durant, Kyrie Irving, Draymond Green and Paul George, exciting basketball is a given. The craziness is definitely going to come out when they are up by almost 50 points in the 4th quarter, but when DeMar DeRozan busted out this move…
Man, this dunk would have been CRAZY! (via @cjzero) https://t.co/q81miI75Oc

— Kicks Deals (@KicksDeals) July 27, 2016
…I think everyone was surprised. And while most love the attempt and enjoy watching that kind of ball, one person in particular didn't.
USA Basketball head coach Mike Krzyzewski.
Following the game, Coach K told the media he wasn't too thrilled with the amount of fun his squad was having.
Coach K said: "We had a little bit too much fun out there tonight. We have to tone that down a little bit." https://t.co/7KIDaLcDKw

— Marc J. Spears (@MarcJSpearsESPN) July 27, 2016
Are we really surprised? Sure, Coach K is a good coach – his Duke Blue Devils are always a contender in the NCAA and he's led a number of great US teams to victory over the years. But the dude doesn't come across as someone who is a fan of fun.
Duke has always been known as a stuffy, pretentious school covered with gothic buildings across its campus. None of that screams, hey, let's pull a contested 360 dunk mid game because it would be fun. And despite his successful career, Coach K always come across the same way as Bill Belichick of the NE Patriots – too serious for his own good.
And while the US team is definitely going to face some stiffer competition come Olympic time, I say let them have as much fun as they want. Because when they're having fun, the fans are having fun.
Disclaimer: My ties to the UNC Tarheels in no way affects this article. Well, maybe a little.
Be the first to receive breaking news alerts and more stories like this by subscribing to our mailing list.