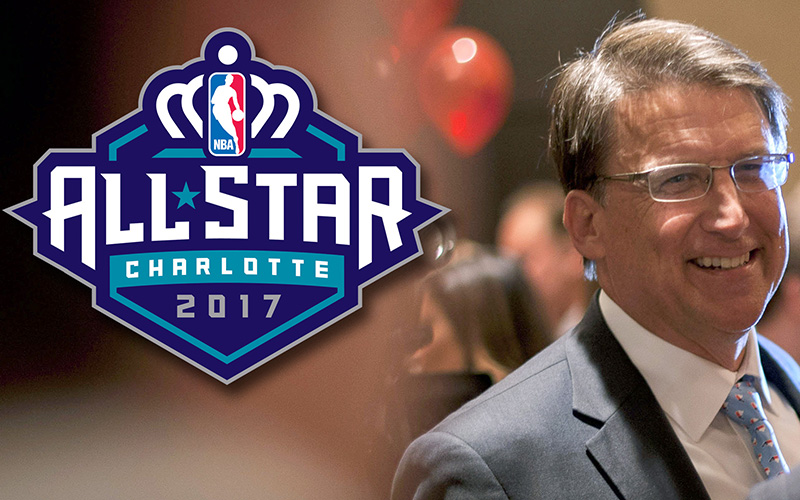 The NBA had planned on bringing its All-Star festivities to the emerging market of Charlotte, NC for the 2017 season. Fans in the city and state were excited to have the sport's biggest stars come to town and showcase their abilities — something the city (home of the Hornets) has always been lacking. They may have a helluva football team, but the Hornets have typically been less than impressive.
But then the North Carolina governor, Pat McCrory, had to go and f**k everything up. With the passing of HB2, or what has become popularly known as the "bathroom bill," McCrory and North Carolina's Republican-heavy government managed to piss off just about everyone — including many in North Carolina.
A thorough explanation of what exactly the bathroom bill is can be found here, but in essence, it was an unabashedly anti-LGBT law that eliminated any repercussions for discrimination in the state.
Soon after the bill was passed, other states enacted travel restrictions to the state, business pulled out of development plans, and the NBA threatened to pull their All-Star game from Charlotte if Governor McCrory and team didn't change the law.
Well, they didn't, and on Thursday (Jul. 21) the NBA stayed true to its word, announcing they will take the All-Star game elsewhere, mostly likely New Orleans.
The NBA issued the following statement today regarding the 2017 NBA All-Star Game pic.twitter.com/2yo1YDA2Un

— NBA (@NBA) July 21, 2016
The NBA said that the bill went against their values of inclusion and acceptance of all players and fans, and as such, could not hold the event in Charlotte. The cruel irony? Charlotte actually started this whole mess by passing a local ordinance that would've allowed transsexuals to use the restroom that they identified with. Their progressiveness was the only reason McCrory felt HB2 was necessary.
And so now not only have North Carolinian's suffered a loss of jobs, tourist revenue, and the respect of the rest of the country, but now they will miss out on the most star-studded NBA event in the season.
As a North Carolinian myself, I just want everyone to know that not all of us are as ass-backwards as McCrory and our government make us out to be. And for all of us, I'd like to give a big F*** you to Pat McCrory.
Be the first to receive breaking news alerts and more stories like this by subscribing to our mailing list.