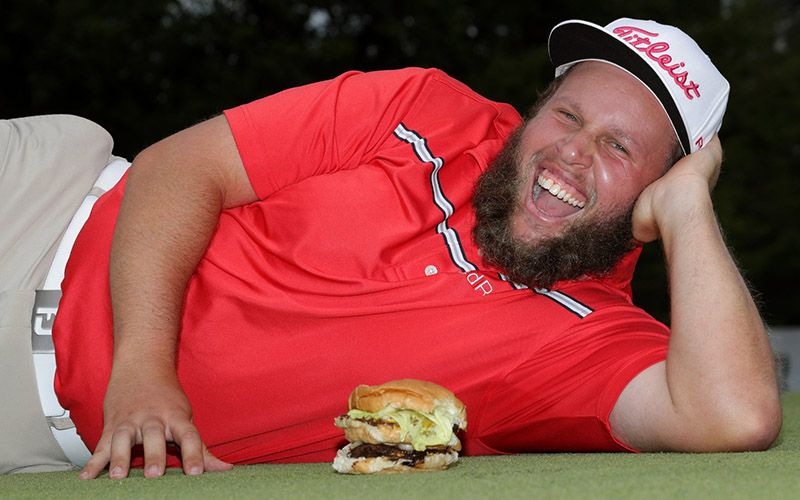 If you found yourself watching the British Open over the weekend (and unless you were spending the weekend with your 60-year-old father who loves golf like me, you probably didn't), then not only did you see one of the best final rounds of golf ever played, but you probably had your first introduction to 27-year-old Andrew "Beef" Johnston.
The beer-bellied, beard rocking PGA Tour golfer made a splash by finishing in eighth place in the prestigious tournament, causing cheers of "BEEF!" to arise from around the course as he knocked down shot after shot.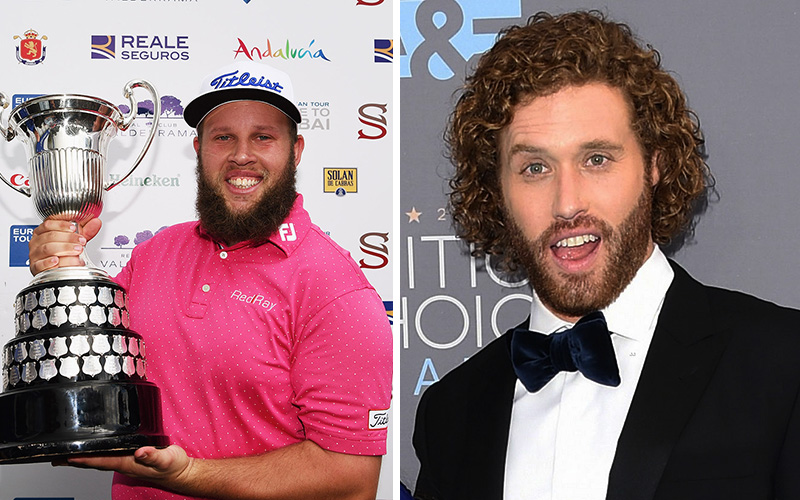 If you're like me, you also probably thought it was comedian and HBO's Silicon Valley's TJ Miller. From the dumb grin to the crazy beard and less than athletic body, the resemblance is quite striking. Seeing as how I love TJ Miller's comedy so much, and any guy who plays one of the most stuck up games in the world while going by the name "Beef" is noteworthy, I had to find out more about this guy.
And he did not disappoint.
Beef is relatively new to the tour, just recently winning his fourth European Tour victory in the Spanish Open. In his post-round press conference, he told the reporter, "I can't wait to get back to North Mid [North Middlesex Golf Club], and yeah, get hammered… and see my mom and brother and spend time with them and just celebrate."
Getting hammered, the most important thing for him to do right before seeing his mom.
Digging a little deeper only unearthed more great moments in the young golfer's career.
Following his opening round at the WGC-Bridgestone Invitational, Beef sat down to a light dinner of, you guessed it, beef. But not just any beef … a 32-ounce, Kobe Tomahawk steak. Over his small dinner, Beef discussed how he'd been invited to a cattle farm in the Scottish Highlands.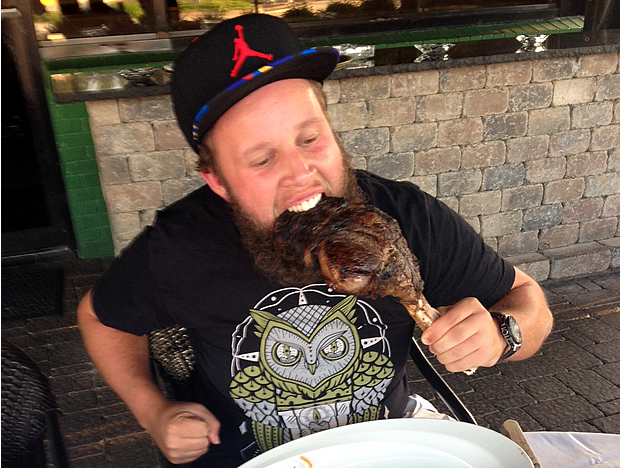 A boring visit for most, but not for Beef, who said he plans on showing up in a cow onesie without telling anyone prior.
"You get an opportunity like that, get taken to a farm, and come on, man. You've got to turn up in something," he said. "You've got to have some fun with that."
And the hilarious antics aren't anything new for Beef. Even as far back as high school, Beef was having fun with the game he loves. While celebrating a victory at a high school tournament, the lifelong partier found himself locked out of the bed and breakfast his team was staying at … half-naked.
He walked 100 yards, broke into the clubhouse, and fell asleep until accidentally setting off the alarms and being found by the police the next morning.
As for how he got the nickname Beef? He shared the origins in a press conference earlier in the week:
"When I was a kid, if I grow my hair out I'm a quarter-Jamaican so it goes curly, and one of my friends said 'your head looks like a big bit of beef, you've got a beefhead.' And it just stuck, honestly, and now everyone just calls me 'Beef.' They shortened it."
And he's embraced it, even going so far as to having drunkenly getting a tattoo that simply reads, "Beef Head."
Getting hammered, eating like a madman, partying in a piñata costume, getting drunken tattoos and just enjoying life, Andrew "Beef" Johnston is the perfect Erlich Bachman clone and most entertaining player on the tour right now.
Getting hammered with @BeefGolf pic.twitter.com/JWNnIg6ant

— The Club (@TheClub) April 22, 2016
Be the first to receive breaking news alerts and more stories like this by subscribing to our mailing list.