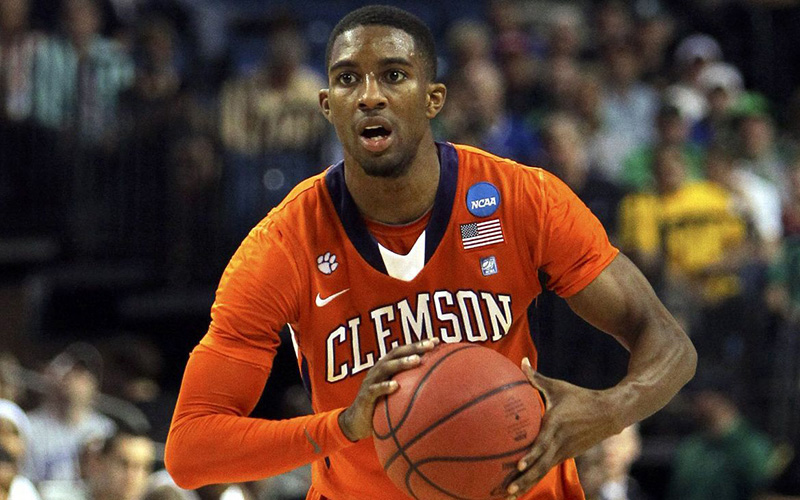 Former Clemson basketball point guard Demontez Stitt was found dead in his Charlotte, North Carolina home Tuesday (Jul. 12) at the young age of 27. In the hours after his passing, news of his alleged cause of death was revealed by some of his friends.
According to them, Stitt suffered a sudden heart attack that claimed his life early in the morning. The Associated Press later corroborated that story, saying, "Stitt reportedly suffered a cardiac issue" and no foul play was suspected.
News quickly spread, devastating Stitt's friends, family, and colleagues as they discovered the tragic news. Stitt's former high school basketball coach, Kurt Wessler, found out Tuesday night.
"I spent the next 16 hours going from being completely devastated and in tears…my family's in tears. All four of us loved him. He was such a charismatic person; kind, beautiful, understanding. There wasn't a color code to him. There wasn't a gender code. It was just you were you and he was him, and let's go do something."
Wessler had spent time with Stitt just a week before his death, meeting him at a local gym and talking about basketball, life, and the future.
Stitt was named Mr. Basketball in North Carolina by the Observer after his 2006-07 high school season and went on to play for the Clemson Tigers for four years after that. He is the only player in program history to start on four straight NCAA Tournament teams. Following his collegiate career, he traveled overseas to play professional ball.
The outpouring of support following Stitt's tragic death demonstrates what kind of person he was, both on and off the court. As Wessler said, "he was a phenomenal person. He lit up a room when he came in."
RIP Demontez Stitt…Best hooper to come out of BHS. Always on his job. Showed us we could make it. Fullwood lost a legend

— Peter Kalambayi (@Kalambayi34) July 13, 2016
I don't understand why, but the Heaven Hoops team just keeps getting better and better… Heart is heavy.

— Cierra Burdick (@C_Burdick11) July 13, 2016
Saddened to hear the death of my former tiger brother Demontez Stitt !! Prayers for his family?? https://t.co/Ve7tjh7Yfw

— Da'Quan Bowers (@DaQuanBowers91) July 13, 2016
With heavy hearts today we mourn the passing of Demontez Stitt, just 27 years old. RIP "Buddy," you will be missed. pic.twitter.com/4CfQ046PKV

— Clemson Basketball (@ClemsonMBB) July 13, 2016
Very sad hearing the sudden passing of Demontez Stitt. Gone way too young. My staff was very close w/ him. Thoughts & prayers to all. RIP

— Coach Ché Roth (@CoachCRoth) July 13, 2016
Stitt's last Tweet came just yesterday morning. It simply read, "Thank you Lord!"
Thank you lord! ??????

— Demontez Stitt (@_buddyDAgr8) July 12, 2016
Demontez Stitt, a life taken at a far too young age, will be missed by many.
Be the first to receive breaking news alerts and more stories like this by subscribing to our mailing list.