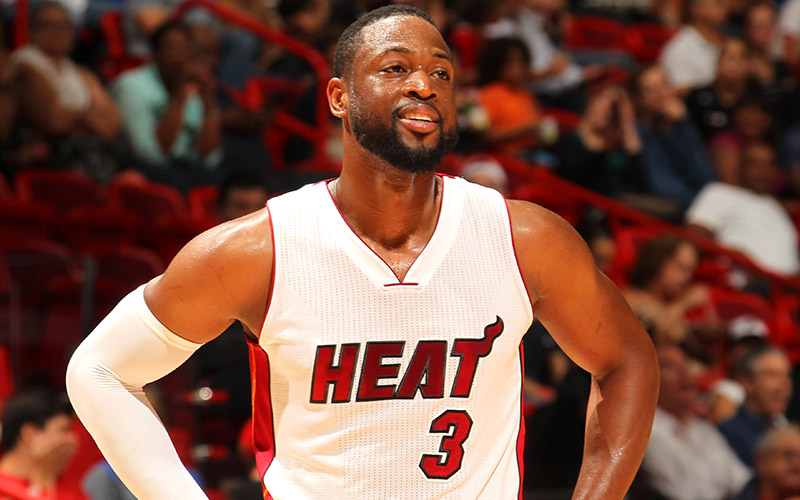 After the Heat lowballed veteran and Miami staple Dwyane Wade with a paltry $10 million offer, it was no surprise that the NBA All-Star was going to be shopping around. Despite his years of loyalty to the town he calls home, a talent of that caliber knows he can do better.
For a minute there, rumors speculated that he'd be joining his buddy LeBron James in Cleveland, but on Wednesday night (Jul. 6) Wade announced that he will be replacing Derrick Rose and joining the Chicago Bulls. With a two year, $47.5 million offer, D-Wade will finally leave the Heat and join a diminished roster in Chicago.
Dwayne Wade is as synonymous with Miami as peanut butter is to jelly. The thought of number 3 playing for anyone besides the Heat would have been considered ludicrous a couple of years ago. The love for Wade in South Beach is so strong that even fans were pissed at the low-ball offer to the NBA Champ.
Wow, Pat Riley delivered his offer to Dwyane Wade in a briefcase. pic.twitter.com/XkHnENOrPE

— Zach Harper (@talkhoops) July 2, 2016
https://twitter.com/HPbasketball/status/749063615177560065?ref_src=twsrc%5Etfw
They even set up a GoFundMe page to help raise the money for the superstar in hopes of keeping him there (it has already been suspended). Despite their best efforts, they had only been able to raise $55 as of last Saturday — hardly enough to cover the $10 million loss Wade would suffer from his previous year's contract.
Wade didn't take the decision lightly. After making his choice to leave Miami, Wade penned a letter to the fans of the Heat in which he said, "this has been an extremely emotional and tough decision to come to. After 13 years, I have decided to embark on a new journey with the Chicago Bulls. This was not an easy decision, but I feel I have made the right choice for myself and my family."
Wade's full letter can be found here.
Wade will join a depleted roster that includes Rajon Rondo, Jimmy Butler, and Robin Lopez as their headliners. Apparently, Wade is in this for the money, not the opportunity for the rings like Durant.
Be the first to receive breaking news alerts and more stories like this by subscribing to our mailing list.