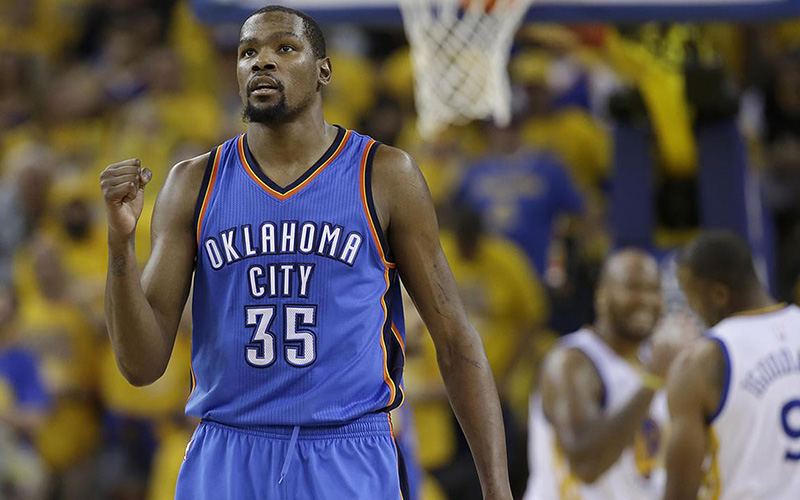 For months now, people have been talking about where Kevin Durant would end up with his contract ending in OKC. Speculation ran rampant: some thought he'd stay with fellow super star Russell Westbrook, it seemed like the Celtics were on his short list for a while, and of course, Golden State was always a part of the conversation.
Well, today, Durant made it official with an announcement in the The Players' Tribune. The former NBA MVP is going to be joining the likes of Steph Curry, Klay Thompson, Andre Iguodala and Draymond Green to help in another title run for the Warriors.
The expected two-year, $54.3 million contract will include a player option after the first year, giving Durant the opportunity to reevaluate following next season.
Durant, when talking about the decision, said it has been "by far the most challenging few weeks in my professional life." He continued, "The primary mandate I had for myself in making this decision was to have it based on the potential for my growth as a player – as that has always steered me in the right direction."
The trade is huge for the Golden State Warriors, who, with the increased cap limit, aren't going to have to sacrifice much. It is likely that Harrison Barnes will leave (most likely to Dallas) and Andrew Bogut will be traded. And while nothing is official just yet, Bogut has already removed references to the Warriors from his Twitter page.
This is clearly the biggest move thus far in the offseason that has already seen Derrick Rose leave his hometown for the NY Knicks. With Durant joining the already explosive Warriors, it is clear that LeBron James and the Cavs are in for a much tougher battle should there be a three-peat matchup between the two powerhouses.
Be the first to receive breaking news alerts and more stories like this by subscribing to our mailing list.