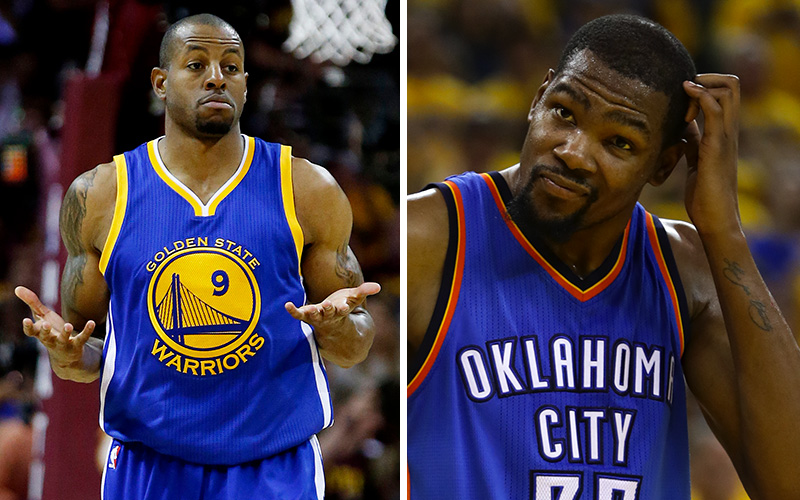 UPDATE: Kevin Durant Announces He's Signed With Golden State
****
It's no secret that the Golden State Warriors (as well as just about every team in the NBA) are courting former MVP Kevin Durant now that he is a free agent. And despite Durant saying he was 90% sure he was set on staying with the Thunder, that 10% was enough for him to visit with the Warriors organization.
The Warriors didn't hold anything back in trying to woo Durant to Oakland, bringing in the heavy hitters Steve Kerr, Steph Curry, Klay Thompson, Draymond Green, and Andre Iguodala.
In addition to Steve Kerr & GState brass, Steph Curry, Klay Thompson, Draymond Green & Andre Iguodala attended meeting, source says.

— Chris Broussard (@Chris_Broussard) July 1, 2016
Early reports following the pitch is that the meeting went "very well," but Andre added a little more fuel to the fire with a mysterious tweet sent out Friday (Jul 2).
Nah b

— Danielson… (@andre) July 1, 2016
Nah b. This tweet was not in response to anything in particular, nor did it offer any kind of follow up. Just a simple "nah b."
The true meaning of the tweet is unknown, but what is known is that Iguodala is no fool. He knows that every bit of information coming out of the Warriors organization is going to be gone over with a fine-tooth comb to try and decipher whether or not Durant will be joining the Warriors.
And understandably so. Everyone remembers the fuss made of LeBron taking his talents to South Beach and forming a super team of him, D-Wade and Bosh. We have another super squad in the making if Durant were to join the likes of Curry, Thompson, Green and the rest of the Warriors' team. The Warriors, with the increased cap limit, wouldn't lose much either — Harrison Barnes would likely be their biggest loss.
I, for one, would love to see this trade happen. Would it be fair? No. It's almost like putting Team USA up against normal NBA teams. But the opportunity to watch Durant, Curry, Thompson, Green and the rest of the Warriors dominate the West is too good to pass up.
Not to mention how much fun it would be playing as the Warriors in NBA 2K17. Sure, everyone will hate you for playing with them, but dammit, it would be so much fun.
It's too early to tell what will happen with Kevin Durant though. This off season is just getting underway, and there are going to be more blockbuster trades in the coming weeks. So, for now, do we know if he will be joining the Warriors or staying put?
Nah b.
Be the first to receive breaking news alerts and more stories like this by subscribing to our mailing list.