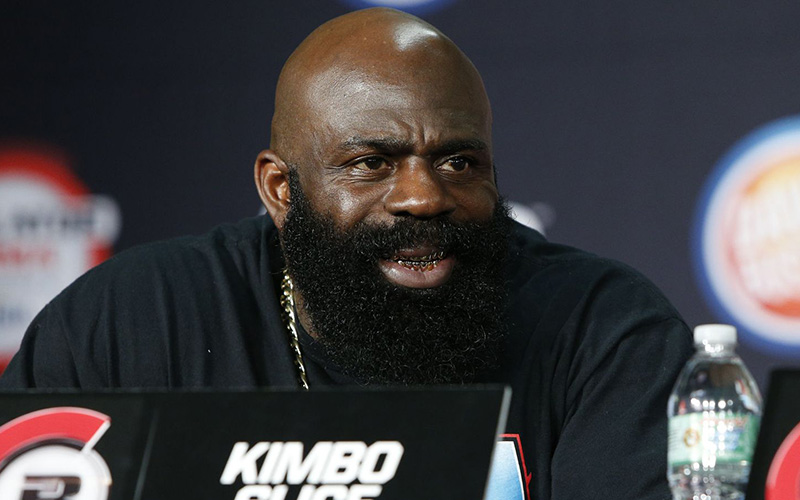 In the hours following the news of Kimbo Slice's passing Monday night (Jun 6), the MMA fighter's alleged cause of death was revealed by his training partner.
Slice (real name: Kevin Ferguson) died of apparent heart failure, his training partner Tyler Cook said. Though details regarding Kimbo's death have yet to be officially disclosed, Cook revealed in a comment on Facebook that Slice died as the result of a heart attack. "I just got a phone call, said his heart quit," Cook said in another message.
As we previously reported, Kimbo was rushed to the hospital Monday (Jun 6), and TMZ said his condition was very serious. A few hours later, the 42-year-old was pronounced dead. According to unconfirmed reports, the fighter went into cardiac arrest and could not be revived.
The CEO of Bellator MMA confirmed the sad news in an official company statement that read, "We are all shocked and saddened by the devastating untimely loss of Kimbo Slice, a beloved member of the Bellator family. One of the most popular MMA fighters ever, Kimbo was a charismatic, larger-than-life personality that transcended the sport. Outside of the cage he was a friendly, gentle giant and a devoted family man. His loss leaves us all with extremely heavy hearts, and our thoughts and prayers are with the entire Ferguson family and all of Kimbo's friends, fans and teammates."
Kimbo Slice's last professional fight was back in February when he defeated Dhaffir "Dada 5000" Harris in a match that caused Dada to go into cardiac arrest and suffer renal failure afterward. Officials later overturned the victory, rendering the match a no-contest, after it was discovered that Kimbo had tested positive for anabolic steroids and elevated testosterone levels.
According to the website MMAFighting.com, Slice (Ferguson) tested positive positive for a drug called nandrolone, which can cause heart issues.
Kimbo Slice's training partner said he died of heart failure. pic.twitter.com/0fazf6Tsd2

— BLACK ADAM SCHEFTER (@B1ackSchefter) June 7, 2016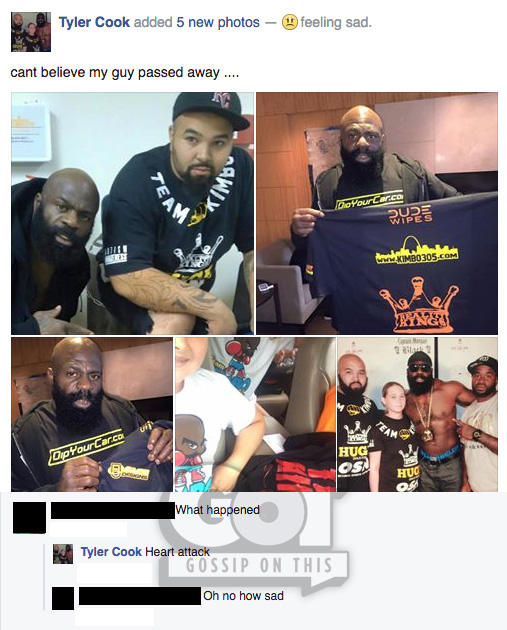 From Ergo Log, citing discoveries by Italy's University of L'Aquila after conducting laboratory tests on human cells:
Nandrolone kills the blood vessel lining at a concentration eleven times lower than that at which testosterone kills them. Heavy and long-term use of anabolic steroids such as testosterone and nandrolone increases the chance of fatal heart failure, and even more so when combined with recreational drugs like cocaine.

There are several theories, which do not exclude each other, as to why anabolic steroids have this effect. The most well known is that anabolic steroids make the heart muscle grow, sometimes to deadly proportions. This effect doesn't set in after a single course of supplements, or even after a heavy dosage, but only after prolonged use. The chance of the heart muscle becoming enlarged increases even more when anabolic steroids are used in combination with human growth hormone.
Kimbo Slice's next fight was scheduled to go down in July at the Bellator 158 in London. His final MMA record was 5-2, and his boxing record was 7-0.
Despite making a name for himself as a rough, tough street fighter, Kevin Ferguson was a full time family man back home. He leaves behind six children (three boys and three girls) as well as a fiancée Antionette Ray.
Be the first to receive breaking news alerts and more stories like this by subscribing to our mailing list.