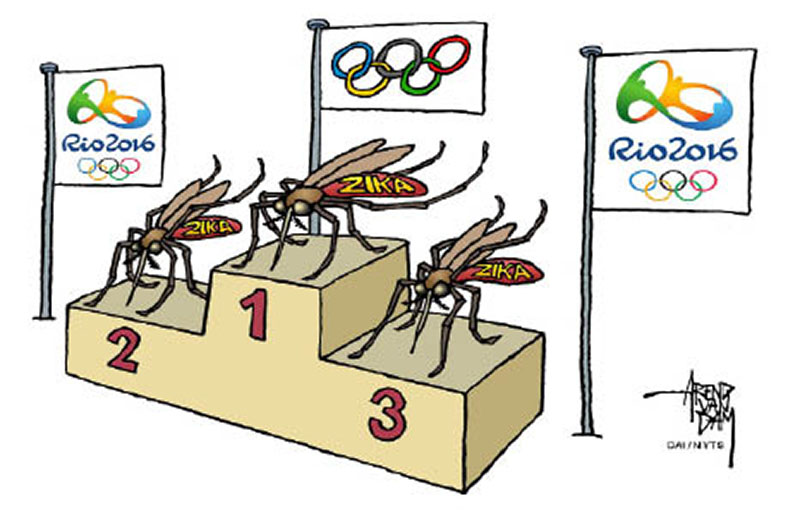 Zika, a mosquito born virus native to tropical countries has had a major outbreak in Brazil, which is also the home of the 2016 Summer Olympics.
The games will bring millions to the country to compete and engage in athletic competition, but is the risk worth it? Several athletes from the United States have voiced concerns of missing out on the 2016 Olympics in order to avoid contracting the virus.
NBA star Pau Gasol, who has played in Olympic games previously, is one of the athletes with Zika concerns. According to the Associated Press, Gasol is considering not playing and wondering if it is worth the risk. The Chicago Bulls star says he is not alone in his thinking either.
Fox Sports has also named tennis superstar Serena Williams, soccer player Hope Solo and basketball player Carmelo Anthony as athletes who were considering skipping out on the 2016 Olympics in Brazil with concerns over Zika.
Francisco Rodriguez, MLB player for the Detroit Tigers contracted Zika in Venezuela. Following his two-month battle with the virus, in an interview with ESPN, Rodriguez encouraged athletes to learn about Zika before heading to Brazil.
"It wouldn't surprise me to see some athletes deciding not to participate in the games to avoid putting their health and the health of their families at risk," said Gasol, without naming any other athletes. He continued, "some of these athletes are planning to have children in the near future and this could affect them, it could affect the health of their kids and their wives."
So far, at least one U.S. athlete, cyclist Tejay van Garderen, has officially withdrawn from the Olympics over Zika concerns.
The Zika virus can cause neurological issues in affected adults and birth defects in infants born to mothers infected by the Zika virus. The virus, though transmitted to humans from mosquitoes, can be transmitted sexually or through childbirth.
While Gasol's uncertainty lingers, major health organizations have said Zika will not be a problem at the 2016 Olympics. The World Health Organization, better known as WHO, has issued a statement saying there is no public health justification for postponing or canceling the Olympics due to Zika concerns.
This follows an open letter penned by 150 health experts requesting a delay or relocation of the Summer 2016 games. WHO has suggested that pregnant women avoid travel and anyone else take standard safety precautions including using insect repellant and practicing safe sex.
[Cartoon via]
Be the first to receive breaking news alerts and more stories like this by subscribing to our mailing list.