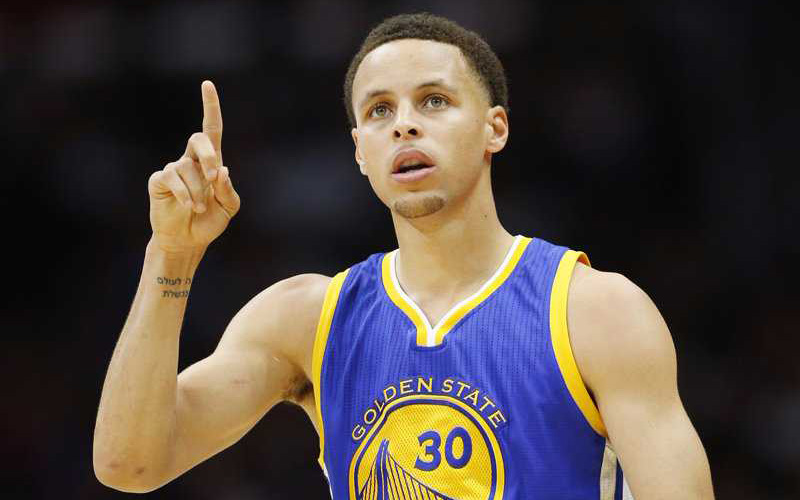 Life for Golden State Warrior point guard and NBA MVP Stephen Curry couldn't be sweeter. With his team in the midst of the NBA playoffs against LeBron James and the Cleveland Cavaliers, Curry has all eyes on him.
And apparently, not all eyes on him are due to his ball handling skills. Some in the media are alleging that Steph's rise to fame is, at least in part, due to his light-skin appeal, writes Michael Eric Dyson for The Undefeated.
The politics of shade have shadowed black folk from the time we set foot in North America. Curry's fame has upped the ante: Suspicion surrounds him because of his light skin, and because he's been lauded by both the NBA and media establishments. The subliminal message has become explicit: Curry is a brother we may not be able to embrace because the powers that be embrace him too. Curry is not the first black man who makes some black folk uneasy because America loves him as much as we do, but he may be the most popular contemporary figure evoking that dilemma. And Curry's color is at the heart of that dilemma.

There's little question that Curry's skin has inflamed a racial wound that may be invisible to folk outside the culture: the plague of colorism, or skin tone, that has yet to be conquered. Curry's light skin and its relation to — some would argue the crucial reason for — his broad cultural appeal has not gone unnoticed.

"James Harden doesn't stand a chance to win the MVP," a college professor on the West Coast proclaimed in his class when I visited his school in 2015, referring to Curry's closest competitor for the award. "He's too dark and 'too black.' "
I don't know, y'all. This seems a bit far-fetched to me. Many of the basketball greats of the year have been dark-skinned men like Magic Johnson and Michael Jordan, so it's not as if light-skinned men have been reaping all of the rewards in the NBA for all these years.
But let a few light-skinned brothas like Drake, Steph Curry and Terrence Howard have a good year and suddenly black folks start gettin' worried.
What do you think? Is part of Steph Curry's appeal tied to his high-yellow skin, light eyes and curly hair? Or is it purely because of his skills on the court?
Be the first to receive breaking news alerts and more stories like this by subscribing to our mailing list.