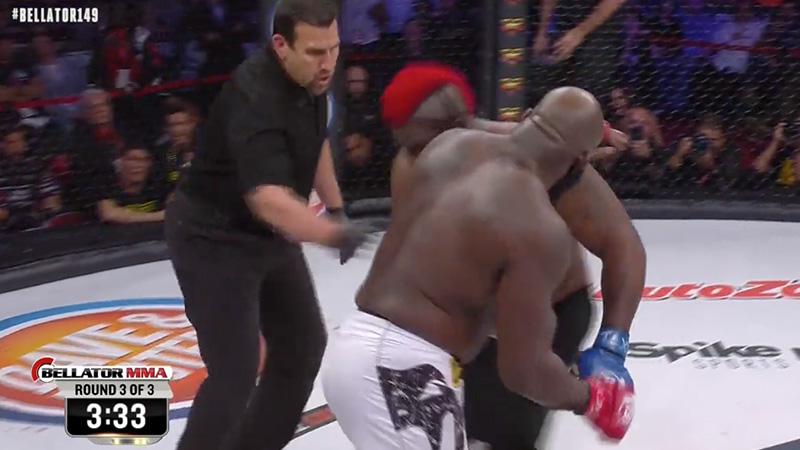 The much-hyped Bellator MMA match between Kimbo Slice and Dada 5000 ended up being a struggle fight between two fat guys who should just hang it up.
In the third round of what Uproxx Sports considers the "most confusing and worst fight in the history of fighting," after Kimbo and Dada stumbled around for a bit, a clearly disoriented Dada essentially knocked himself out.
Yes, you read that right. HE KNOCKED HIMSELF OUT.
If you didn't see it for yourself, you're probably shaking your head in disbelief right now, so here's the video for proof:
.@KimboSlice wins it in round 3! #Bellator149https://t.co/0Q7q6Mcpnn

— Bellator MMA (@BellatorMMA) February 20, 2016
WTF WAS THAT?!?
This was a fight that saw Kimbo Slice get gassed while in mount. This is a fight that saw both men stumbling, completely burned out from maybe 10 strikes thrown. It was truly unbelievable. As each minute passed, it got stranger. And then it ended in the only way it could ever possibly end.
Truly the best/worst fight in the history of all fights.
If you want to watch two fat, out-of-shape, street fighters turned MMA wannabes sloth around for 15 minutes, you can watch their full fight below:
This YouTube comment sums out the entire fight best: "What did these guys do to prepare for this fight, eat burritos and smoke weed?"
Keep scrolling for even more hilarious Internet reactions to the best/worst fight ever:
When yo uncles at the BBQ throw on the gloves after their 3rd plate https://t.co/OjyoCN7EIa

— kenny (@jailposejesus) February 20, 2016
https://twitter.com/MikeLovesTacosX/status/700902916513730560
Kimbo Slice's next opponent… The odds are Def not in Kimbo's favor!!!! #Bellator149 pic.twitter.com/osjRpOZIIz

— WWE on PopCulture (@WWEonPopCulture) February 20, 2016
@BarstoolBigCat I can't believe I'm watching two fat drunk guys fight outside of a bar until they forget they're even fighting

— Bryan (@BryMol14) February 20, 2016
This Kimbo Slice/Dada fight is one of the most embarrassing sports events ever broadcast

— Chris Spags (@ChrisSpags) February 20, 2016
We have an exclusive shot of Kimbo Slice arriving at the arena for tonights fight CC @BetTheGreek pic.twitter.com/hwvDdEg9i6

— Against the Number (@AgainstheNumber) February 20, 2016
Worst fight I have ever seen….. @KimboVSDada @KimboSlice @BellatorMMA pic.twitter.com/ykUxh97Xq9

— Joe Ramirez (@IROCZJuggernaut) February 20, 2016
Kimbo Slice and Dada 5000 might be having the worst fight in modern MMA history right now.

— Chad Dundas (@chaddundas) February 20, 2016
It wouldn't surprise me if a story comes out tomorrow that Kimbo Slice and DaDa5000 both ate 50 chicken wings before the fight started.

— Todd Grisham (@Grishamfight) February 20, 2016
https://twitter.com/Random_Guy43/status/700911302017810432
https://twitter.com/jnsanchez/status/700923293910499328
No, seriously… Were they sleeping?
Be the first to receive breaking news alerts and more stories like this by subscribing to our mailing list.