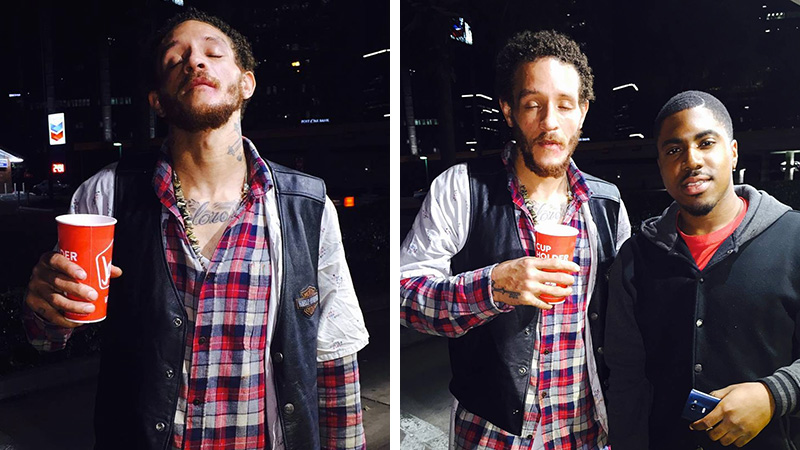 What the hell is going on with Delonte West? He is obviously not well.
According to TMZ, the former NBA star was spotted "wandering around" by himself in the parking lot of a Jack in the Box in Houston, Texas late Friday night (Feb 19).
The fan who snapped this unsettling photo of West (who played alongside LeBron James with the Cleveland Cavaliers from 2008 to 2010 and was rumored to be having sex with LeBron's mom Gloria James) noted that the shooting guard wasn't wearing any shoes.
When the fan approached him and asked, "Are you Delonte West?" — he replied, "I used to be but I'm not about that life anymore."
TMZ made an attempt to reach out to West to see if he's OK (even though it is painfully obvious that he isn't OK) but they reported that they were unable to get in touch with him.
Knowing TMZ though, someone will either reach out to them with the details or they'll go out and get the deets themselves. We'll just have to stay tuned…
***
UPDATE (2:00 PM): The guy who provided the photos to TMZ also uploaded them to Instagram. In one caption, the fan wrote that West was "doped out" when he found him wandering around with no shoes on. In the caption for the next photo, he wrote:
Another pic of ex nba player #delontewest bro had hospital robe on like he escaped from the psych ward or some shit. I asked wat happened and he said life…….damn!!
https://www.instagram.com/p/BB1Ng7VrBWV/
https://www.instagram.com/p/BB1qfLxLBdJ/
Again, we ask … WHAT THE HELL IS GOING ON WITH DELONTE WEST?
Be the first to receive breaking news alerts and more stories like this by subscribing to our mailing list.