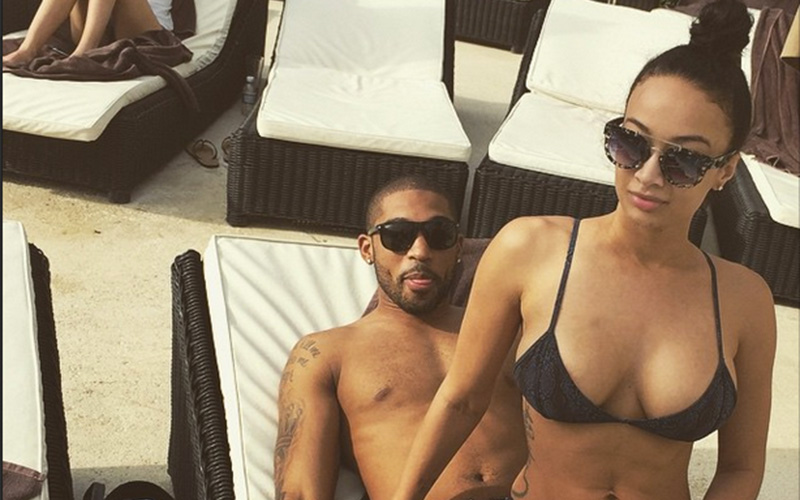 Draya Michele says things aren't over with her and Dallas Cowboys star Orlando Scandrick.
Just last month, Orlando broke the news to TMZ that he called off their engagement because it was a "huge mistake" and had permanently ended their relationship.
Orlando also filed a restraining order against Draya after she allegedly pepper-sprayed him, threatened to throw bleach in his eyes, and destroyed a bunch of his clothes.
Draya remained quiet the whole time throughout the breakup and domestic violence reports, but during a recent interview on Big Boy's Neighborhood, the "Basketball Wives" star finally opened up and gave her side of the story
According to Draya, she and Orlando are working things out and a wedding is still in the future. Either that or she will be planning a funeral, which sounds like Orlando is in this regardless if he wants to be or not.
"We're in a good place," Draya explained. "It was an off thing so it's trying to get back on and we're just playing it day by day to see."
Draya denied ever being served a restraining order, but admitted to throwing Orlando's expensive Yeezy shoes in a pool and talking smack about his mom.
"I never got served a restraining order," Michele said. "I know something was filed but in order for it to be official you have to hold on to it, you have to show up in court, you have to serve it legally and I never got served. So I don't know what that was about. Seems like mixed emotions."
"I didn't want to put bleach in his eyes," Draya shared. "It was in my house. It's okay to lock the doors, put the blinds down, and tear it up, in my opinion."
"We don't have domestic violence," she continued. "I'm a little destructive sometimes during an argument. Not to him. I put the shoes in the pool. I put the Yeezy's in the pool. I'm a little crazy. In an argument it's fair game. I'm going to talk about your momma. I'm going to throw your sneakers in the pool."
Asked whether or not she's the difficult one in relationships, she said, "I think so. I takes a special kind of man to handle me because I'm a lot."
Draya also revealed she will not be returning to the next season of "Basketball Wives L.A." and is not interested in doing a spin-off show.
"It would have to be really right and focused on my businesses," she said. "I'm not interested on having me, my love life and family on TV."
Watch the interview below (Draya talks about her relationship with Orlando Scandrick around the 10:40 mark)
Be the first to receive breaking news alerts and more stories like this by subscribing to our mailing list.