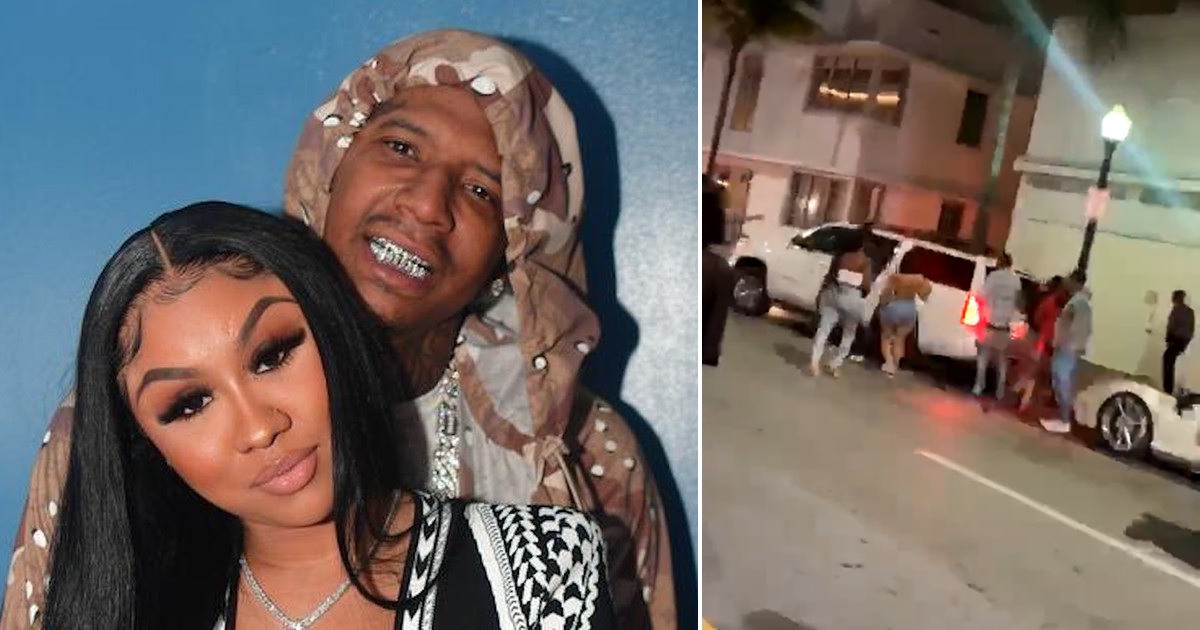 Things don't seem to be going well for new couple Moneybagg Yo and Ari Fletcher. The two allegedly got into a physical altercation that left Fletcher wigless.
Rumors of the fight began to spread on social media early Monday morning (Feb. 3) after a Twitter user claimed to have witnessed it all go down in the middle of a Miami street.
ARI JUST HIT MONEYBAGG YO AND HE JUST SNATCHED HER WIG OFF ON MY MAMA IN THE MIDDLE OF THE STREET

— ?662 (@Twonoutspoken) February 3, 2020
From what can be gathered, Fletcher punched Moneybagg in the face and he retaliated by snatching her wig off her head.
Although there is no video footage confirming what happened during the altercation, there is video of some sort of disturbance occurring in the middle of the street as onlookers watch an SUV quickly pulling off.
HERE YA GO pic.twitter.com/noq1wATPEQ

— ?662 (@Twonoutspoken) February 3, 2020
Many have shared their thoughts about the alleged scuffle on Twitter, noting Fletcher's history of violent behavior in previous relationships with rapper G Herbo (also the father of her child) and boxer Gervonta Davis.
Wait moneybagg yo snatched Ari wig off in the middle of the street in Miami ?? she found her match

— Pretty lil Picturee (@xoPLP) February 3, 2020
I just seen Ari straight up running after Moneybaggyo & punch him in the face ?

— monica (@m_niicaa) February 3, 2020
Ari has a history of being abusive. Y'all forgot? Lol. She put knives to niccas. I swear she stabbed a nicca before she got with Herbo ? sis is Toxic and needs to seek help. The booty should stay but sis got to go!

— bluemiiints (@bluemiiints) February 3, 2020
this confirms Ari used to be beating Herbo ass

— Coup d'thot (@shysterglizzy) February 3, 2020
Y'all be on here lying. Ain't no way Moneybagg snatched no wig off Ari that TAE installed ? Tae's wigs be secureD.

— Jasmine (@pettyyonce) February 3, 2020
money bagg yo probably forgot that his relationship with Ari is a contract PR hire and probably tried to kiss her for real so she had no choice but to slap his ass back to reality.

— Bejá (@writtenbybeja) February 3, 2020
I don't believe this Ari and Moneybagg Yo situation . Hundreds of people out and nobody recorded their fight . Smh ????? y'all just going off two random ppl tweets. That follow each other pic.twitter.com/bQdKZxtmU3

— ?Follow your dreams? (@GoldenMind93) February 3, 2020
Moneybagg and Fletcher have been in a relationship since earlier this year.
Be the first to receive breaking news alerts and more stories like this by subscribing to our mailing list.