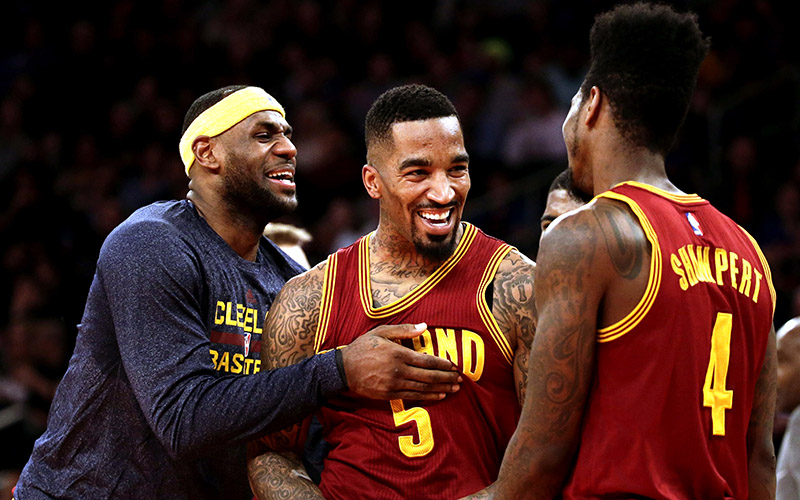 Christmas came early for the Cleveland Cavaliers, and LeBron James is basically Santa Clause right now.
While the two-time NBA champion is working hard at earning his hometown their first NBA championship title ever, he's also working hard at winning over his teammates so that they can help him win.
So what does a guy with LeBron's wealth and status do to make all of his teammates feel special and motivate them to play harder? He presents them with brand new Apple Watches, that's what.
According to Cleveland.com, LeBron (aka St. Nick) handed out the gifts during a team meeting he arranged at a private hotel lounge the night before Game 1 against the Golden State Warriors in Oakland.
There, he talked to his team about the struggles they're going to have to go through to bring their city a championship title back.
"He was like, we're here for business and to be prepared," Cavaliers center Tristan Thompson told Cleveland.com. "All the media attention, all the hoopla stuff is cool and what not, but we're here to take care of business."
After King James got down from his soap box, he switched gears and changed the tone of the meeting from serious to fun. He provided food, played some music and even brought in some barbers so everyone could get a fresh haircut.
The team relaxed and talked about family, the news and just life in general. This was his way of easing any pre-Finals tension they might have had.

"It was for unity. Building camaraderie with the guys," J.R. Smith explained. "A lot of times when you go into the hotels, you might see a guy for breakfast or a meeting and that would be it. He brought us out and we talked about regular, everyday stuff instead of just the Finals."

That togetherness, that bond that they have manifests itself on the court. The overtime victory in Game 2 was emotion-filled and completely draining. Cleveland dug deep down to split the series and claim home-court advantage.

If done right, team outings strengthen the union. They build trust and confidence. James is a firm believer that if you can get along off the court, you will see better chemistry on the court.

"'Bron is the best teammate you can ask for, because on the court he's going to give you everything and off the court he's always going to be considerate and do whatever he can to show his gratitude," James Jones said.
Before everyone parted ways after the meeting to rest up for their first Finals game, James surprised his teammates by basically turning into Kris Kringle and gifting them all with brand new Apple Watches to show how much he appreciates them.
"I've been fortunate enough to work with some great partners and whatever I get, I like to share with my teammates," James told Cleveland.com. "It's just my way of showing them that I care. That's it. It's not the first time and it won't be the last time."
Smith seemed to be the most excited about his gift and hinted that James and his giving spirit could be the driving force behind his decision to possibly return next year.
"I don't know how he does it, but every day it's something different," Smith said, laughing. "Watches, sneakers, Beats [headphones], hoodies, book-bags. Man, I can't wait to come back next year. I want to see what we're getting next year."
Another one of LeBron's teammates Brendan Haywood also seemed thankful to be a recipient of LeBron's generosity
"Look, LeBron is probably the greatest player in the world who gives out gifts like it's candy," he said. "We look forward to it every single time."
Playing Santa Clause and randomly handing out gifts isn't new for LeBron though.
Last February, on a whim, he gave his Miami Heat teammates custom WWE title belts, and this past March, he gave Brazilian soccer star Ronaldinho Gaúcho one of his $60,000 custom made Audemars Piguet Royal Oak Offshore watches.
Going forward, J.R. Smith, and Brendan Haywood and the rest of the Cleveland Cavaliers should expect even more Apple and Beats products from their star player, who invested in Dr. Dre's "Beats by Dre" company in 2008, which was bought by Apple last year for $1 billion. According to ESPN, LeBron received $30 million after the company was sold to Apple.
Be the first to receive breaking news alerts and more stories like this by subscribing to our mailing list.