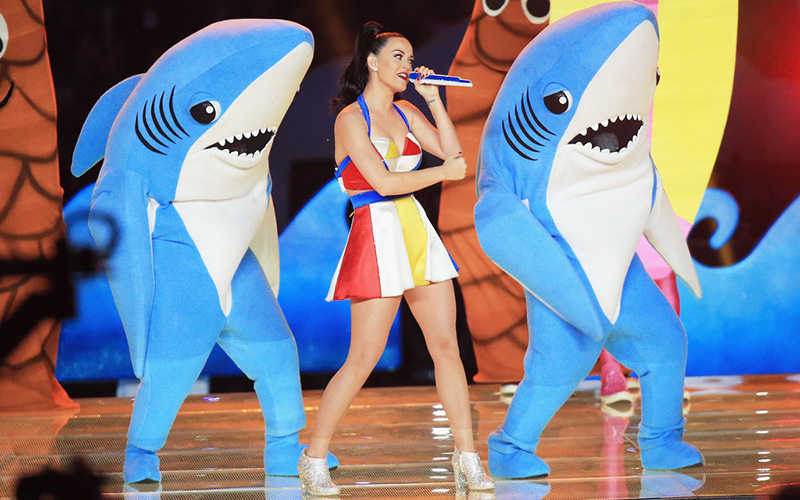 Contrary to popular belief, the Katy Perry dancer known simply as "Left Shark" performed the dance routine during the singer's Super Bowl Halftime Show performance perfectly, according to her choreographer.
Katy Perry's meme-inspiring Super Bowl Halftime Show featured a six-song medley, four costume changes, guest appearances from Missy Elliott and Lenny Kravitz and dancing sharks, palm trees and beach balls. But one dancing shark in particular (the one on the left of Perry, which the Internet appropriately named "Left Shark") essentially stole the show.
Perry's choreographer RJ Durrell — who orchestrated the pop star's Super Bowl dance numbers along with Nick Florez — told The Hollywood Reporter that was done on purpose.
"The sharks were given two main objectives," he said. "One, perform Katy's trademark moves to the 'Teenage Dream' chorus, which they both did perfectly; and two, to have loads of fun, and bring to life these characters in a cartoon manner, giving them a Tweedledee/Tweedledum-type persona."
He continued, "Clearly, that was portrayed with the overzealous shark on the right hitting precise dance moves, while the left shark was playing up the more goofy, fun-spirited sports-fan mascot type, who was just happy to be at the Super Bowl."
Durrell added, "We love the laughter and joy this moment has created for the world and think the left shark nailed it! Don't forget … we all have a little #leftshark in us!"
RJ is so right. We all have a little #leftshark in us.
Be the first to receive breaking news alerts and more stories like this by subscribing to our mailing list.