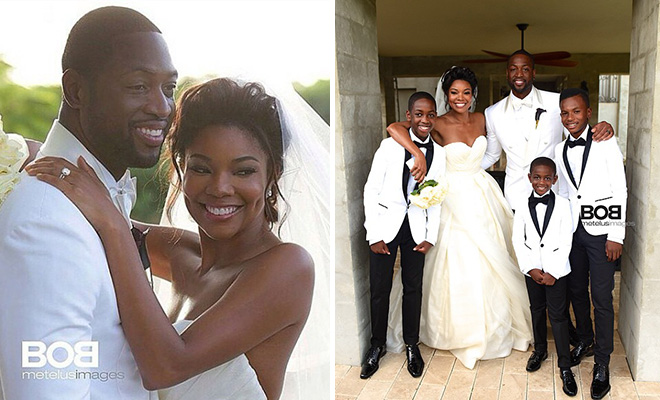 Dwyane Wade and Gabrielle Union got married over the weekend in a lavish wedding ceremony in Miami that reportedly cost over $5 million … and when you find out what all went into it, you'll understand why it cost so much.
The Miami Heat guard and the "Being Mary Jane" star's extravagant ceremony, which featured a serenade from John Legend, was held at the Chateau Artisan castle, which sits on 14 acres surrounded by a huge moat and beautiful gardens.
The nuptials, attended by around 200 wedding guests (including Kevin Hart & his fiancée Eniko Parrish, Ludacris and his girlfriend Eudoxie, Terrence J, Carmelo & LaLa Anthony, Chris & Adrienne Bosh, LeBron James and plenty others), were a black-and-white themed affair, with the women asked to wear white, and black tuxedos were requested for men to wear.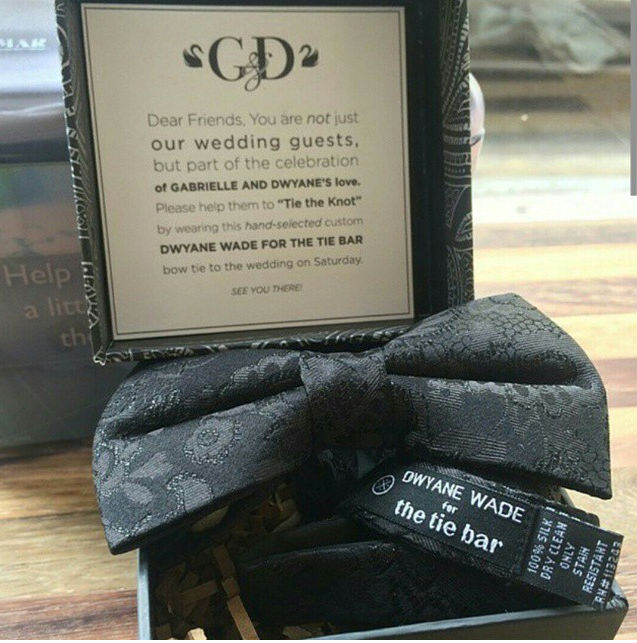 Male guests were also given the option of choosing to wear one of three different black bow ties Wade helped design with the Tie Bar.
GossipExtra has exclusive details about the elaborate ceremony, which even had a top secret code name: "Sheik Noinu Edaw," which is "Wade Union" spelled backwards, though we're not sure what the "Sheik" part is supposed to be.
The wedding's theme was Old Florida juke joint, and the decor had a bunch of Heat references and even "live chicken."
Guests were picked up by "several fancy buses" from the Fontainebleau Miami Beach, where everyone was staying, and they were all transported about 45 minutes south to the $13 million Chateau Artisan mansion, which is built in the style of a castle.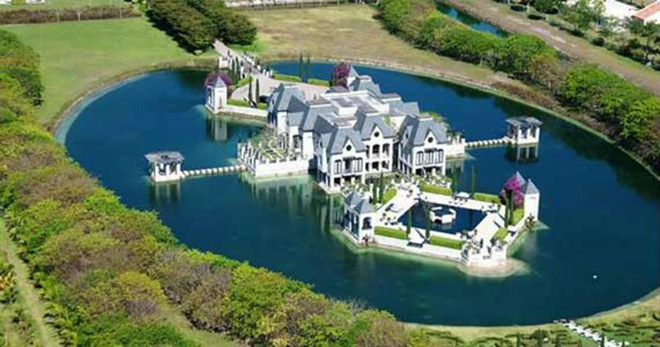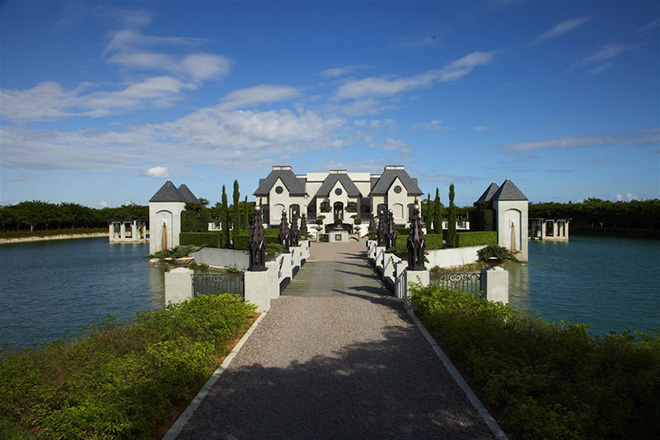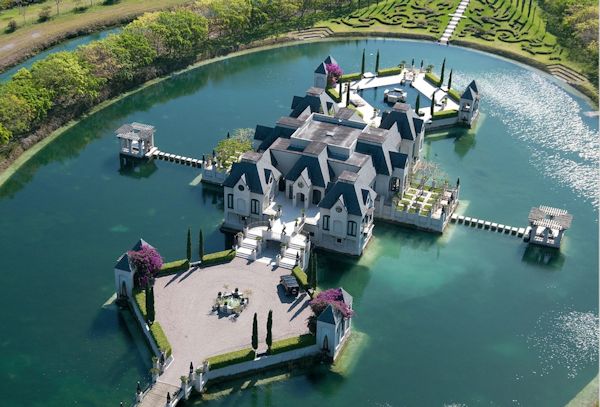 The location is in a rural area and isn't easily accessibly by road. The moat around the property prevented unwanted guests and paparazzi from crashing the wedding, and Wade was so serious about security, he had sun reflectors set up on the roof to prevent photos and videos from helicopters.
The bride and groom were flown in by helicopter from their home in Miami Beach and arrived right on time for the 6:30 p.m. ceremony.
Wade and Union exchanged vows on a gazebo that juts out into the water, with John Legend playing the piano in the background.
Here are more details via GossipExtra:
— Chairs for the well-wishers were set up near the house on the main island. They are described as "ghost chairs," transparent so as not to detract from the castle in the background.

–- Each chair had a set of opera glasses for more comfortable watching since the ceremony was relatively far from the guests.

— The ceremony was officiated by actress Essence Atkins, Union's "bestest" BFF

— Guests were provided with flip-flops and shoe covers to navigate the grass (How thoughtful!)
The reception dinner was held in a huge tent with a giant chandelier in the middle. The tent also held four 72-inch flat-screen TVs and 18 tables of 10-12 people, with 200 napkins with the newlyweds' initials on them.
The reception chairs were custom made and covered with black crocodile skin (Fancy!) and the special chairs for the bride and groom looked like thrones.
There was also a beautiful candle ceremony during the dinner, in which guests were given a candle to light and wish the newlyweds well. A choir emerged, and gathered a group of guests in front castle to walk down the driveway and then pick up the group coming from the dining tent.
Together, everyone entered a "movie set-style" juke joint as the choir performed a last song on the main stage, which was 16×24 feet, covered in burlap and shielded with aged velvet curtains with fringe.
Next to the stage was themed bars, like the "Battier Bar" (for Wade's teammate Shane Battier, who also attended the wedding) and a moonshine bar with crates of live chickens just because.
Outside, there was a specialty drink bar in a shack named "The Voodoo Backwoods Shack," and it came complete with a real voodoo queen. Wow.
Signs decorating the juke joint area included one that said "Bar Melo" (for Carmelo Anthony), "Bosh's Brewery" (Chris Bosh) and "Ray's Retirement Home" (Ray Allen). But perhaps the best, and most clever, sign was for Wade's former teammate LeBron James that said "Cleveland, this Way!"
As for the food, it was placed on long wooded palettes suspended from the ceiling, and when it came time to eat, the palettes were lowered down to everyone's tables, which probably looked like the coolest thing ever.
Oh, and there was a buffet bar full of snacks too, like waffles, cupcakes, cookies and more. SOUNDS LIKE A FUN WEDDING!
Months before the wedding date, Gabrielle Union told US Weekly that their wedding planning was going smoothly, thanks to most of the input coming from Wade.
"[Dwyane] realized that I was trying to turn it into a frat party with K-cups and beer pong, and he took over," she said. "He really Kanye'd himself and really doubled down, and it's his princess day, and I'm just along for the ride."
Mr. Wade said he handled most of the planning — which has been going on since February — because he's "about the small details. And you've got to know the bride. She's not going to think about the smaller stuff. She's not a girlie girl either."
Wade said Union "had input, but when we started it was 85/15 leading my way. Now, it's probably 70/30."
"Everyone wants to look good on their wedding day," Wade said, regarding his wedding atire. "And I'm not going around the back. My fiancée may have the bigger moment, but I want everyone to turn and see me when I'm walking down the aisle. I want my entrance."
D Wade and Gabby U have been dating since 2008, and last Christmas, at the construction site of their new home in Miami, Wade proposed to Union in a sweet surprise that included the three boys he's raising — his sons, 12-year-old Zaire and 7-year-old Zion, and his 12-year-old nephew Dahveon Morris.
Last year when D Wade spoke out about his engagement to Gabby, he said his youngest son held up a sign with her name, his nephew held up a sign that said "Will you," and his oldest son was holding a sign that read "marry us?"
Things seemed to take a turn for the worse for the couple though when shortly after the engagement news broke, Dwyane Wade had confessed to fathering a baby boy with another woman (Aja Metoyer, an old friend) while the couple were on a "break" from their relationship.
Union was said to have already known about the child, who was born in November 2013. Dwyane and Gabby moved on with their relationship, and now they're married … so congrats are definitely in order for this couple!
Check out some photos from the Gabrielle Union-Dwyane Wade wedding here:
And this is a sketch of Gabby's wedding dress: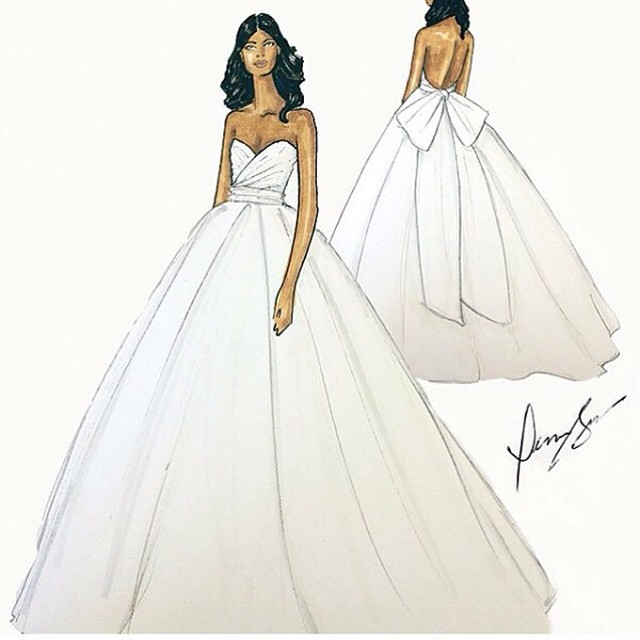 Again, congrats to the happy couple, and we wish them well!
Be the first to receive breaking news alerts and more stories like this by subscribing to our mailing list.