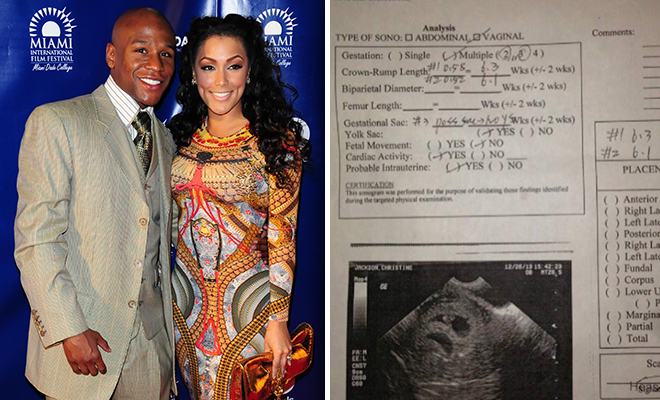 Floyd Mayweather Jr. used his social media accounts to make a shocking revelation Thursday morning (May 1). He claims that the reason he broke off his engagement with his now ex-fiancée Shantel Jackson was because she aborted their twin babies.
Earlier this year, it was reported that the undefeated boxer had been dumped by Jackson after he allegedly cheated on her (the split was confirmed in April), but in an insane turn of events, Floyd has revealed via his Facebook, Twitter and Instagram accounts that he was the one who dumped her, and it was all over her having "a abortion."
And to support his accusation, the 37-year-old included a photo of what he claims are images from a sonogram Jackson had in December, when, according to the sonogram, she was about six weeks pregnant.
He wrote as an explanation:
The real reason me and Shantel Christine Jackson @missjackson broke up was because she got a abortion, and I'm totally against killing babies. She killed our twin babies. #ShantelJackson#FloydMayweather#TheMoneyTeam#TMT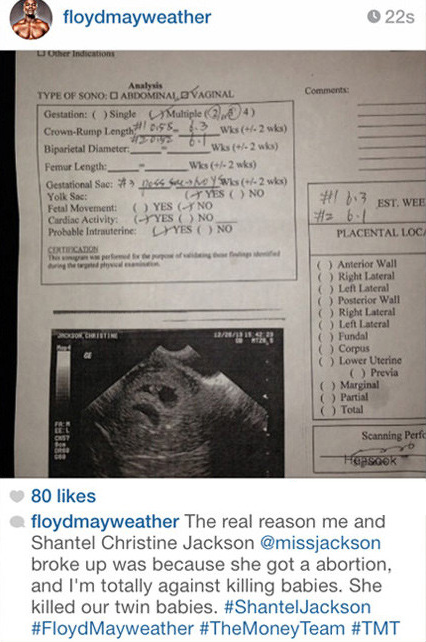 It didn't take long for folks to respond on social media, and after thousands of users expressed their distaste in the comments, Floyd (or someone on his team) took the posts down.
"The things some people will go to just for attention, haven't you got enough followers etc? Don't use things like this for attention have some respect for your own children!!!!" one user wrote, according to Necole Bitchie.
Another user wrote, "Have some class. You're a public figure, keep things sensitive as this off of Facebook. Time to stop respecting you as a boxer I think."
"A woman is allowed to abort her fetus if she so chooses. She just didn't want to be with an egotistical asshole such as yourself," wrote another.
Win or lose, Mayweather will be paid $35 million to fight Marcos Maidana at the MGM Grand in Las Vegas this Saturday.
Be the first to receive breaking news alerts and more stories like this by subscribing to our mailing list.