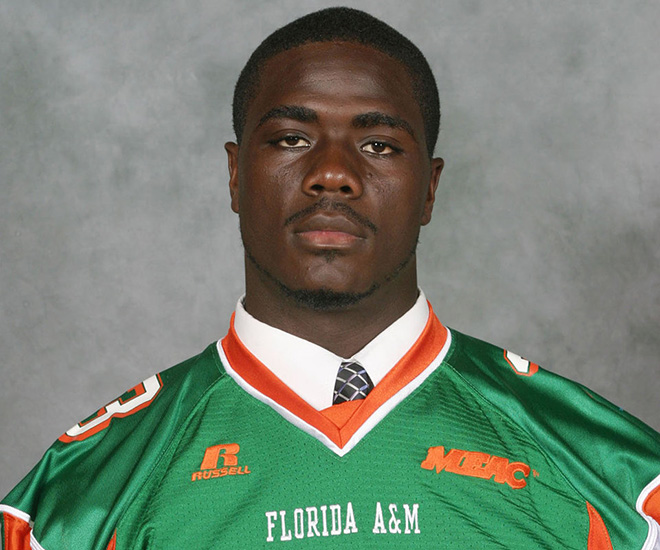 A former Florida A&M football player named Jonathan Ferrell is dead after he was shot and killed by police in North Carolina early Saturday morning. His apparent crime? Seeking help after a car accident.
Ferrell was reportedly unarmed and the police officer who fired the 12 fatal shots (10 of which struck Ferrell) has been charged with manslaughter.
Though what happened early Saturday morning at around 2 a.m. remains unclear, Charlotte-Mecklenburg police chief Rodney Monroe said Ferrell crashed his car into an embankment in northeast Mecklenburg, N.C. County.
Ferrell climbed out of the back window of his mangled car and walked about a quarter-mile to a nearby house, where according to Police Chief Monroe's initial statement, Ferrell started "banging on the door viciously."
The frightened homeowner thought the man was a robber and called police. When officers responded, one shot Ferrell with a Taser gun and another (officer ) fired a handgun at least a dozen times. Officials said Ferrell was struck by at least 10 of the bullets. He died on the scene.
Police initially described the incident as "appropriate and lawful," but later changed their tune, saying that an investigation found that the shooting was "excessive" and the police officer, who had only been on the force since 2011, "did not have a lawful right to discharge his weapon" during the encounter.
Ferrell, 24, played for Florida A&M's University football team in 2009 and 2010 and had recently moved to Charlotte, North Carolina, his family members told the Charlotte Observer.
Charlotte-Mecklenburg police said has been charged with manslaughter and the two other officers who responded to the scene have been placed on administrative leave.
Be the first to receive breaking news alerts and more stories like this by subscribing to our mailing list.