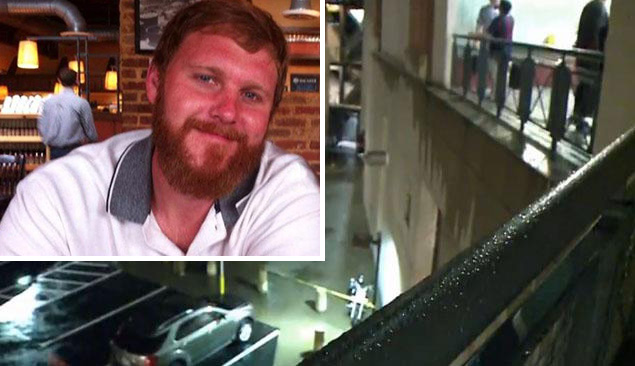 A baseball fan who fell more than 60 feet from a platform in the upper level of Atlanta's Turner Field during a game Monday night has died.
Atlanta police identified the man as 30-year-old Ronald Homer, of Conyers, Georgia. The fall reportedly took place just before 9 p.m. following a lengthy rain delay that postponed the start of the Braves' game against the Phillies.
Homer, a lifelong Atlanta Braves fan, had just told his mother that the rain was letting up and he was about to make his way to his seat when he somehow fell over a 42-inch high, fourth-level railing onto a private parking for players lot about 60 – 70 feet below. One witness said the impact could be heard from 100 yards away.
Police said the fall appeared to have been an accident and there was no indication of foul play. Atlanta police spokesman John Chafee said the fall happened on the stadium's back side, near an area where smoking is allowed. He said he didn't know whether or not wet conditions or alcohol were factors.
According to the police report, Homer was unconscious and wasn't breathing when paramedics arrived. He was taken to a nearby hospital where he was pronounced dead of blunt force trauma.
An overhead image of the scene shows the fall's eerie aftermath on the ground — bloodstains, clothing and a lone Atlanta braves hat.
Ronald's mother Connie said her 6-foot-6 son had "been a Braves fan forever" and was a diehard supporter of the team. "It didn't matter if they were winning, losing or what, he's been a Braves fan forever," Mrs. Homer told the Associated Press.
His father said he never saw Ronald without a Braves baseball cap on his head, and he regularly attended Braves games (about 3-4 a month); and the ones he didn't see in person, he watched on television. "This this is going to hurt us for the rest of our life," Mr. Homer said. "When you lose a kid, not only your kid but your best friend, too, it's bad."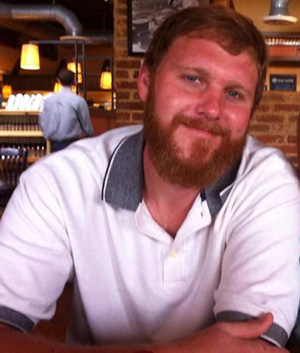 Ronald Homer grew up in Conyers, Georgia and did landscape work around the Atlanta metro area for a living. He was single and had one sister. "He was big hearted, just a great guy, very respectful," his mother said.
Mrs. Homer said she hasn't heard anything from police about what might have caused her son to fall. "They called us up to the hospital and they told us he was gone," she said. "The whole thing is surreal."
Monday's accident marks at least the third time in the past year that a sports fan has fallen from the stands in an Atlanta sports stadium.
In August 2012, a 20-year-old man named Isaac Grubb, from Tennessee, died after he fell over a railing at the Georgia Dome while celebrating a touchdown during a football game between Tennesee and North Carolina. Authorities said he landed on another man seated below in the lower level and alcohol was a contributing factor to the fall.
About a month later, in September, a man fell about 25 feet over a staircase railing at a Georgia Tech vs. Miami football game, but he wasn't seriously injured.
And in May 2008, a 25-year-old Cumming, Georgia man suffered head injuries after falling down a stairwell at Turner Field during a Braves game against the New York Mets and later died. Police later found that alcohol contributed to that accident, which the Braves at the time said was the first non-medical fatality to happen in the park's then 12-year history.
Ronald Homer's father believes Turner Field should have been designed to prevent falls like the one his son died from. "I would like to see the building built to prevent something like this happening to another family," he said. "It should have been better engineered from the jump-street when they built that stadium."
Be the first to receive breaking news alerts and more stories like this by subscribing to our mailing list.