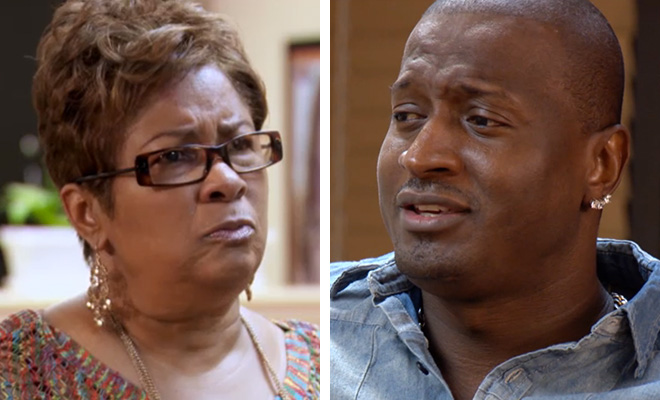 Are the mothers of "Love & Hip Hop Atlanta" in turn up mode right now, or what?
We all saw in this week's episode when Erica's mama Mignon got big with Momma Dee at Scrappy's coming home party, and in next week's episode, we'll get to see Rasheeda's mother actually run her car over Kirk's "prized motorbike" — a $7,000 Yamaha YZ 250.
You'll remember a few episodes back when Miss Shirlene went in on Kirk over him asking Rasheeda to have an abortion and suggesting that the baby she's carrying isn't his, so we already know how she feels about him.
But it looks like Kirk's latest antics — like him getting "turnt up" at a lakehouse and basically cheating on his pregnant wife on national television — have sent Miss Shirlene over the edge, because she flipped the script and "turned up" on his ass by driving over his motorcycle.
There's no video footage of this online (yet), but people on Twitter have been talking about it since Monday night when viewers were shown a sneak preview of next week's episode:
Rasheeda's mama ran over his bike lmao!!!!!! And if caught fire lmao!!!! ????????????????????????????????????

— Jo (@J_Thought) July 9, 2013
Cant wait to see the next episode of Love And Hip Hop when Rasheeda mama rolls over Kirk motorcycle . Lol Toooo Funny . He deserved it !

— NormaJoliee ? (@Simply_Joliee) July 11, 2013
When Rasheeda mama said "I'M NOT THROUGH WITH YOU!" ????????????

— Rosalyn. (@Signed_Rozayy) July 9, 2013
But y'all… I was really crying laughing at how Rasheeda mama ran over Kirk bike…. In a minivan y'all. LMMMFAOO. a gangsta in a van.

— j a y | IG : sciFLY_ (@sciFLY_) July 9, 2013
Rasheeda mama is officially the realest OG on #lhhatl. Momma Dee who?

— Haaaannnn? (@_shetheILLEST) July 9, 2013
Rasheeda mama wasn't playing no games

— Keadra ? (@Trilllasskeke) July 9, 2013
Rasheeda Mama Trill af for running over the motorcycle with a damn MINIVAN I just died ???????????????????????????????? ????

— ??????g????????c?? (@EvrybdyHatesJay) July 9, 2013
Be the first to receive breaking news alerts and more stories like this by subscribing to our mailing list.