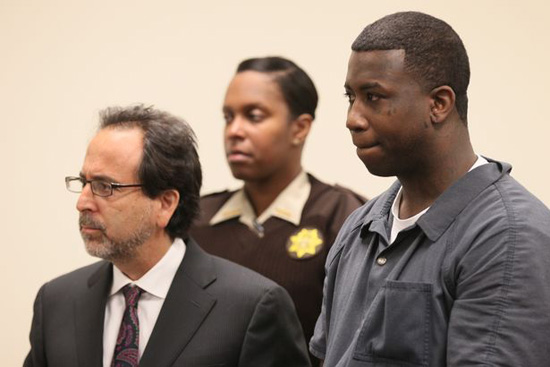 A warrant for Gucci Mane's arrest was issued last week, and as of Tuesday (Mar 26), the rapper is in prison after turning himself in on suspicion of aggravated assault with a weapon for allegedly hitting a soldier in the head with a champagne bottle earlier this month.
According to the Fulton County sheriff's department, the "Spring Breakers" star was booked into the Fulton County Jail Tuesday night at around 11:30 pmand saw a judge the next morning. He was denied bond at his hearing, the AJC reports.
And get this … before he turned himself in, despite his arrest warrant, Gucci performed in Indiana last Saturday anyway, according to MTV News.
A couple of weekends ago, the night of March 15th, Gucci was in the VIP section of Atlanta's Harlem Nights club when he was approached by a fan who was celebrating his birthday in the same section.
The fan, who just so happened to be a U.S. soldier, asked for a picture, and attempted to strike up a conversation with the rapper.
But Gucci apparently wasn't in a friendly mood, and he cracked the soldier over the head with a champagne bottle, causing a "severe laceration" to the man's head.
"And as I looked at him in the shock of why, one of his friends hit me in the side of my face," the man, whose name is James, and serves in the Army, told Atlanta's WSBTV.
James, who just got back home from Afghanistan last October, was transported to Grady Memorial Hospital where he received 10 stitches. James said in addition to the laceration, he also suffered a concussion and is has been having bad headache ever since.
James said, "He could have possibly killed me. I just hope and pray that I recover pretty well because I still want to serve my military career."
Meanwhile, recent reports indicate that James isn't the only Gucci Mane fan who was attacked by the rapper. According to WSBTV, a second man, who asked to be identified as TJ, said Gucci assaulted him two nights after he assaulted James.
"I haven't ever been so humiliated in my life and disrespected," TJ said, claiming that Gucci punched him in the jaw the night of March 18th at Club Onyx in Philadelphia. "He punched me on the left side of my face, right here in the jaw, knocking off my glasses."
TJ said he tried to shake hands with and meet he rapper as he was leaving the stage following his performance. About his injuries, TJ said, "I sustained a chipped tooth in the back. I sustained also swelling on the left side."
The incidents are the latest in a long string of legal issues for Gucci Mane, who has guest featured on songs with Mariah Carey, Usher, Trey Songz, the Black Eyed Peas and others.
Back in 2001, the troubled rapper spent 90 days in jail back after he was arrested for cocaine possession. In 2005, he spent six months in prison for assault, and in 2009, he was jailed for a year for violating his probation in that case.
Further adding to his gold stars for fuckery, Gucci Mane did a 6-month bid in jail in 2011 after he admitted to pushing a woman out of a moving car on a Georgia highway. That same year he got an ice cream cone tattooed to the side of his face.
And now he's beefing with his rap partner and frequent collaborator Waka Flocka Flame … for no apparent reason at all.
Check out some photos of him in court earlier today below: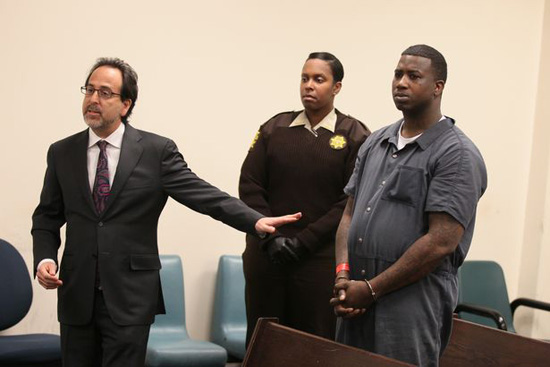 Random thought: Do you think Gucci Mane will have his baby in prison? He looks to be at least 8 or 9 months along.
Be the first to receive breaking news alerts and more stories like this by subscribing to our mailing list.