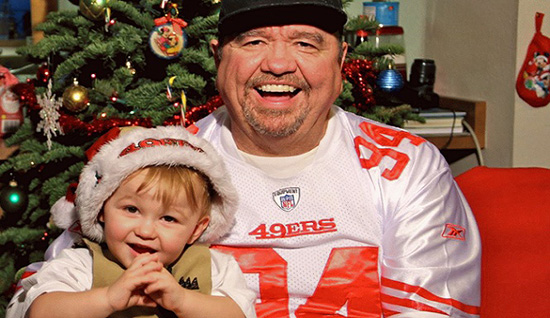 A high school football coach from California died in a freak accident Monday night (Mar 4). The Sacramento Bee reports that Marion Adams — who coached football and track at Rio Linda High School — was riding his bike home from track practice Monday night night when he accidentally ran into a parking garage gate, which impaled him.
According to the Bee, as Adams was riding his bike, he temporarily looked over his shoulder to say goodbye to a student, and didn't notice the partially open metal swing gate in the school's parking lot. "At his rate of speed, Adams was impaled by the gate arm," the paper reported.
Adams was rushed to the hospital, where he initially survived two surgeries to treat internal injuries, but the doctors couldn't stop him from bleeding, and he was pronounced dead Tuesday.
Mike Morris, the athletic director at the school said, "Marion was the most popular and nicest man on campus; just a great guy … It's a huge loss, devastating to our community. He's an example of how great Rio Linda is as a school and community. He couldn't wait to come back here. This place meant everything to him."
Marion Adams graduated from Rio Linda High School in 1972 and his brother says he recently left a high-paying job to return to his Alma Mater to take up a coaching job there.
"Marion loved kids, loved seeing them do well," said David Adams. "He absolutely loved Rio Linda. He gave up a job that paid really well to teach and coach at his favorite school."
David Adams said he was "impressed" at the outpour of support he saw from the school's faculty, staff, students and parents, who all filled the hospital's waiting room and even stayed there with the coach until he passed away.
"I was so impressed, so touched by the outpouring of support," he said. "So many people hung out for the night in the hospital. I knew what kind of man he was – he's my brother – but to see all that love and support really moved us. We're all feeling this."
Marion Adams is survived by his wife, a son, a daughter, two grandchildren, his mother and seven siblings.
"Still in shock," said Adams' longtime friend Terry Ray, who coaches boys basketball at the school. "I know people say this a lot about people, that they're great when we lose them, but Marion Adams was a wonderful man and teacher."
WATCH A VIDEO REPORT ABOUT THE INCIDENT HERE:
Be the first to receive breaking news alerts and more stories like this by subscribing to our mailing list.