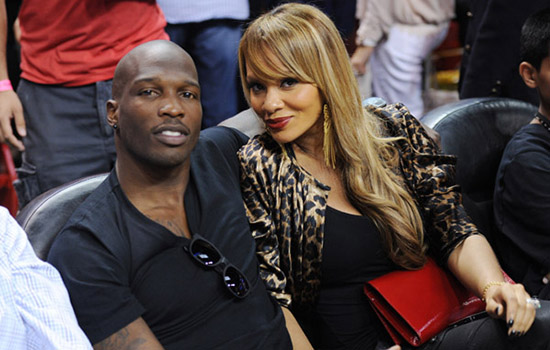 Chad "Ochocinco" Johnson has finally come to the sad realization that his marriage with Evelyn Lozada is over, and there's nothing he can do about it at this point.
In response to the divorce documents Evelyn filed last month, the troubled NFL free agent officially filed his own divorce papers, admitting that their union is "irretrievably broken."
According to the divorce documents, obtained by TMZ, Chad asked the judge to uphold the prenup they signed before they got married July 4th, which states that in the event of divorce, Chad and Evelyn are to foot their own legal bills.
But Lozada is asking Chad to pay hers, and Chad is asking the judge to deny her request.
Chad and Evelyn still have a ways to go before their divorce is totally finalized, but Chad actually cooperating and signing his own divorce papers has definitely sped up the process.
And sources close to Evelyn say that the VH1 reality star is "ecstatic" and ready to move on and start the next chapter of her life.
Evelyn and Chad's relationship took a turn for the worst after Chad was arrested after he allegedly headbutted Evelyn during a heated argument over a receipt for condoms she had found in his car.
"The next thing I know, he grabbed me by here [pointing to her head] and he head-butted me," Eve told ABC's Nightline, speaking on the incident in her first interview since filing for divorce.
"I felt blood coming down my face… and I looked at him and I said, 'You just head-butted me?' And it just — everything just felt if it was in slow motion."
Chad — who was immediately cut from the Miami Dolphins following the incident — faces a misdemeanor battery charge, which he pleaded not guilty to in court Thursday (Sep 13). If convicted, he could face up to a year in jail.
"I still love him," Evelyn said on Nightline. "I feel bad for him because his life is now a mess."
She continued, "I believe he loves me. I believe he needs to get help," she said in the August interview. "He's a good guy that made a bad choice. He loves football and he's very driven and a great dad. He made a bad choice that destroyed his life, and I hate that I'm connected to that."
Chad fucked up not Eve… RT @swift121801: I feel sorry for @ochocinco. Evelyn has really destroyed his name and life. Keep yo head up bruh

— Chad Johnson (@ochocinco) September 13, 2012
Be the first to receive breaking news alerts and more stories like this by subscribing to our mailing list.