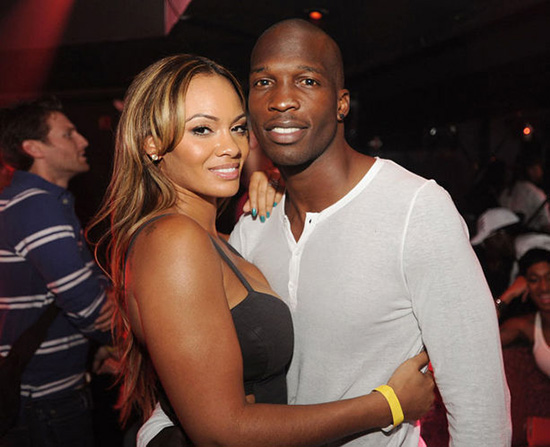 Well that didn't take long. Evelyn Lozada's marriage to NFL star Chad "Ochocinco" Johnson is officially OVER!
According to TMZ, after being married for just 41 days, Lozada filed for divorce from Johnson, claiming that her marriage is "irretrievably broken" (Uhh … ya think?!?)
Since their marriage was so short — a whole month shorter than Kim Kardashian's infamous 72-day marriage to Kris Humphries — the prenup they signed before tying the knot won't be an issue.
Chad & Evelyn just got married on July 4th, and the whole thing was recorded for their upcoming reality show "Ev & Ocho" that was set to premiere next month on VH1.
However, in light of this past weekend's domestic violence incident — in which Chad was arrested and booked on CDV charges after he physically attacked Evelyn by allegedly head-butting her after an argument that started when Evelyn confronted him about a Walgreen's receipt for a box of recently purchased condoms — VH1 has announced that they have decided to pull the show from their fall line-up … for obvious reasons.
Earlier today, Evelyn broke her silence and released a statement via her publicist, asking her estranged husband to get help for his problems ASAP:
"It is with great sadness and much trepidation that I release this statement addressing the domestic violence incident that happened this past Saturday.

"I am deeply disappointed that Chad has failed to take responsibility for his actions and made false accusations against me, it is my sincere hope that he seeks the help he needs to overcome his troubles.

"Domestic violence is not okay and hopefully my taking a stand will help encourage other women to break their silence as well.

"I'm grateful to my family, friends and fans for the outpouring of support during this difficult time."
Chad was also reportedly dropped from the Miami Dolphins Sunday (Aug 12) as a result of the incident.
So that makes at least FIVE things Chad lost over the past few days — (1) his damn mind, (2) his temper, (3) his NFL contract, (4) his VH1 reality show and now (5) his wife.
We think it's safe to say Chad is having the WORST weekend ever…
Be the first to receive breaking news alerts and more stories like this by subscribing to our mailing list.