You may remember playing with "Hot Wheels" as a kid, but did you ever think you would be able to see what a Hot Wheels loop would look like … with real, live racing cars? (Neither did we!)
Rally car driver Tanner Foust and Hollywood stuntman Greg Tracy set a world record last weekend by driving not just one, but TWO race cars designed to look like Hot Wheels, through a huge, 66-foot tall Hot Wheels Double Loop Dare track (modeled after an actual toy) at the "X Games" event in Los Angeles.
"That was unbelievable," Tracy said after he finished first through the loop in the Team Green car, making the jump actress the finish line ahead of Foust.
"I tell you what, I'm at a loss for words," he continued. "That was absolutely the coolest thing I've ever done. It was a handful trying to land it and get it slowed down. I knew Tanner was right behind me and I was just hoping we weren't going to tangle before we got to the end."
According to ESPN, Foust and Tracy broke the previous record for the largest loop in a car, set at 42 feet in September 2011 by Chinese driver Li Yatao in a Lotus 5 Sportback for Zhejiang Youngman Lotus Automobile Co., Ltd. in Shanghai.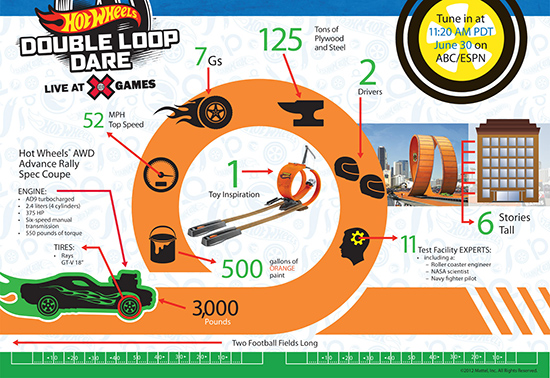 Foust and Tracy hit 52 mph in the track, and also experienced nearly 7Gs as they were going through the loop, which, according to an infographic provided by Mattel, was about six-stories high, and the length of about two football fields.
The infographic also notes that it took over 125 tons of plywood and steel, and 11 test facility experts — including a roller coaster engineer, a NASA scientist and a Navy figher pilot — to design and build the track.
"That was pretty hardcore: the 7 Gs … I almost felt my chin hit my lap, I think, in the loop," Foust said after completing the stunt in the Team Yellow car. "I felt like I was in a toy. The moment when it's go time, the heart rate slows down, the adrenaline goes away and it's a matter of letting it happen."
To avoid passing out from the force of 7Gs (or seven times gravity), Foust explained that his strategy was to "grunt, tighten your core and try to make your eyeballs and veins pop out."
Foust said that after the driver's shift from first to second gear, the hand control takes over and, "it's a matter of following the black line and not passing out."
One wrong move, and the stunt could have not ended well.
Tracy said of the work that went into making the record-breaking stunt possible, "It doesn't just happen on the day, it's something we've been working on for a year. When I heard the countdown, I was ready to go."
Be the first to receive breaking news alerts and more stories like this by subscribing to our mailing list.