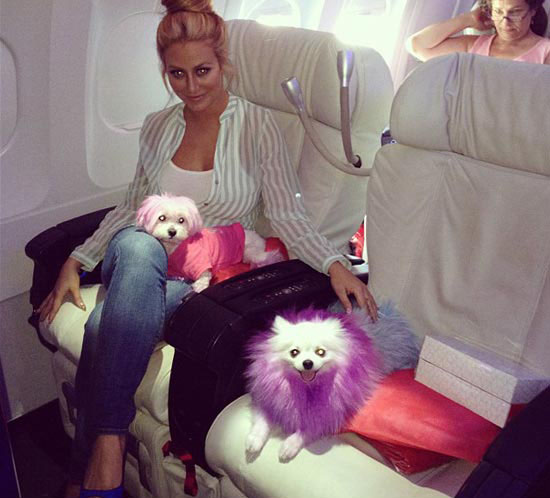 Former Danity Kane singer Aubrey O'Day may have accidentally (or purposely) made it known that she suffers with mental health issues.
The "Celebrity Apprentice" star recently took a first class Virgin Atlantic flight to San Francisco and was accompanied by her 2 pet dogs. She even tweeted a picture of them all on the plane!
But TMZ questioned a Virgin Atlantic representative and found that the former "Making the Band" star was cleared to bring her 2 pets into the 1st class section of a flight this week … because they are registered as "Emotional Support Animals."
And what exactly is an "Emotional Support Animal," you ask? … An animal that provides emotional support, duh!
Now, the question should be "how on earth does a person get clearance to bring an 'emotional support animal' on an airplane?"
As TMZ put it:
Ya gotta have a doctor write a letter … stating you have mental issues.

According to the Virgin America website, the airline requires the passenger to produce a letter from a licensed mental health professional which substantiates the guest's disability-related need for the animal to accompany them in the aircraft cabin.

V.A. claims the letter must state that the passenger "has a mental health-related disability" … and that having the animal accompany the passenger is necessary for his or her mental health.
Aubrey's reps were contacted for comment, but didn't respond … however a rep for Virgin said that O'Day was "incredibly sweet and polite" and a "great guest."
What type of "mental condition" do you think Aubrey O'Day suffers from?
Be the first to receive breaking news alerts and more stories like this by subscribing to our mailing list.