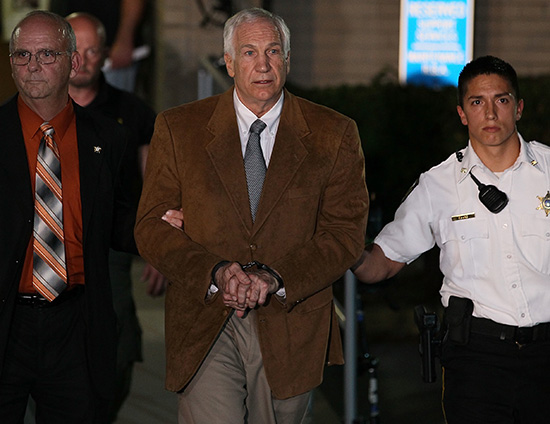 Former Penn State assistant football coach Jerry Sandusky was found guilty Friday (Jun 22) on a whopping 45 of 48 total counts of child sexual abuse, a verdict that will likely keep Sandusky in prison for the rest of his life.
According to CNN, Sandusky has been placed on suicide watch, and was put in protective custody in an area separate from other inmates as he awaits his sentencing. He will be closely guarded until his hearing in three months.
Following a three week trial that featured emotional and often graphic testimony from eight of Sandusky's victims, a 12-person jury, after two days of deliberation, convicted the former Penn State coach of 45 out of 48 counts for sexually abusing at least 10 boys over a 15-year period.
Those who were close to Sandusky — including his legal team — were almost certain that he would be convicted.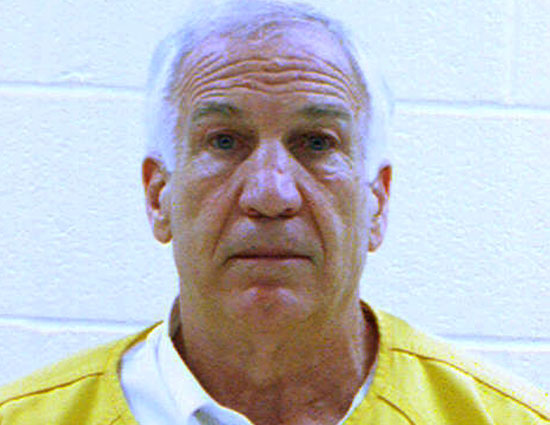 Sandusky originally faced 52 counts of child sexual abuse, four of which were dismissed during the trial. The Patriot-News has a full breakdown of all of the charges, along with the verdicts form the jury HERE.
Oddly, Jerry Sandusky never took the stand in his own defense, which was a decision his lawyer Joe Amendola said after the court proceedings was made because his adopted son Matt Sandusky was ready to testify as a counter-witness that Sandusky had sexually abused him as well.
Throughout the nearly month-long trial, jurors heard from eight young men who testified that when they were young boys, Sandusky forced them to participate in sexual acts in showers in hotel rooms, the basement of his home, Penn State's athletic facilities and various other places, over a period that lasted at least 15 years.
After his verdict was announced and the judge revoked his bail Friday, Sandusky was somber as he was led out of the courthouse in handcuffs. He said absolutely nothing as he silently ducked into a police car while reporters tried to get a word out of him, asking him if he had anything to say to his victims.
As Sandusky was placed in the cruiser to be taken to jail, where he will likely spend whatever is left of his life, someone yelled at him to "rot in hell!" … while others hurled insults and he shook his head, offering zero response.
One of Sandusky's lawyers, Karl Rominger, told reporters that him being placed on suicide watch doesn't necessarily mean that he is suicidal. He said the the judge and warden both wanted "to put the precautions in place first and then evaluate later."
Outside the courthouse, one of the jurors, Joshua Harper, told NBC that he and the other jurors were "on the same page" as they considered the case and testimony from "very credible" victims.
Like others in the courtroom, Harper said he saw very little emotion on Sandusky's face as the guilty verdict was read aloud, which he thought was confirmation that the jury made the right decision.
"I looked at him during the reading of the verdict and just the look on his face. No real emotion," the juror said. "Just kind of accepting, because he knew it was true."
Jerry Sandusky's sentencing is in about 90 days — he faces somewhere between 400 and 500 years in prison.
Do you think Jerry Sandusky got what he deserved?
Be the first to receive breaking news alerts and more stories like this by subscribing to our mailing list.