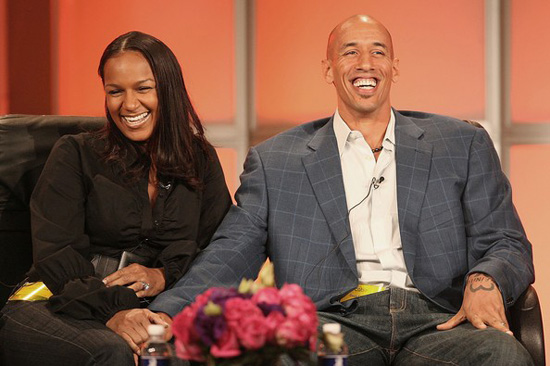 "Basketball Wives: L.A." star Jackie Christie revealed in a radio interview this week that she and her husband, former NBA player Doug Christie, are getting into the porn business.
Yes, you read that right. Jackie "my husband Doug doesn't look at other women" Chrstie, and Doug "My wife doesn't allow me to even glance at other women" Christie want to make porn together.
But before you get too grossed out … no, Jackie and Doug will NOT be in front of the camera. (Thank God!)
The "happily married" couple (that gets re-married every year on their wedding anniversary just to prove how "happy" they are) will strictly "produce" the films from behind the camera. All acting roles will be played by porn stars.
"I'm producing an adult film, me and my husband Doug. We're executive producing and stuff," Jackie told radio host Rickey Smiley on his show.
Think that's odd? Well get a load of this: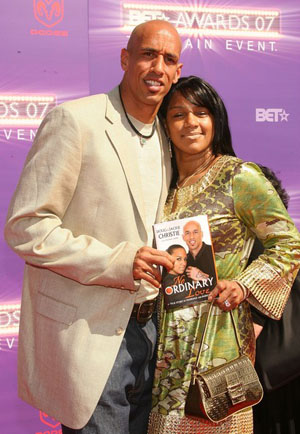 Married for more than 20 years, the Christie's strangely obsessive marriage has been in the spotlight before. In 2002, the New York Times revealed that Doug would often signal to his wife while playing and from the bench. During the course of one game, he signaled to his wife 62 times.

Jackie even made it known to team officials when Doug was playing for the Sacramento Kings that if certain female reporters were to interview Doug, she needed to be present.

For a guy who admittedly "does not look at other women, avoiding dialogue or even eye contact," according to the Times, it's doubtful Christie watches porn, so we have to ask, how in the world would he be able to produce a hot adult movie?

[AVN]
Not only that, but Doug and Jackie also put out a book together called "No Ordinary Love."
And the award for "World's Strangest Couple" goes to …. DOUG AND JACKIE CHRISTIE!
Seriously though, these two are a complete mess…
Your thoughts?
Be the first to receive breaking news alerts and more stories like this by subscribing to our mailing list.