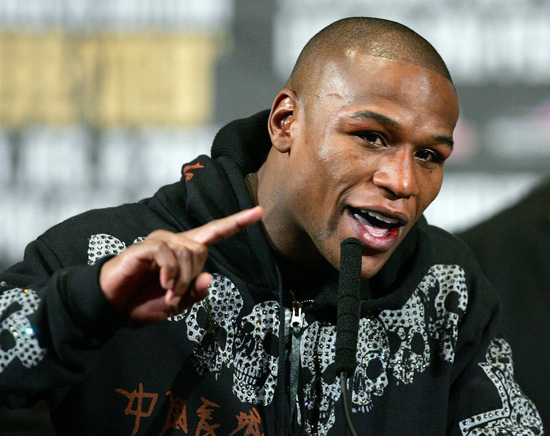 Floyd Mayweather Jr. will spend up to 90 days in jail after he pled guilty to reduced battery domestic violence and harassment charges stemming from an assault on his ex girlfriend (who is also the mother of his children) back in September 2010.
According to reports, Mayweather was accused of punching and threatening his ex-girlfriend, and threatening their two children, during a heated argument. He could have faced up to 34 years in prison, however Las Vegas Justice of the Peace Melissa Saragosa gave Mayweather a much lighter sentence as a part of a plea deal.
"He just continually gets himself into trouble and he is able to get himself out of it as well," Judge Saragosa said. "Essentially it is because he is who he is and is able to get away with everything. The only thing that's going to get this man's attention is incarceration."
In addition to 90 days in jail, Mayweather was also sentenced to 100 hours of community service, and he was ordered to pay a $2,500 fine, and he must enroll in a 12-month domestic violence program.
If the professional boxer fails to obey the terms of the agreement, he will be forced to serve yet another 3 months behind bars. He must turn himself into Las Vegas' Clark County Detention Center on January 6th 2012.
According to a brand new report from abs-cbnnews.com, Mayweather could be a free man after just 60 days (instead of 90) if he behaves himself in prison.
"Good behavior and work time could knock up to 30 days off Mayweather's sentence," detention officer Bill Cassell said.
Be the first to receive breaking news alerts and more stories like this by subscribing to our mailing list.