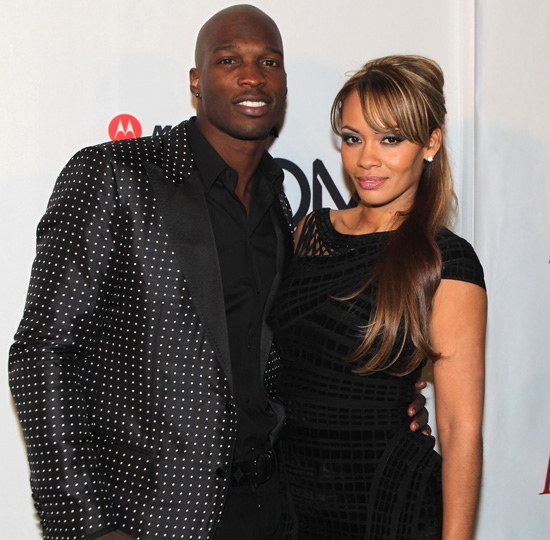 Earlier this month, Basketball "slore" turned future NFL Wife, Evelyn Lozada, announced that she planned on leaving her hit VH1 show after she felt producers hung her out to dry by revealing a past sexual affair with one of her cast mates' husband.
As soon as E! execs caught wind that Lozada wanted to quit "Basketball Wives" … they reportedly approached the  35-year-old mother of one with a new TV offer.
The new show would feature both Evelyn and her fiance Chad "Ochocinco" Johnson "living the life," even though they both live in different cities. Evelyn currently resides in Miami  and Chad lives in Cincinnati.
One would wonder why such an accomplished athlete like Chad would get engaged to someone with such a checkered past like Lozada, but the Cincinnati wideout recently revealed that despite her sexual history, he's found not only his fiance, but his best friend in the VH1 vixen :
"I know everything about her, so there are no surprises," he says. "My grandma says, 'Always marry your best friend, because your best friend will be able to tell you anything and not hide nothing.' That's one of the things I really like, which is one of the reasons why she's wearing that ring." (People)
When asked when the engaged couple plan on tying the knot, Lozada had this to say:
"He has four kids. I have one. We want to be engaged for at least a year and enjoy our time with our children, and then we're going to plan our wedding."
(Sigh). Looks like Ocho Cinco forgot about rule numero uno. "You can't turn a hoe into a housewife." Smarten up buddy!
Thoughts?
Be the first to receive breaking news alerts and more stories like this by subscribing to our mailing list.