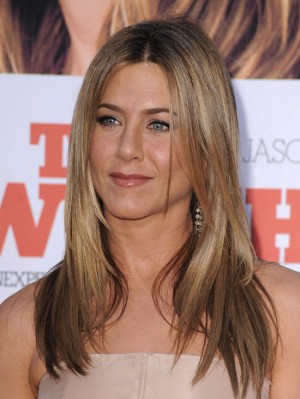 Actress Jennifer Aniston, star of the newly released movie "The Switch," is taking a lot of heat right now after she accidentally used the "R" word during an interview on "Live With Regis and Kelly" Thursday morning (Aug 19).
Jen was talking with Regis' co-host Kristen Cruz about her recent Barbra Streisand photo shoot for Harper Bazzar when she mistakenly blurted out the highly controverisal word "retard."
"That's so kind of you. Well, we had this board where we pinned up all these photographs of her, these sort of iconic ones and basically, you did it. You just copied," Jen explained on the show. "And we had all these fun wigs and that funny girl so it was just fun. I play dress up. I do it for a living, like a retard, but…"
Well..the Special Olympics organization didn't take Aniston's choice of words all that kindly and are attacking back!
"Special Olympics is always disappointed when the R-word is used, especially by someone who is influential to society. The pervasive use of the R-word, even in an off-the-cuff self-deprecating manner, dehumanizes people with intellectual disabilities and perpetuates painful stereotypes that are a great source of suffering and negative stigma."
The CEO of the Arc, a nonprofit advocate for people with intellectual and developmental, also lashed out at the actress' language on the show.
"Frankly, someone in her position ought to know better," Peter Bern said in a statement (via E! News). "She is using language that is offensive to a large segment of the population in this country… Every time folks hear that word, it kind of reminds them of all the discrimination and oppression they've experienced in their lives. Even if it wasn't intended to insult them, that is the effect of it."
Looks like Jennifer Aniston's gotten herself in a whole heap of trouble for that 6-letter word! But hey, that's what you pay PR people for, right? Peep the video footage below:
Be the first to receive breaking news alerts and more stories like this by subscribing to our mailing list.