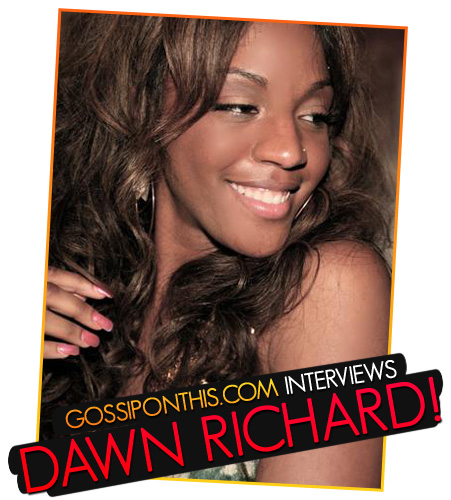 Danity Kane may be over for now, but Dawn Richard is definitely optimistic about the future! We chopped it up with the singer a couple of weeks ago (the day of the big "Danity Kane is no longer…" announcement) and we talked about everything ranging from her new Danity Kane comics gig, to her relationship with Qwanell Mosely from Day 26, all the way down to President Obama's Inauguration! This interview is definitely a good read for any Dawn Richard / Danity Kane fan or anyone who would love to know what's going on outside of the group's break-up drama.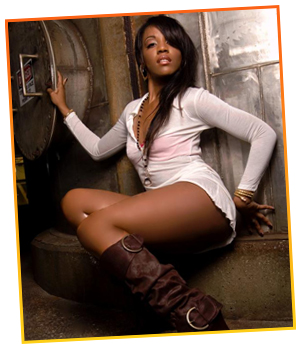 Dustin: Hi Dawn, how are you?
Dawn: I'm good, hanging in.
Dustin: Tell us a little about Danity Kane Comics and what you're trying to accomplish with that.
Dawn: Oh, that's a good question. I'm really excited about this project. People have seen me as an artist and a songwriter but they haven't seen me as a comic book illustrator. But I'm really excited about it and it's been in the making for a long time so I think it's just the beginning of great things to come.
Dustin: How much of a role do you play in the production, promotion and distribution of DK Comics?
Dawn: All of it is independent because I'm a small fry no matter how big I am in someone's eyes. Everything is a business and everything starts from scratch, so we really didn't have a lot of help so I did everything on my own so as far as the distribution and promotion, everything is all under me and my brother. We have a company called Danity Kane Comics, LLC and it kind of handles everything, and hopefully with the support we can get the comics in the stores. But right now, we're working with online distribution on DanityKaneComics.com.
Dustin: Do you do most of the drawing, or do you have a team who helps you with that?
Dawn: I have a team. I actually draw out the sketches and then I give them to Michael, our illustrator. And he does all of the illustrations and he's amazing and I'm really proud of the product.
Dustin: What about the original music for the soundtrack for the first couple edition of the comic book series? Will it feature any tracks from you?
Dawn: It comes out in March 2009 and it's going to feature all independent producers. I've had a couple I ran into and I really like them. They have worked with me throughout the time that I've been singing. I'm going to write the entire project by myself, and it'll be called "Starchild X." And the sound is going to be so different. Much more different than what we're used to hearing. Way more international and way more fast-paced.
Dustin: Okay speaking of music and speaking of Danity Kane…
Dawn: Mmhmm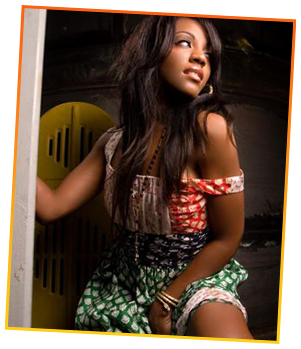 Dustin: There are a lot of conflicting rumors and stories on the internet right now about the future of the group, do you mind setting any of the records straight?
Dawn: There is no record to be set straight, I think the reality is that it's hard for groups to stay together. And Puff called a meeting and they [the girls] didn't show up. Only two of us showed up. It's on the next season. And that's all we can do. We're forced into this situation and I just wish it would have continued, but how can I want us to continue if they don't come back to continue and you have to move on with your life.
Dustin: So you've all basically been dropped from Bad Boy now?
Dawn: I don't know if we were dropped or anything, I don't know anything about that. I don't know about any individual situations because I really don't have any individual contacts with anyone. All I know is that I'm still working.
Dustin: What can we expect to see in the next season of Making the Band?
Dawn: You'll see Day 26 grow as a group. They've been through things that all groups go through. They fight, and then they make up. Then they fight again and make up again, but that's the reality of all groups, especially competitive independent group members. And you'll see Aundrea and I try to salvage what we can of Danity Kane and try to make this thing work. We've tried to re-contact everybody and see if they want to do this one more time.
Dustin: When's the last time  you spoke with either Aubrey or D. Woods?
Dawn: I haven't. I haven't spoken to either of them at all.
Dustin: What's one common misconception people have about you that'd you'd like to get rid of right now?
Dawn: Well, people are going to have their misconceptions regardless, I can't get rid of them. They're going to say it anyway, but I think the biggest would have to be that everyone thought that I already had a solo thing or something planned before Danity Kane. And that hurts because the girls know, as well as in my heart, and God knows, I've never had anything but Danity Kane in my heart. I never did anything on the side. I was probably the last girl in the group to ever do anything besides Danity Kane. And they know that. So it kind of hurts me when everyone sees the show and they see a certain thing and they automatically assume that I'm the reason why the group broke up, or we broke up because I have projects on the side, but that's not true at all.
Dustin: What do you have to say to the blogs and the websites who have negative things to say about you or the group?
Dawn: You know what? Those are their opinions. And I respect peoples' opinions, but I know who I am. I have God in my life and I know how I was raised. I have the right people around me. And anyone else, I respect their opinions. But that's all it is to me, and I'm not going to live my life off of someone else's opinion, I'm going to live my life based on my own.
Dustin: Speaking of having good people around you, how are things with you and Que [from Day 26]?
Dawn: He's amazing. And he's one of the best people around me right now.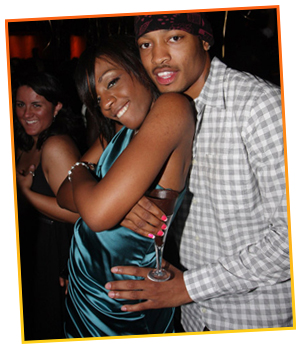 Dustin: People on Gossiponthis.com really love seeing you two together. Why do you think that is?
Dawn: Our love is honest. It's real. And we don't hide that. I mean, we try to be as private as possible, but it's really hard but we don't hide it. People try to believe that it's not real because we're on tv or whatever. But it really is amazing. It's awesome. And I think that's why people relate to it, because it's real and it's honest and it comes from a beautiful place.
Dustin: We just saw Barack Obama get sworn in as our 44th President.
Dawn: Barack Obama!
Dustin: [laughs] Were you in D.C. for the festivities?
Dawn: I was there with Que and we had a great time. I live in Baltimore, so we're pretty close to D.C. And we went because we wanted to be a part of history.
Dustin: It was pretty cold out there wasn't it!
Dawn: Oh my God, that's not the worst of it! It was ice, it was brick. It was crazy! [laughs] But it was worth it.
Dustin: It definitely was. What was it like seeing all of those people come together for something positive?
Dawn: It was beautiful. It reminded me of the Million Man March. To me, it was so beautiful. I felt like it was black beauty at its best. I felt like Dr. King's dream, everything that we had ever worked for. Everything my great grandparents and my parents worked for, especially living in the south. Everything that we ever went through with racism or discrimination or hatred just sort of disappeared during that moment. And I felt like we had finally come to the place where we needed to be a long time ago.
Dustin: Exactly. How confident do you feel about President Obama fixing this country?
Dawn: Definitely. It's not going to be today. It's not going to be tomorrow. It's not even going to be this year. It's going to be a while because there's a lot of cleaning up to do, not just from one president but a lot of presidents. change not going to happen overnight, but if we help him change the world, then everything will be okay.
Dustin: Do you agree that Barack Obama helped get a lot of young people into politics?
Dawn: I've always been into politics, but I do believe that he encouraged a lot of other people to get out and be a part of it. So yeah, I do agree with that.
Dustin: What would you say to your young fans who look up to you and Danity Kane?
Dawn: I appreciate it, and I hope that I can continue to be a good example to them, and I hope that they not only just look at us as role models, but look to other greats, like Barack and Michelle Obama. There are so many negative things out there, but there are also a lot of positive things, so please stay fast to your dreams and keep believing that you can do anything. I will continue to be all I can for them, and I hope that they can grow up to be someone else's role model.
For more on Dawn Richard, be sure to hit up her official MySpace page below!