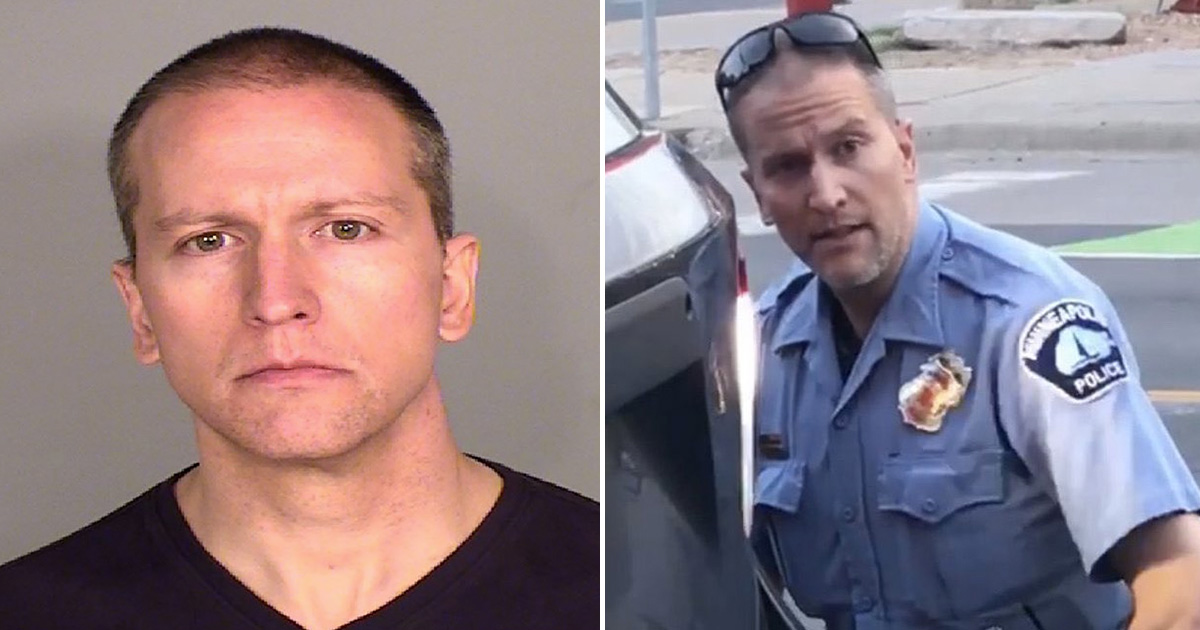 This is the face of a murderer.
Former Minneapolis police officer Derek Chauvin's mugshot was released Friday night (May 29) just hours after the killer cop was arrested for murder in the death of George Floyd.
Minnesota Department of Public Safety Commissioner John Harrington said that Chauvin, 44, of Oakdale, was taken into custody by the Minnesota Bureau of Criminal Apprehension early Friday afternoon around 11:45 a.m.
There had been speculation that Chauvin had fled the state to a home in Florida due to protesters gathering outside his home in Oakdale, however, Harrington said he was arrested in Minneapolis.
Chauvin faces third-degree murder and second-degree manslaughter charges for his role in Floyd's death. He's being held in the Ramsey County Jail.
Earlier this week, a video went viral showing Chauvin using his knee to pin Floyd—an unarmed black man who was under arrest for allegedly using a counterfeit $20 bill—down to the ground.
The video goes on for about 10 minutes as Floyd spends the first few minutes begging for his life and saying "I can't breathe" before he goes unconscious. He was later pronounced dead.
Chauvin and the three other officers directly involved with the fatal arrest—Tou Thao, Thomas Lane and J Alexander Kueng—were fired on Tuesday (May 28), the day after the incident, and the day the footage of the arrest went viral.
So far, Chauvin has been the only one charged in Floyd's death, however, Hennepin County Attorney Mike Freeman said the other three former cops are "under investigation" and he "anticipates" charges for them as well.
"But I'm not going to get into that," Freeman said. "Today, we're talking about former officer Chauvin."
Mayor Jacob Frey called the decision to charge Chauvin for Floyd's death "an essential first step on a longer road toward justice and healing our city."
"What's happened in Minneapolis is bigger than any one city and any single event," Frey said.
"For our Black community who have, for centuries, been forced to endure injustice in a world simply unwilling to correct or acknowledge it: I know that whatever hope you feel today is tempered with skepticism and a righteous outrage.
"We are a nation at a crossroad, and today's decision from the County Attorney is an essential first step on a longer road toward justice and healing our city."
A criminal complaint released Friday afternoon explains what went down on Monday (May 25) when Floyd was killed:
Officers were dispatched to Cup Foods on the report of a man buying merchandise with a counterfeit $20 bill. Shortly after 8 p.m., Officers Thomas Lane and J Alexander Kueng arrived with their body cameras activate and recording.

The officers learned from store workers that the man, later identified as Floyd, was parked in a car around the corner.

Body camera footage shows the officers approaching the car with Lane on the driver's side and Kueng on the passenger side. Three people were in the car: Floyd, another man and another woman.

As Lane began speaking with Floyd, he pulled out his gun, pointed it at Floyd and ordered him to show his hands. Floyd then put his hands on the steering wheel and Lane holstered his firearm.

Lane then ordered Floyd out of the car and handcuffed him, but Floyd "actively resisted being handcuffed," the complaint states. Once handcuffed, however, police said Floyd did not resist and walked with Lane to the sidewalk. Floyd then sat on the ground at Lane's direction.

The complaint says Lane spoke with Floyd for under two minutes, asking Floyd for his identification and name. He also asked Floyd if he was "on anything" and told Floyd he was going to be arrested for passing counterfeit currency.

Then, Lane and Keung stood Floyd up and attempted to take him to their squad car. Floyd then "stiffened up, fell to the ground and told the officers he was claustrophobic," the complaint states.

That's when Officers Chauvin and Tou Thao arrived on the scene in a separate squad car.

After making several attempts to get Floyd in the backseat from the driver's side, the complaint says Floyd wouldn't get in and would struggle with the officers by intentionally falling down.

The complaint says that Floyd began saying and repeating he could not breathe while standing outside the car. Chauvin then went to the passenger side and tried to get Floyd in from that side, with Lane and Keung assisting.

Chauvin then pulled Floyd out of the passenger side of the car at 8:19 p.m. and Floyd went to the ground face down while still handcuffed.

While Keung and Lane held Floyd's back and legs, Chauvin "placed his left knee in the area of Mr. Floyd's head and neck." Floyd could be heard repeatedly saying "I can't breathe", as well as "mama" and "please." The officers, however, stayed in their positions.

The officers told Floyd, "You are talking fine", as he continued to struggle. At one point, Lane asked "should we roll him on his side?" To which Chauvin responded, "No, staying put where we got him," the complaint states.

Lane then said he was "worried about excited delirium or whatever" to which Chauvin responded, "That's why we have him on his stomach." They continued holding their positions.

At 8:24 p.m., Floyd stopped moving. Kueng then checked Floyd's right wrist for a pulse and said "I couldn't find one." The officers continued to hold their positions.

At 8:27 p.m., Chauvin removed his knee from Floyd's neck as medics arrived. Floyd was taken away in the ambulance. He was pronounced dead at Hennepin Healthcare.
A preliminary autopsy report revealed that George Floyd died as a result of "underlying health conditions," including coronary artery disease and hypertensive heart disease, and not "traumatic asphyxia or strangulation."
The report noted that any possible intoxicants in his system also "likely contributed" to Floyd's death.
The Medical Examiner's office released a statement saying that they were "awaiting final results from laboratory studies to provide the most medically accurate cause of death determination possible."
Be the first to receive breaking news alerts and more stories like this by subscribing to our mailing list.