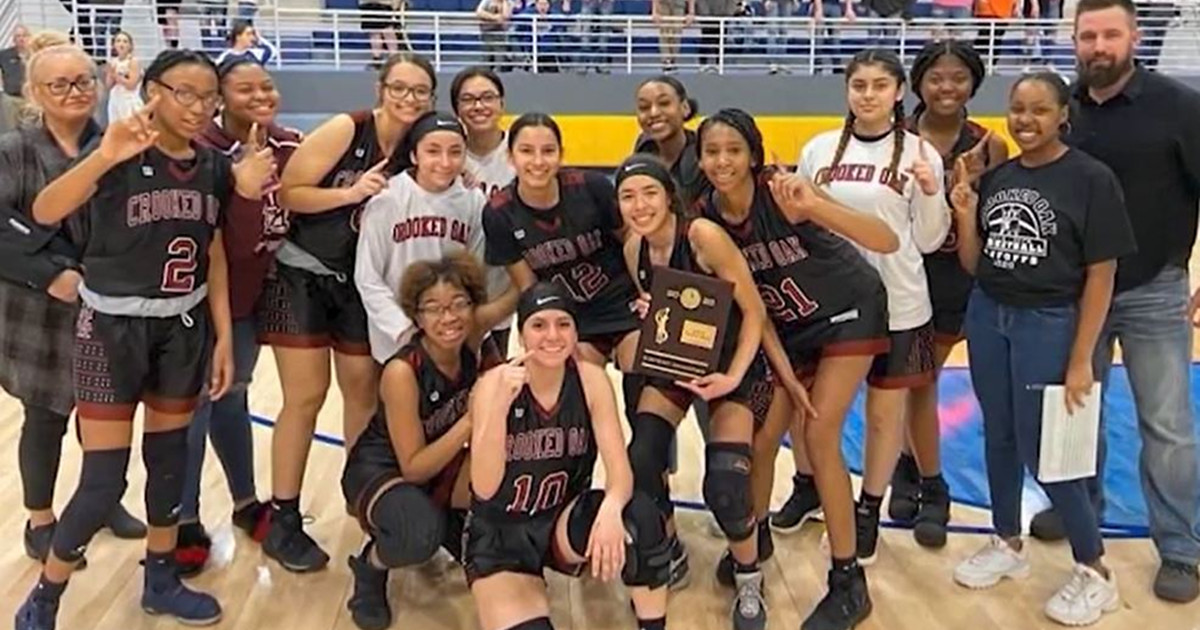 A veteran high school sports announcer is Oklahoma is facing backlash after making a racist comment while introducing players of a basketball team.
The Crooked Oak High School girls' basketball team was shocked as they took the court for their game against Newkirk High School on Friday (Feb. 21) due to the announcer's insensitive comment about some of the black players' names.
"The Crooked Oak Lady Ruff Necks, now their names are pretty disgusting."
He was replaced during the game's halftime break.
The comment, which many perceived as racist, was caught on video and shared on Facebook where it went viral.
A few of the Crooked Oak players and parents shared their reactions to the incident with local news station KFOR.
"We all looked at each other like, did he just say, is that real? Like did he really just say that?" Iyana Freeman said.
"I was just trying to make sure my teammates were okay. Because I knew, I could tell they were affected by how that was said," Freeman continued.
KFOR reports that several members were unable to really process what had just at the time, while others were left feeling uncomfortable and unsafe.
"I was actually kind of scared on the court. I was like watching every move that I did," revealed Jaiana Wiggins.
A friend of the announcer wrote in an email to KFOR that the announcer had intended to say "difficult," instead of "disgusting," stating that their friend simply "mixed up his words.
However, in a statement by the superintendent for Newkirk Public schools, the announcer is described as the "district's long-time announcer" who has "around 20 years" of experience announcing Newkirk games.
It's a safe bet the veteran announcer has pronounced his share of "difficult" names throughout the years.
With that in mind, Crooked Oak parent Tremekkia White is not buying the "mixed up his words" excuse.
"He never paused. He never said, 'Oh, I'm sorry, I meant difficult, my apologies ladies,'" she said.
The statement by the Newkirk School's superintendent reads in part:
To the Newkirk and Crooked Oak communities at large, I would like to say that this unfortunate comment does not represent the Newkirk Public Schools or its beliefs. We sincerely apologize for any pain or affront our announcer's comment has caused Crooked Oak players, parents, patrons, and school employees.
Tremekkia White, however, doesn't think the explanation and apology wasn't enough.
"The girls should have been given a public apology, the same way they were demeaned publicly," she said.
Another Crooked Oak parent, Lorna Pollard agreed, because the basketball team was never given an update of the situation during Friday's game.
"They never relayed that to the girls. The girls didn't hear anything from the school system on either side," she said.
The name of the announcer has not been revealed, nor have any disciplinary actions been reported.
Be the first to receive breaking news alerts and more stories like this by subscribing to our mailing list.