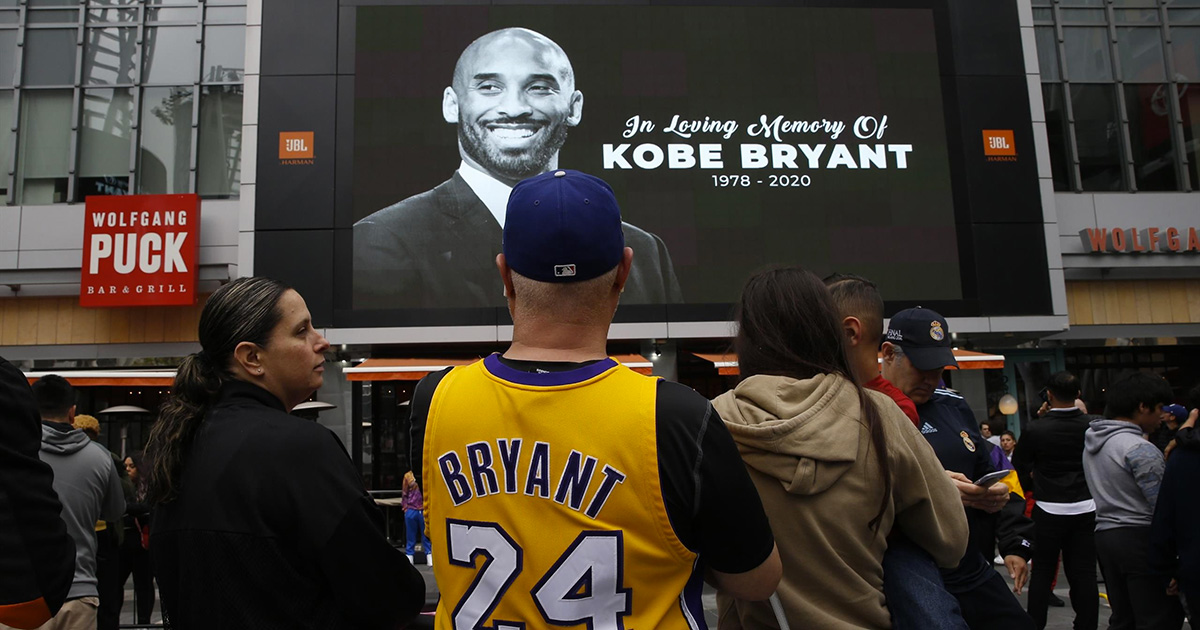 On April 13th of 2016, the Los Angeles Laker Kobe Bryant stepped to the free-throw line in the Staples Center.
They held a one-point lead over the Utah Jazz with just under fifteen seconds left in regulation. The arena was filled with a deafening cheer of "MVP! MVP! MVP!"
The Black Mamba arrived at the line, and he proceeded to sink both free throws, solidifying the Lakers' victory and scoring his fifty-ninth and sixtieth point of the night consecutively. It was the last time he'd play in an NBA game.
On January 26th of 2020, the NBA community and the world at large received the shocking news that Kobe Bryant, at 41 years old, passed away along with his 13-year-old daughter, Giana, as well as 7 others in a tragic helicopter crash outside of Calabasas, CA.
It's rare for a single moment to be felt so universally and simultaneously across the globe. Within moments of the news breaking, the calls and texts starting coming in asking if I'd heard the news.
Strangers were talking to each other about the incident in grocery stores and at gas stations. The sentiment was the same for everyone: disbelief, confusion, and ultimately, sadness.
It's not surprising that Kobe Bryant's passing is as impactful as it is, because the impact that he had on the sport of basketball was just as powerful.
His historic career began with him needing his parents to co-sign his NBA contract because he was only a teenager. But over the next twenty years, he rose from an overseas prospect to NBA legend through his unparalleled scoring prowess and undaunting dedication to constantly be the hardest working player in the locker room.
He was a five-time NBA champion, eleven-time All-NBA first-team selection, NBA MVP, two-time Finals MVP, 18-time All-Star, four-time All-Star MVP, two-time Olympic gold medalist, and a rare player to spend his entire career with the same team.
In short, he was a winner. He was someone who dominated headlines across the globe, and rightfully so. Kobe Bryant was an inspiration for the League's most influential players today as well as an evolution of what came before him:
The world lost a legend today. Kobe Bryant was someone who I looked up to, a fierce competitor, a Champion, an icon. His dominance and relentless spirit translated both on and off the court. Your fans across the world loved you with such passion and you never let them down. 1/3

— Ben Simmons (@BenSimmons25) January 27, 2020
You were and will continue to be an inspiration to this world and drive people to follow their dreams with passion and conviction #MambaForever 3/3 pic.twitter.com/PiSHw9Cv5P

— Ben Simmons (@BenSimmons25) January 27, 2020
Trae Young fought back tears as he spoke about the last conversation he had with Kobe.

He said Kobe told him he was proud of how much he's seen his game progress, and to continue to be a role model for kids growing up and for Gigi. pic.twitter.com/fhus29cdN5

— SportsCenter (@SportsCenter) January 27, 2020
you wit me tonight my guy ?
24 ? x 12 ? @kobebryant pic.twitter.com/LIQf827bjI

— Ja Morant (@JaMorant) January 26, 2020
— Dirk Nowitzki (@swish41) January 27, 2020
As I try to write this post, my mind is racing. I'm in disbelief and have been crying all morning over this devastating news that Kobe and his young daughter, Gigi have passed away in a helicopter crash. Cookie and I are heartbroken. pic.twitter.com/X2vF0M0a1u

— Earvin Magic Johnson (@MagicJohnson) January 26, 2020
As of the time of this writing, someone who has not spoken up is LeBron James. He was Kobe Bryant's close friend and a man who, just the night before, vaulted the legend from number 4 to 3 on the NBA's all-time scoring list.
Continuing to move the game forward @KingJames. Much respect my brother ?? #33644

— Kobe Bryant (@kobebryant) January 26, 2020
It's no surprise that Kobe Bryant has had such a big impact on today's NBA. Whereas some players' careers are reduced down to a single moment, the Black Mamba's excellence extends over twenty years, with so many memorable moments filling his tenure that it's hard to pinpoint his one greatest.
Hitting two clutch free throws in the closing minutes of a game against Golden State after tearing his Achilles tendon.
His two clutch shots to send the game into overtime and ultimately win it against the Portland Trailblazers to advance in the playoffs.
Scoring 62 points in just three quarters of play against the Mavericks.
And, of course, that 81-point game, the second-most all-time scoring in a single game behind only Wilt Chamberlain's 100 point night.
One of the driving factors behind his unbridled success was his unparalleled work ethic. There are countless stories of how Kobe Bryant was always pushing his boundaries both mentally and physically. He didn't just open up the gym, he was the last one to leave.
He demanded greatness from himself, always. But he also demanded the same from his teammates. If he thought you were slacking, faking an injury, or just not good enough, he wouldn't hesitate to let you know.
His greatness wasn't just limited to his on the court action, though. After retirement, when most people slow down, Bryant got involved in media production.
For anyone familiar with his basketball work ethic and successes, it's no surprise that he won an Oscar Award for his animated short film, Dear Basketball. Even billionaires have been surprised and intrigued by his determination and work ethic.
While there are always new stars that find their way into the NBA, we may never see another player as electrifying to watch and (I'm only guessing) as terrifying to play against as Kobe Bryant. Undoubtedly, he is leaving a legacy that extends far beyond basketball.
After those two free throws almost four years ago—the ones that gave him 60 points, the most by any player in their final NBA game—Kobe Bryant addressed the filled stands at the Staples Center.
The words he spoke that night seem appropriate for how many people feel about their relationship with him as well as how to move forward with this devastatingly heartbreaking news.
"This has been absolutely beautiful you guys. I can't believe it's come to an end. You guys will always be in my heart, and I sincerely, sincerely appreciate it. No words can describe how I feel about you guys. Thank you, thank you. From the bottom of my heart, I love you guys."
Rest in peace, Mamba.
Be the first to receive breaking news alerts and more stories like this by subscribing to our mailing list.