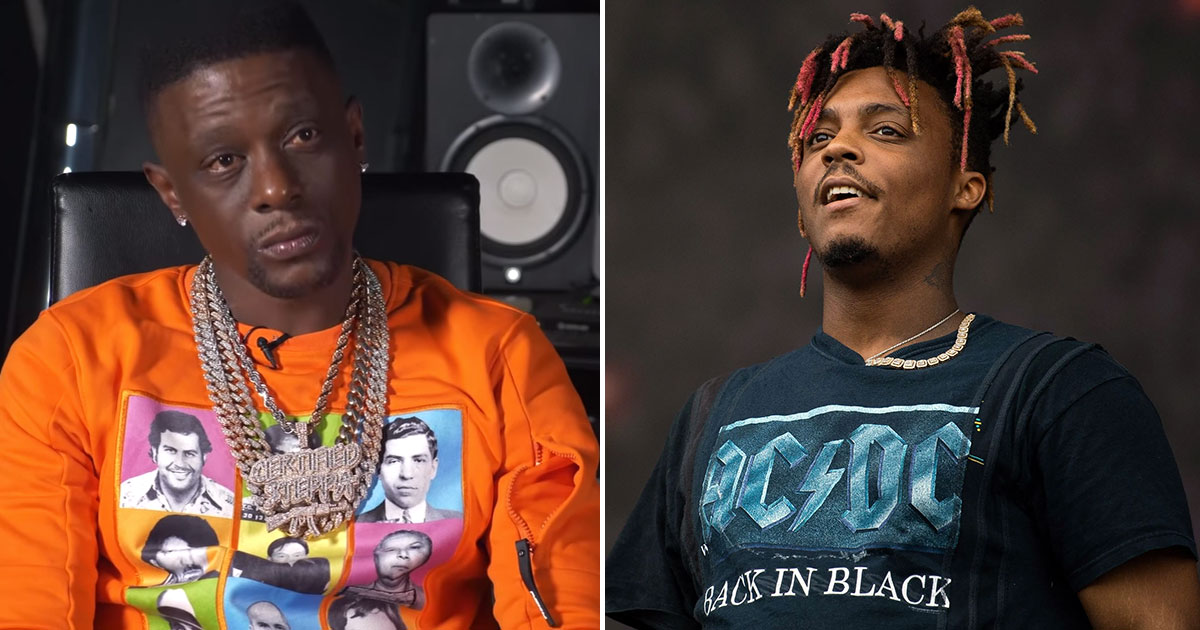 While the hip-hop community continues to mourn the unexpected death of one of its rising stars, Juice Wrld, Boosie Badazz says he knows exactly who should be blamed for the rapper's tragic demise.
In a recent interview with VladTV, Boosie said the pilot who flew Juice Wrld's private plane caused the "Lucid Dreams" rapper's death, which police said may have been the result of him swallowing a large quantity of Percocet pills, which caused him to have a seizure and go into cardiac arrest.
Law enforcement sources have said it was the pilot who brought it to the attention of the feds that Juice and his crew had drugs and firearms on the plane.
Boosie expressed sadness about never being able to meet the late rapper in person, and spoke about how the pilot is a "snitch" for ratting on Juice and his crew.
"I ain't never get to meet Juice Wrld," Boosie admitted. "I DM'd him a couple times, but I ain't never get to meet him face-to-face."
The Louisiana rapper went on to say that since Juice Wrld's passing, he's learned a lot about him and how his career got started.
"This dude's had talent since middle school," Boosie said. "Like, this dude been knew he was destined to be great."
Boosie added: "I want to beat that f**kin' pilot a** … Somebody need to beat that f**kin' pilot a**, bro. The one who told the f**kin' people they had guns on the plane.
"Bitch, you the one who made the f**kin' people come search the plane. That's why he swallowed the shit. The rat! The f**kin' snitching. It's a worldwide f**kin' epidemic: snitches. Ol' snitchin' a** bitch driving the plane gone alert the authorities. You snitchin' ass ho. You a ho, if you listening, bitch."
Once the plane landed at Chicago's Midway Airport, as federal agents searched Juice and his crew's luggage, the 21-year-old rapper allegedly swallowed a bunch of Percocet pills in a desperate attempt to hide them from authorities.
Not long after, he started having convulsions and was rushed to the hospital, where he was pronounced dead.
After all was said and done, officials found 70 pounds of marijuana, three guns and a bottle of codeine.
"When the people come, mane, whatever you got, you gotta get rid of that sh*t, dawg," Boosie explained to DJ Vlad. "When the police come, you gotta try your best to get rid of that sh*t and he took too much of that sh*t, mane. That sh*t had me pissed off! Ol' rattin a** bitch."
Be the first to receive breaking news alerts and more stories like this by subscribing to our mailing list.