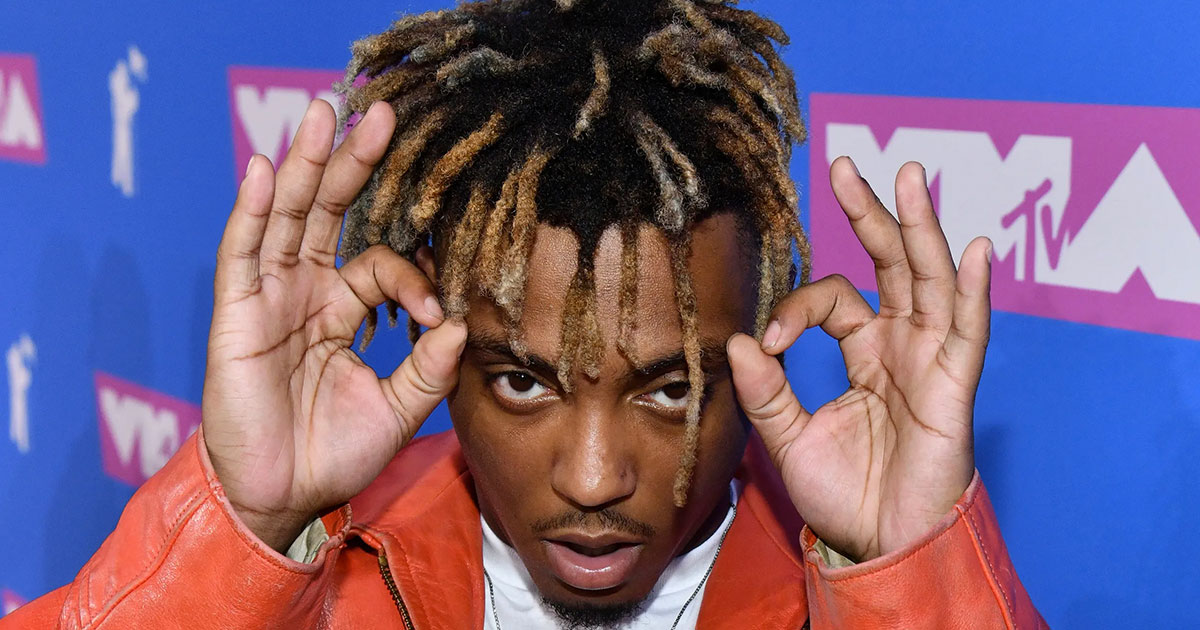 Juice Wrld may have caused his own death by swallowing a bunch of Percocet pills in a desperate attempt to hide them from federal agents as they searched his luggage for drugs and guns at Chicago's Midway Airport Sunday (Dec. 8).
According to TMZ, the pilot flying the rapper's private jet tipped off authorities that members of Juice's entourage were in possession of contraband (i.e. drugs and weapons), and when Juice and co. landed in Chicago around 1:30 a.m. early Sunday morning, the feds were on the tarmac waiting for them.
While in the air, Juice—who was flying from California—reportedly found out about the tip, and he swallowed several Percocet pills so that police wouldn't be able to find them once they conducted a search after landing, which likely contributed to his death.
Fox 32 reported that the rapper had flown from Florida to California on Saturday before departing for Chicago for a belated birthday party that was scheduled to take place Sunday night.
Juice had just turned 21 six days earlier on December 2nd, and he was due to be back in California this weekend to headline Rolling Loud in Los Angeles.
Once Juice and his people landed in the Chi, a drug-sniffing dog made a "positive alert" for bags on two luggage carts, the Chicago Tribune reported.
While the feds searched Juice and his entourage's luggage, the rising rap star (real name: Jarad Anthony Higgins) started convulsing and ended up having a seizure.
An FBI official is said to have given Juice Wrld two doses of Narcan—an emergency drug used to treat victims of a suspected opioid overdose—which woke the rapper up, however, he was incoherent and bleeding from the mouth, even after 40 minutes of treatment.
He was reportedly conscious and alert as he was transported to Advocate Christ Medical Center in Oak Lawn, Illinois, however, he was pronounced dead less than 10 minutes after arriving at the hospital.
After their search, the feds seized 41 vacuum-sealed bags containing 70 pounds of marijuana, as well as six bottles of prescription codeine cough syrup, which is used by people, mostly rappers, to make what is called "Lean" or "Purple Drank" or "Sizzurp."
Friends of Juice Wrld told TMZ that the rapper suffered from a Percocet addiction, and he regularly consumed the opioid, which is known to have fatal side-effects when mixed with alcohol and other substances.
The Cook County Medical Examiner performed an autopsy Monday (Dec. 9), however, his cause of death is still unknown, pending toxicology reports.
"The Cook County Medical Examiner's Office has determined that studies are required to establish the cause and manner of death for 21-year-old Jarad A. Higgins. Additional studies include cardiac pathology, neuropathology, toxicology and histology," a spokesperson said in a statement.
"The cause and manner of death are pending at this time. The Office will release a statement when cause and manner of death are determined."
Investigators also confirmed that three handguns, including a .40-caliber pistol and two 9mm pistols, as well as high-capacity ammunition, were found on the jet.
Reports suggest the rapper was traveling with around a dozen or so people, including his girlfriend Aly Lotti and his two security guards, 27-year-old Henry Dean, of Chicago, and 36-year-old Christopher Long, of California.
Long and Dean were both arrested, police said. Dean was charged with carrying a concealed firearm at an airport and possessing a high-capacity magazine and metal-piercing bullets, and Long was charged with unlawful possession of a firearm.
They have both since been released and are due in court later this month. Sources said Dean had a permit to carry a gun in the state of Illinois, however, it's illegal to carry weapons in airports.
Police have yet to file any drug charges against anyone who was on the flight.
The marijuana and codeine found in the suitcases didn't have name tags or any other personally identifiable information near them, and an investigation remains ongoing, authorities said.
Be the first to receive breaking news alerts and more stories like this by subscribing to our mailing list.