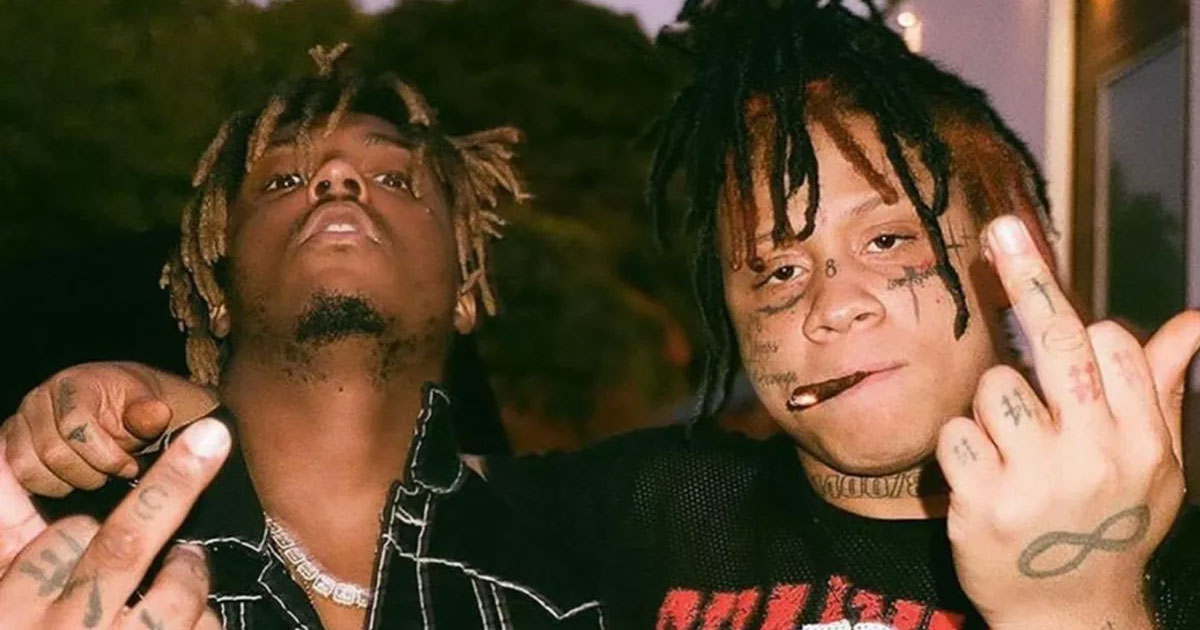 Trippie Redd says he's done with drugs following the tragic death of his close friend Juice Wrld.
"We ain't doin' it no more," the "Love Scars" rapper said Monday (Dec. 9) on Instagram Live. "Period. If it ain't weed, we ain't doin' it no more … And when I say 'we,' I mean us as a group. Us as a whole, the whole emo music artists. No drugs."
He continued: "It's not cool. We look up to all these bigger artists, all these grown-ass men and all they do is talk about poppin' pills and sippin' codeine and all that sh*t… It's music."
Redd went on to say that despite his vow to stay away from illicit drugs, he'll still talk about them in his music.
"N***as know what they get theyself into," the rapper added, "But at the same time, it's like, we gotta be the strongest people to be like, 'Okay, n***as is just using this for rhymes at this point.' Let it just be that, you feel me? I'll be the first to say: I ain't sippin' no lean, I ain't poppin' no pills but I'mma still talk about it in music. Maybe."
Juice Wrld died Sunday (Dec. 8) after suffering a seizure and going into cardiac arrest after his plane landed in his hometown of Chicago.
Trippie Redd's vow to stay away from drugs comes after police revealed that Juice Wrld may have caused his own death by swallowing a bunch of Percocet pills to hide them from the feds as they searched his team's luggage for drugs and guns.
Friends of Juice said the rapper suffered from a Percocet addiction, and he regularly consumed the opioid.
After their search, federal agents seized more than 40 vacuum-sealed bags containing 70 pounds of marijuana, as well as six bottles of prescription codeine cough syrup, a drug popularized by rappers who make "Lean" (aka "Purple Drank" or "Sizzurp") out of it by mixing it with soda.
Juice Wrld was very open with his use of prescription drugs over the years.
He admitted in an interview with Vulture that he was inspired to try Lean from Future when he was in the sixth grade.
Juice said when he finally met Future, he told him that. "That's the first thing I told him … He just was like, 'Wow.' He kind of apologized."
He said he went on to use prescription painkillers and anxiety meds like Percocets and Xanax, and he picked up a cigarette smoking habit that he kicked before leaving high school.
This past July, the "Wasted" rapper revealed he was still struggling with his Lean addiction, and told his girlfriend Ally Lotti via Twitter that he was committed to quitting.
"Bae I'm sorry I be tweaking, you've put up with more than ppl know I know I be scaring you, f**k Codeine I'm done," he tweeted. "I love you and im letting it be known publicly that ain't sh*t f**king up the real love I found. Learn from this everyone. Addiction kills all but you can overcome."
He added in another tweet: "Ima leave that sh*t alone 4 good watch me.. I'm done w it."
Ima leave that shit alone 4 good watch me.. I'm done w it

— . (@JuiceWorlddd) July 9, 2019
Ima leave that shit alone 4 good watch me.. I'm done w it

— . (@JuiceWorlddd) July 9, 2019
Trippie Redd and Juice Wrld were close friends and collaborators. Juice was featured on Trippie's songs "1400/999 Freestyle" and "6 Kiss (Visualizer)," which also features YNW Melly.
Trippie Redd isn't the only rapper using Juice Wrld's death as a serious wake-up call. Lil Mosey, another close friend and collaborator of Juice Wrld, also took to social media to let the world that he, too, is done with drugs.
"I asked God to help me," the "Noticed" rapper tweeted Sunday. "Drugs won't take me I promise & Im done with them. I love y'all, pray for me."
I asked God to help me. Drugs won't take me I promise & Im done with them. I love y'all, pray for me ???

— lil Mosey (@lilmosey) December 9, 2019
Drug overdoses have been responsible for the deaths of a number of notable rappers over the past couple of years, including Mac Miller, Fredo Santana, and Lil Peep.
Eerily, Juice Wrld predicted his own death in a song called "Legends" released after the shooting death of his friend XXXTentacion, another young rapper whose life was tragically cut short.
"What's the 27 club? We ain't making it past 21," Juice says. He adds in a later verse: "They tell me I'mma be a legend / Don't want that title now / 'Cause all the legends seem to die out."
Be the first to receive breaking news alerts and more stories like this by subscribing to our mailing list.