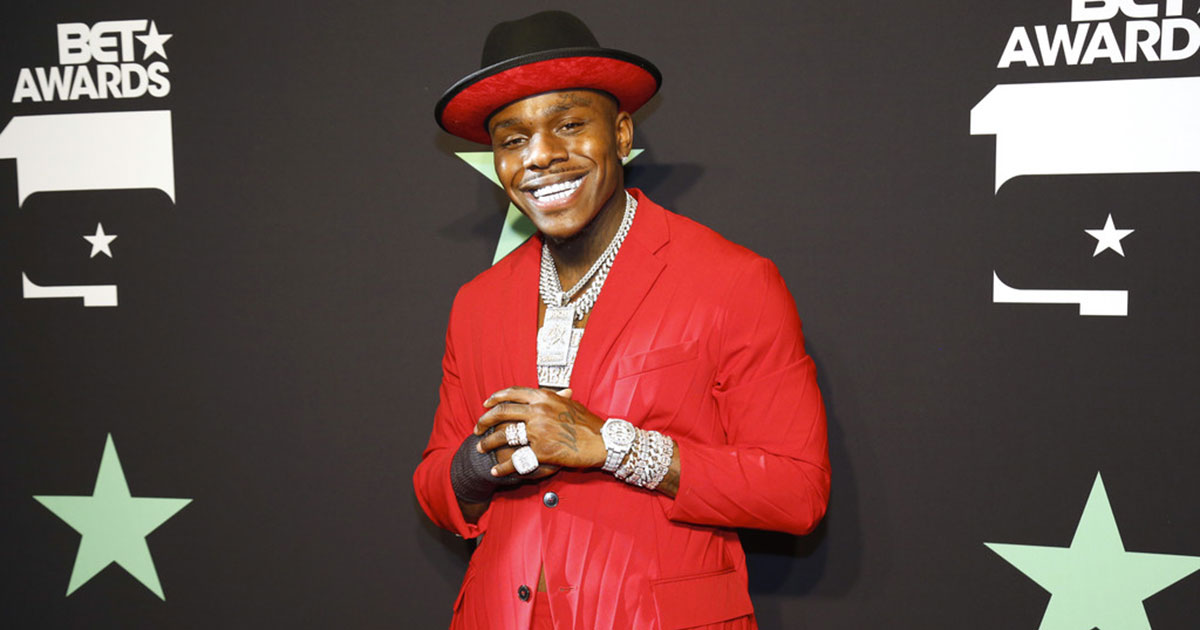 DaBaby has been charged in connection to a fatal shooting in a North Carolina Walmart, The Charlotte Observer reports.
Last November, the Charlotte rapper was arrested for the shooting death of 19-year-old Jalyn Domonique Craig, but was released within hours of the incident after it was determined that he acted in self-defense.
A couple of days after the shooting, DaBaby explained in a video he shared on Instagram that he was in the store shopping with his two kids—a 1-year-old daughter and a 5-year-old son—along with their mother when someone pulled a gun on him "and tried to take my life."
He said that the "gunshots" shoppers heard in the store that day saved the lives of him and his family.
"If them gunshots ain't go off … my daughter could've got hit, son could've got hit, me," he said in the video.
DaBaby, whose real name is Jonathan Kirk, was never charged with Craig's death, but he was charged with one count of carrying a concealed weapon. That charge, however, was dropped back in April.
After appearing in court Thursday before a District Judge, the 27-year-old rapper was reportedly "recharged" and found guilty of the concealed weapon charge, which is a misdemeanor.
According to The Charlotte Observer, prosecutors recharged Kirk on the concealed weapon charge after another judge denied a motion to continue the case after a key witness didn't appear in court.
DA's office spokeswoman Meghan McDonald told The Observer that recharging a defendant in this circumstance is permitted by North Carolina law.
As a result of the charge, DaBaby was sentenced to one year of unsupervised probation, which means that he won't be placed on any traveling restrictions, but most stay out of legal trouble for the next 12 months.
Still … the news is hella good for DaBaby (considering the alternative) because he's currently on tour and actually has a show tomorrow night in Worcester, Massachusetts. He also has back-to-back dates throughout July and August.
DaBaby has enjoyed a very successful 2019, which saw him release his debut studio album Baby on Baby, which debuted at No. 25 on the Billboard 200 albums chart in the U.S. before eventually rising to number seven.
Earlier this week, on Sunday (Jun. 23) night, he performed the album's hit single "Suge" at the 2019 BET Awards in his first live televised performance ever.
https://www.instagram.com/p/BzGnOY1hArl/
"Suge" is currently No. 9 on the Billboard Hot 100 after peaking at No. 8 earlier this month.
Today (Jun. 28), he celebrated two brand new gold single certifications for Baby on Baby tracks "Goin Baby" and "Sitter," which features Offset.
https://www.instagram.com/p/BzRIluOJCsT/
Be the first to receive breaking news alerts and more stories like this by subscribing to our mailing list.