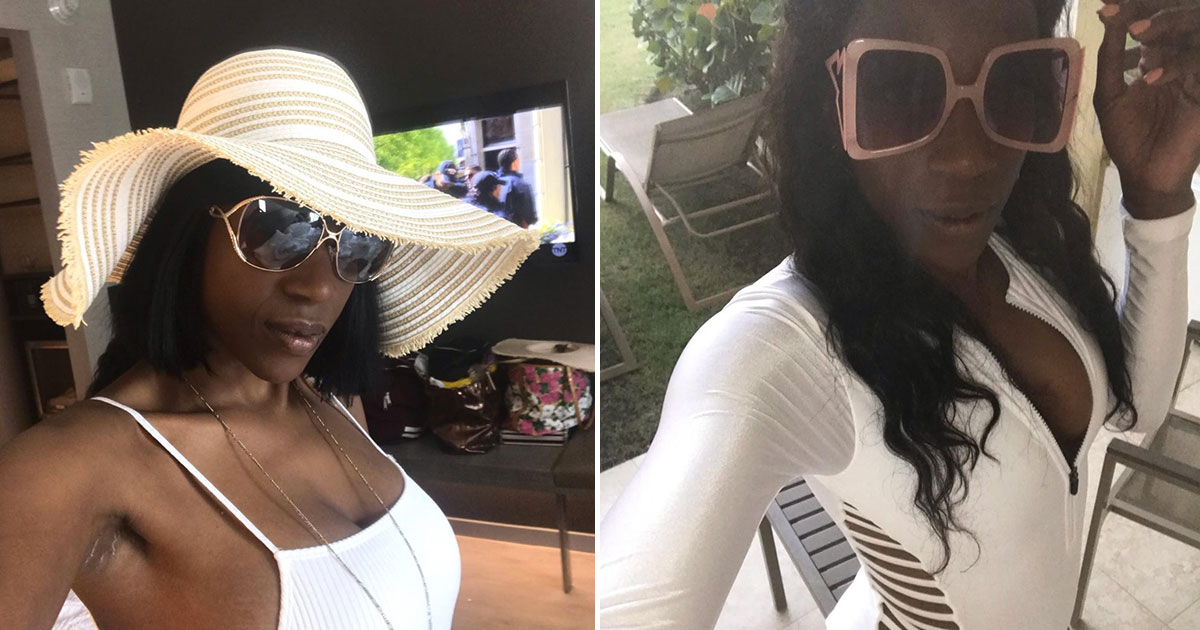 Excuse my French, but what the f**k is going on in the Dominican Republic right now?!
Amid multiple scary reports from the Dominican Republic, an Ohio woman on vacation in the Caribbean island says she woke up to a strange man in her hotel room who didn't speak English, and she was forced to fight him off to save her life.
Elda Shepherd of Columbus, Ohio explained on Facebook that she's been staying at the Breathless Resort in Punta Cana since Sunday (Jun 2) "having a blast," and on Wednesday night, she called down to the front desk so that someone could help her get the hot tub in her room working.
She said the man came in, got the tub working and left, but around 2 a.m. early Thursday morning, while she was sleeping in the nude, she said the guy came back into her room.
Shepherd said the man didn't speak English, so he used an app on his phone to ask her: "Why are you alone, you don't want company?" She said she jumped to her feet and told him "One of us has to die, and I'm going home to my kids" as she fought him off.
The intruder then ran out of the room and she quickly hopped on Facebook to update her friends and family about what was going on, and she quickly went viral, with social media users offering any help they could.
Shepherd said she was told by hotel employees that the police station in Punta Cana, DR was only open from 9 a.m. to 5 p.m., but she said they contradicted that information by saying that the guy had already been arrested, which made her question the hotel.
Shepherd also said the hotel tried to bribe her with money after the incident.
Friends and family members on Facebook advised Shepherd not to go anywhere with the hotel staff who came to her room to talk to her more than once, with everyone encouraging her to wait for the U.S. Embassy and police, which she did.
Shepherd said in a later update that she was able to go down to the police station and identify the man in a line-up and she planned on booking a flight home ASAP.
She then went on Facebook Live to let everyone know she was OK and explained in detail what happened the night before, saying that she was scared to death about the ordeal because this was her first time out of the country.
Shepherd wrote in another update via Facebook:
"I thank God I'm not the next story being shared about 'mysteriously dying' … I am [GRATEFUL] … Y'all know I'm coming HOME to y'all! I love y'all and I'm super tired. I'm dirty. I'm hungry. I loveeeeee the sh*t out y'all and I will be home. I looked his ass in his eyes and was ready. I'll be home y'all. The Embassy and group I'm with is bomb."
Unfortunately, because of the long process she had to go through, Shepherd said she missed her original flight back home and had to stay another night in the Dominican Republic, so she stayed in a friend's room for the evening.
Around 11:30 a.m. Friday morning (Jun 7), Shepherd provided her final update from DR, saying that she was "in route" to the airport.
After a brief hiccup with her plane ticket, she posted around 12:45 p.m. that she was finally headed home.
Elda Shepherd's incident in the Dominican Republic comes amid a wave of disturbing reports out of the country regarding American tourists who have died in the popular vacation spot.
In March, a New York couple tragically died after veering off a road into the Caribbean Sea while en route to the airport, and in May, a couple from Maryland were found dead in their hotel room.
Five days before the Maryland couple died, a Pennsylvania woman celebrating her ninth wedding anniversary with her husband suddenly died in their hotel room after she took a drink from the mini bar.
And back in January, a woman was savagely attacked and left for dead at a luxury DR resort by a man wearing a hotel uniform.
Be the first to receive breaking news alerts and more stories like this by subscribing to our mailing list.