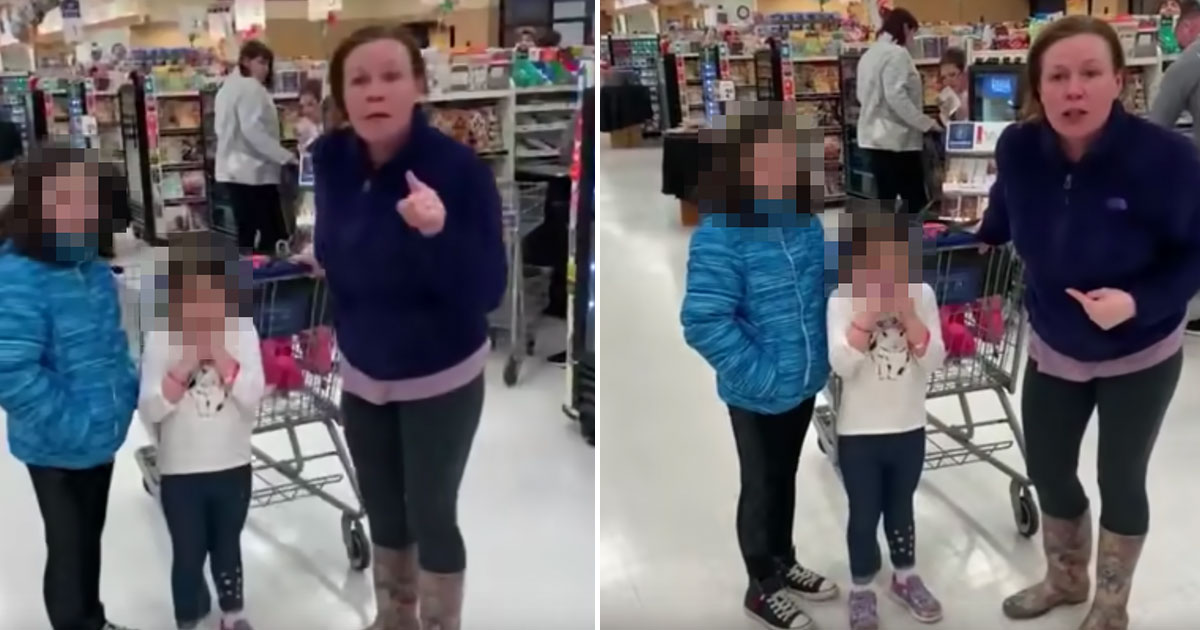 Corinne Terrone, the white woman who was caught on camera cursing, screaming the n-word and spitting at black people in an East Haven, Connecticut supermarket made even more racist comments while reporting the incident to police.
The East Haven Police Department released the unedited version of her multiple 911 calls, and she can be heard using the n-word multiple times, referring to the man she got into the altercation with.
According to Lt. Joseph Murgo, Terrone made a number of calls.
"The first call placed was made in error to the Easton, CT police department," said the East Haven PD. "On the recordings, she continues her hate-filled speech to a police dispatcher who finally advises her that she has called the wrong police department."
In this brief call, as she starts to tell the dispatcher what just happened, she's told she needs to hold on, and she shouts: "Don't you dare put me on hold. Don't you care… Oh, Jesus Christ."
The woman can also be heard using the n-word just as the call starts. After being told she called the wrong police department, she hangs up, but not before telling the 911 dispatcher to "go fuck yourself then."
Subsequent recordings are calls Terrone, who refers to herself by her maiden name Magoveny, placed to the East Haven Police Department.
In a call that lasted more than six minutes (above), Corinne Magoveny-Terrone tells that dispatcher that she was walking down the center aisle at a grocery store, and when she got the registers, she said, "Oh, Jesus Christ" to her kids. She said a black man in a "scooter" asked if she was talking to him and called her a bitch.
"He called me a bitch so I called him a ni***r." She said the man got up and threatened her and that there was "spitting back and forth." She repeated that she called the man a "ni***r because he called me a bitch."
She then proceeded to demand the 911 dispatcher to send an East Haven police officer to her house so that she could press charges.
The woman also said that the man was with two "fat black bitches which I won't call ni***rs because they weren't behaving like n***rs." She continued: "That place is full of cockroaches and now I have to deal with being called a bitch by a ni***r in front of my kids? I don't think so."
Terrone said she left her coat in the ShopRite parking lot because it had the man's "dirty disgusting AIDS-infected ni***r spit on it."
When the dispatcher tells her a police officer cannot be sent to her house because she doesn't live in the police department's jurisdiction, she snaps back: "Of course, you can't … Then tell me what's going to be done to arrest the ni***r who assaulted me verbally?"
"I want a fucking cop doing something now. I don't want any excuses," she shouts at the dispatcher, who tells her that she's free to come to the police station to file a report since the store in East Haven's jurisdiction. But apparently, that's not good enough for her.
"Are you fucking kidding me? You think I know that ni***r's name?" she says. "You think I know that ni***r's name? That's all he is to me. A fucking ni***r because he called me a bitch."
After Terrone mocks, insults and demeans the 911 dispatcher, she finally agrees to meet with an East Haven police officer in the ShopRite parking lot, but demands that the officer be white.
"Is it someone who's not going to be racially biased?" she says. "Is it going to be a white person because I am not dealing with a sp*c or a ni***r because I am way beyond that point."
The dispatcher then asks Terrone what kind of car she drives, and she says it's none of his business. He says they need that information so that the officer can locate her.
She says she's going into the ShopRite, but the 911 dispatcher tells her not do that. "Oh, but I am," she says. He replies, "Oh, but you're not."
In another call to East Haven police (above), Terrone tells a dispatcher that the person who answered the phone previously was "completely unhelpful and useless."
The woman calls back a third time, her fourth 911 call in all (listen above), asks who she's speaking with, and then says "I was just verbally assaulted at ShopRite in East Haven." She then goes on to explain what happened in the store and says "I'm not gonna sugar coat what I said."
Thousands of people shared videos on Facebook that showed the incident, which happened the night of Friday, March 15th.
In one video (above), posted by Facebook user Tatiana Winn (which has since been deleted or set to private), Terrone can be heard yelling the n-word four times in less than one minute.
It isn't clear how the encounter began, but the short clip starts out with Terrone shouting "Don't you dare talk to me like that in front of my children motherf**ker!" She then utters a few inaudible words, but you clearly hear her saying the n-word not just once, but TWICE in the same sentence.
The man Terrone is yelling at is seen rushing towards her in anger, and the people he's with try to calm him down, saying "Don't do it." But Terrone yells "Put your hands on me, come on!" before pulling out her phone and pointing it in his face like she's recording him. The man then quickly knocks the phone from Terrone's hand and another man gets in between them.
As the first man walks away, Terrone runs after him screaming "Oh you motherf**ker!" as the man yells back to her "I'm a ni***r right?" She responds, "That's right, you're a ni***r in East Haven!"
When a person who appears to be a store employee comes forward, Terrone yells "F"**k you ni***r!" and then spits at the man she's been calling the n-word. When he spits back at her, she turns around yelling "You motherf***er!" and then spits AGAIN in the direction of him and another woman holding him back.
Here's another video showing the incident from a closer  view:
After the videos went viral, Terrone was forced to resign from her job as a clerical worker at the Hamden School District's central offices.
"While it appears as though this happened after work hours on Friday evening, the Human Resource Director contacted the employee and arranged an investigatory meeting with her," the district said in a statement released Saturday (Mar. 16). "Shortly after final arrangements were made for the investigatory meeting, the employee rendered her resignation effective immediately."
The statement continued: "The language the employee used in the video is in conflict with the values of the Hamden Public School System. Someone who will use that sort of language in any setting, whether public or private, is not someone we want anywhere near our children. The employee is separated from service, and we hope that her children will receive the support they need after witnessing such a traumatic event."
The district's statement also noted that a DCF report was filed because the woman's children were present.
It was also reported the following Monday night (Mar. 18) that Terrone had been "taken by New Haven police for an involuntary mental evaluation."
Police said they contacted the people involved in the incident but "received no response." They said a reporter indicated the victims of Corrine's racist rant refused to "come forward for whatever personal reasons they may have."
East Haven Police Lieutenant Joseph Murgo called the incident "senseless and hate-filled" and said the police have reached out to "everyone involved (to get to) the bottom of this senseless hate filled incident that needs to be investigated further. At the current time, we have still not received any communication from the victim or anyone involved."
Read the East Haven Police incident report below:
Terrone Case Incident Repor… by on Scribd
via: Heavy.com
Be the first to receive breaking news alerts and more stories like this by subscribing to our mailing list.