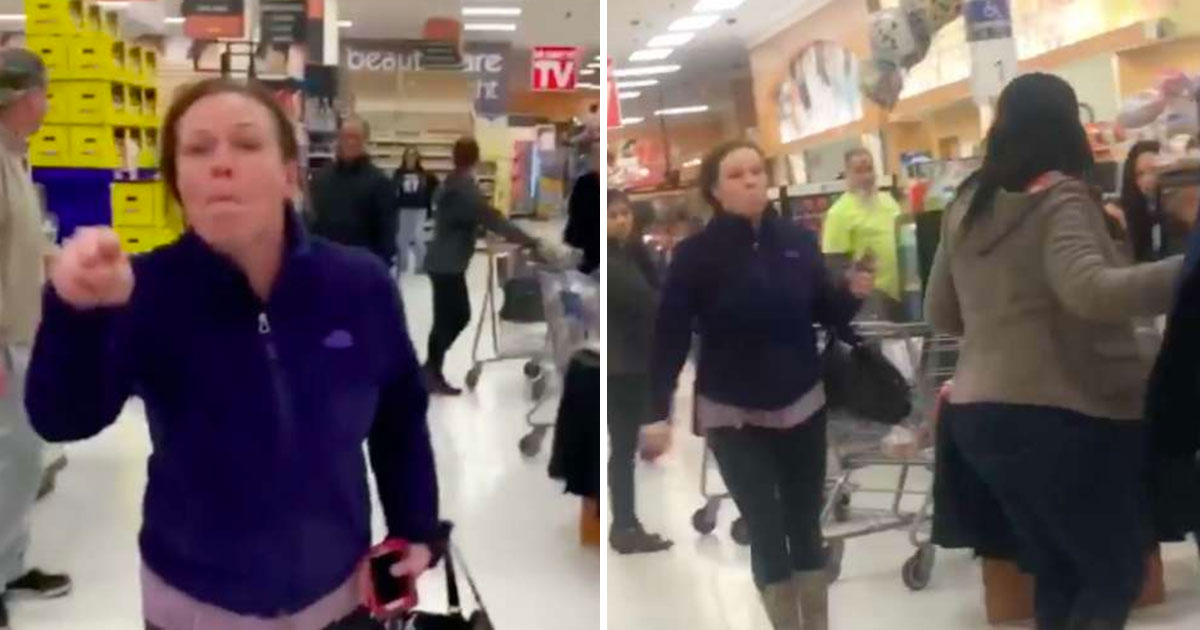 A Connecticut woman who was caught on video hurling racial slurs at a black couple and spitting at them has reportedly lost her job after the footage went viral on social media.
The video shows a white woman—who has since been identified as Corinne Terrone, a now former Hamden Public Schools employee—using the N-word several times during an altercation with a black couple in an East Haven, CT ShopRite supermarket.
It's unclear how the encounter began, but the short clip starts out with Terrone shouting "Don't you dare talk to me like that in front of my children motherf**ker!" She then utters a few inaudible words, but you clearly hear her saying the n-word not just once, but TWICE in the same sentence.
WATCH HERE:
The man Terrone is yelling at can be seen rushing towards her in anger, as the people he's with try to calm him down, saying "Don't do it." But Terrone yells "Put your hands on me, come on!" before pulling out her phone and pointing it in his face as if to record him. The man then quickly knocks the phone from Terrone's hand and another man gets in between them.
As the first man walks away, Terrone runs after him screaming "Oh you motherf**ker!" as the man yells back to her "I'm a n****r right?" She responds, "That's right, you're a n****r in East Haven!"
Mind you … the woman does all of this in plain view of her two young children.
When a person who appears to be a store employee comes forward, Terrone yells "F**k you n****r!" and then spits at the man she's been calling the n-word. When he spits back at her, she turns around yelling "You motherf***er!" and then spits AGAIN in the direction of him and another woman holding him back.
Terrone says the n-word four times in the less than one minute clip, which was uploaded Friday night (Mar. 15) and has been viewed nearly 400,000 times with nearly 10K shares and 3K comments. "Share Tf outta this… racist ass bitch at east haven ShopRite," the video's uploader, Tatiana Winn, wrote in the caption.
Here's another angle where you can hear and see things a bit more clearly:
It didn't take long for Corinne Terrone's employers to respond to the footage either. By Saturday morning, Hamden Schools Superintendent Jody Goeler identified Terrone as the woman in the video and a statement from the school district said that she had resigned from her position.
She was reportedly a clerical worker at the school district's central offices and did not work directly with children.
"We have become aware of video footage that appears to show an employee in our district engaged in abhorrent conduct. Specifically, the video appears to show the employee repeatedly calling an African-American man the N-word in a supermarket in East Haven," the statement read.
"While it appears as though this happened after work hours on Friday evening, the Human Resource Director contacted the employee and arranged an investigatory meeting with her. Shortly after final arrangements were made for the investigatory meeting, the employee rendered her resignation effective immediately."
The statement continued: "The language the employee used in the video is in conflict with the values of the Hamden Public School System. Someone who will use that sort of language in any setting, whether public or private, is not someone we want anywhere near our children. The employee is separated from service, and we hope that her children will receive the support they need after witnessing such a traumatic event."
The statement from the district also noted that a DCF report was filed because the woman's children were present.
Hamden Mayor Curt B. Leng applauded the school district for moving so swiftly after being alerted about the video.
"I'm really proud of our superintendent and the Board of Education," Leng said in a statement Saturday. "They took this matter with the utmost level of seriousness. They took immediate action this morning."
Mayor Leng added: "I think the action — the decisive action that was taken — very clearly shows that this type of repulsive behavior is not acceptable here and it won't be tolerated."
According to the New Haven Register, Terrone's next-door neighbor, who is black, was shocked to hear about the incident and said that his grandchildren play with her kids.
"She's always been the sweetest woman in the world," the man said, adding that she was an "excellent" neighbor but was in "a bad situation."
East Haven Police Lieutenant Joseph Murgo said in a statement that the department was "aware of this disturbing video and the hate speech contained in it," but no complaint has been filed yet.
"We are in touch with ShopRite and are looking to get a better understanding of what took place (Friday) night," the statement said.
Lt. Murgo asked that anyone with any information to come forward and also suggested that the victims reach out to police.
Murgo said that Terrone could face a number of possible charges, the minimum being breach of peace, and he also noted that spitting is considered a form of assault.
Be the first to receive breaking news alerts and more stories like this by subscribing to our mailing list.