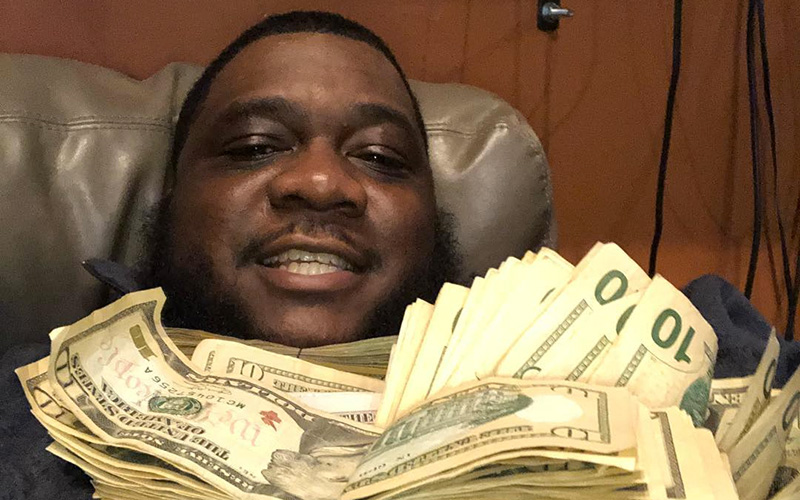 The feds have Philadelphia rapper AR-AB and his OBH movement in their crosshairs, and they could be headed to prison for a very long time.
According to Attorney William M. McSwain, the rapper and eight other men were indicted on federal drug charges.
The men are accused of running a drug trafficking organization with multiple counts related to the distribution of large quantities of drugs in North Philadelphia, including cocaine, crack, methamphetamine and heroin.
The charges include:
"conspiracy to distribute 5 kilograms or more of cocaine, 280 grams or more of crack, 50 grams or more of methamphetamine, and 100 grams or more of heroin. The superseding indictment also includes individual charges of possession with intent to distribute cocaine, methamphetamine, crack, and heroin; distribution of methamphetamine; and a charge of unlawful possession of a firearm."
The federal agents are under the impression that AR-AB, whose real name is Abdul West, is the leader of the drug trafficking organization that distributed over 5 kilos of cocaine from at least March 2017 through June 2018.
The following individuals, all of Philadelphia, have been charged (according to the Dept. of Justice):
Abdul West, a/k/a "Assault Rifle Ab," "AR-Ab," "El Patron," "the Goon,"
Jamaal Blanding, a/k/a "Bionickhaz," "Khaz," "Deangelo Smith,"
Jameel Hickson, a/k/a "Meliano," "OG,"
Richard Chase Hoover, a/k/a "Boog,"
Dontez Stewart, a/k/a "Taz,"
Amir Boyer, a/k/a "Mulla,"
Daryl Baker, a/k/a "Shotti,"
Hans Gadson, a/k/a "NoBrakes Bras," and
Dennis Harmon.
The indictment alleges that AR-AB's organization was part of a network that received drugs from California and distributed them in Philadelphia.
"Philly's Top Goon" and his crew are also being accused of purchasing high-end rental properties in Philly to evade detection and to protect their supply of drugs.
During two different raids on properties owned by AR-AB, cops recovered a large amount of drugs, thousands of dollars in cash and a handgun.
From the DOJ:
On September 11, 2017, the Philadelphia Police Department executed a search warrant at a house owned by West on North Sydenham Street, recovering 62 grams of crack, 229 grams of heroin, and 48 grams of methamphetamine, as well as $8,000 in cash and a handgun.

On May 17, 2018, the FBI executed a search warrant at an apartment complex on Christopher Columbus Boulevard, recovering approximately 10 kilograms of cocaine and nearly 6 pounds of methamphetamine, along with $20,000 in cash.
"The charges alleged in the superseding indictment are extremely serious, and if convicted, these defendants are facing major jail time," said U.S. Attorney McSwain. "The investigation and prosecution of drug trafficking organizations remains a high priority of this Office and the Department of Justice. We are committed to doing everything we can to keep our streets safe and stop the flow of these deadly drugs into our communities."
If convicted, AR-AB could face a life prison sentence.
Back in February, AR-AB won $200,000 in a bet against Birdman that the Philadelphia Eagles would win the Super Bowl.
The Philly rapper was also reportedly close to signing with Drake's OVO imprint at one point after Drake name-dropped him on his Meek Mill diss track "Back to Back."
Be the first to receive breaking news alerts and more stories like this by subscribing to our mailing list.